Women celebrate success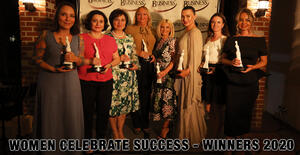 Business leaders entrepreneurs and high-level professionals got together last night to celebrate the ladies that make a difference in various sectors of the economy and contribute to the country's general development.
This new edition of Business Arena's Most Admired Business Women Awards Gala recognized women's success and achievements in the workplace, their creativity and leadership and their vital contribution to the success of business and banking activities throughout Romania.
Looking at a broader picture, the opportunities and challenges facing women in business have been subject to a number of recent international studies. Grant Thornton's Women in Business 2020 report notes that among nearly 5,000 businesses surveyed in the International Business Report (IBR) research, the proportion of women in senior management is the same as the year before.


"The lack of movement in the proportion of senior women between 2019 and 2020 does not necessarily reflect a failure of businesses to take positive action in this area. Last year's uplift rode the wave of attention generated by the aMeToo movement and gender pay gap reporting, and numbers have since steadied," the report said. It added: "Another factor in the levelling off could be that the 'easy' promotions have been made. Research from McKinsey found that the biggest obstacle women face on the path to senior leadership is at the first step up to manager. For every 100 men promoted and hired to manager, only 72 women are promoted and hired. This 'broken rung' results in more women getting stuck at entry level. Unsurprisingly, men end up holding 62% of manager-level positions, while women hold just 38%."
The report also showed that "ensuring equal access to developmental work opportunities and creating an inclusive culture are the most common initiatives aimed at improving gender diversity, both at 34%. Meanwhile, offering unconscious bias training is the least common initiative.

All actions have increased in popularity since 2019, with linking senior management reward to progress on gender diversity rising the most in the last year, climbing by five percentage points. Nonetheless, 22% of businesses globally still take no action to ensure gender diversity."
Coming back to last night's awards gala, the event was organized in partnership with CEC Bank, OTP Bank, Garanti BBVA, Idea Bank Romania, Apulum Porcelain Factory, Ecooking, Romaqua Group Borsec, Via Viticola, Chocoland, World Class Romania, Kanal D, Trends by Adina Buzatu, Aida Events, Casa Anke, Ramada Bucharest Parc Hotel.
Aida Events, a young cultural production company, provided the musical interludes, the fashion presentation was offered by Trends by Adina Buzatu, while the event was moderated by Andi Alexandru Antemia.
See Business Arena's upcoming print edition for more photos and reactions from the awards celebration.
WINNERS 2020





MOST ADMIRED BUSINESS WOMAN OF THE YEAR

MIOARA POPESCU

IDEA BANK
For achieving a high level of recognition and admiration for business success, vision and innovative leadership.



CSR PROFESSIONAL OF THE YEAR

SILVIA BALAN

RAMADA PLAZA BUCHAREST HOTEL
For vision and dedication in building a strategic role within the organization as someone who motivates, inspires and implements social responsibility projects.

PERFORMING ARTS PERSONALITY OF THE YEAR

LAMIA BELIGAN

For achieving a high level of recognition and admiration from the general public for artistic success and outstanding dramatic qualities.



FASHION INDUSTRY PERSONALITY OF THE YEAR

ADINA BUZATU





TRENDS BY ADINA BUZATU
For achieving a high level of recognition and admiration for creativity, outstanding organizational skills and determination in building
a famous brand in a highly competitive market segment.

MOST DYNAMIC APPROACH TO BUSINESS GROWTH

DORA MORHAN





PLEIADA BOUTIQUE HOTEL


Recognizing superior planning and outstanding strategy reflected in successful development of operations at the first five-star hotel in northwestern Romania.

COMMUNICATIONS EXECUTIVE OF THE YEAR

MIHAELA DRAGHICI

ROMAQUA GROUP BORSEC
Recognizing outstanding professional achievements and qualities of creative management in a highly competitive industry.



SPORTS PERSONALITY OF THE YEAR



MADALINA BERES

For achieving a high level of recognition and admiration from the general public for outstanding results and overall performance as an Olympic,
World and European champion.

MOST CREATIVE LEADERSHIP

ANDREEA LICA

VIA VITICOLA
Recognizing creative planning, innovative leadership and strong expertise in a highly competitive business sector.

MODEL OF EXCELLENCE

MIHAELA POPA

CEC BANK
For vision and steadfast commitment to providing an outstanding model of leadership for professional women.



LEADING BANKING EXECUTIVE

LUMINITA CIOACA

GARANTI BBVA
For achieving a high level of recognition and admiration in the industry for outstanding results and leadership.

EXCELLENCE IN MEDIA SALES

STEFANIA MITRACHE

KANAL D
For professional success, overall management skills and determination in securing the best results in a highly competitive market segment.

MOST ADMIRED WOMAN IN BANKING

ROXANA MARIA HIDAN

OTP BANK ROMANIA
For achieving a high level of recognition and admiration in the industry for outstanding results and qualities of creative leadership,


reflected in her crucial contribution to OTP Bank's success in Romania.





For more details and photos from this special event, see the next print edition of Business Arena.
















For more details and photos from this special event, see the next print edition of Business Arena
COMENTARII:
Fii tu primul care comenteaza