Most Admired Business Women Awards Gala 2023
An increasing number of women manage industrial facilities, major companies and build their own successful businesses in Romania nowadays. They have achieved a high level of recognition. Therefore Business Arena Magazine proudly announces the upcoming special awards gala dedicated to the ladies that make a difference in business.

Experts agree that Romania has seen some improvement in gender equality in recent years, but efforts must still be made to ensure equal opportunities for men and women in the workplace.
Looking at the global context, McKinsey & Company's Women in the Workplace report underlines the inadvertent or targeted biases prevalent in the corporate ecosystem that diminishes women's ability to rise to C-suite roles. The study indicates that American companies, when promoting every 100 men to managerial roles, they only promote 86 women. This omission reduces their representation at the manager level, which This lack of representation means that many women are not getting a fair chance to prove themselves capable leaders and innovators within their respective industries.
Experts have found that having women in leadership positions is beneficial for businesses overall. Some studies have associated having more women in leadership roles with increased profitability and lowered risk-taking. Others have found that firms with women on their boards displayed higher returns on equity and higher valuations.
Moreover, the studies show the lack of women representation at this level is not due to a lack of interest. Instead, it's due to the lack of opportunity.

In this context, Business Arena continues its tradition, celebrating women's achievements and their vital contribution to the success of business and banking activities throughout Romania.
The Most Admired Business Women Awards Gala 2023 will bring together entrepreneurs, investors, business leaders, diplomats, and professionals from a wide range of sectors to celebrate the successes of women in business.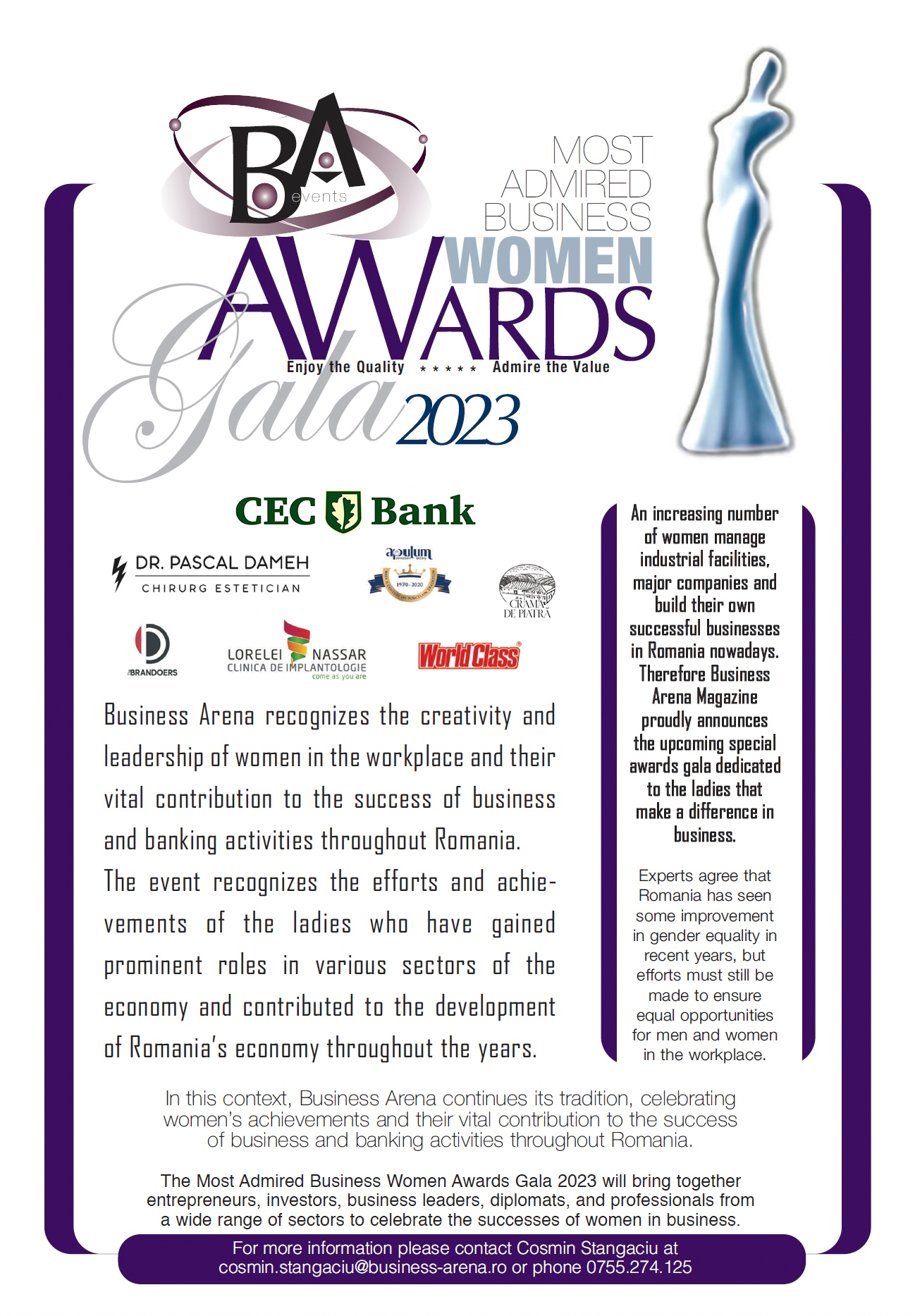 THIS YEAR'S AWARD CATEGORIES


Most Admired Business Woman of the Year

Young Leader of the Year

CEO of the Year

Model of Excellence

Entrepreneur of the Year

Most Creative Leadership

Career Achievement in Banking Industry

Leading Corporate Executive

Dental Professional of the Year

Sportswoman of the Year

Inpirational Personality of the Year

Professional Training Promoter of the Year



Here are the top nominees as determined by our readers' votes so far.

Please select your winners for the listed categories and send us your choices.

| | |
| --- | --- |
| NAME | COMPANY |
| NARCISA LECUSANU | THE EUROPEAN ASSOCIATION FOR SPORT MANAGEMENT |
| CATALINA TRUPSOR | COLOR SMART DISTRIBUTION |
| HELENA FAKO | WORDEE SHOP |
| ADRIANA ISTRATE | WORLDLINE GLOBAL |
| CRISTINA VAN DER SCHAAF | HORECA CULINARY SCHOOL |
| ANDREEA PIPERNEA | NN PENSII |
| DR. LORELEI NASSAR | DR. LORELEI NASSAR IMPLANTOLOGY CLINIC |
| CARLA ANGHEL | ECO POWER PROJECT |
| ISABEL ANGHEL | ECO SOLAR PROJECT |
| GINA BORDAS | ALLURENE COSMETICS |
| ALINA PAUL | DO SECURITY |
| LARISA PETRINI | FOOD REVOLUTION DAY |
| DIANA SEGARCEANU | AVENOR COLLEGE |
| SINZIANA MAIOREANU | AEGON |
| DANIELA BUDUREA | WESTERN UNION ROMANIA |
| IRINA POGONARU GEORGESCU | PHOTOLIU |
| CRISTINA BATLAN | MUSETTE |
| NINA MOLDOVAN | LIBERTY TECHNOLOGY PARK CLUJ |
| CARMEN PETCU | DE' LONGHI ROMANIA |
| CAMELIA ENE | MOL ROMANIA |
| MIHAELA CAMBEI | FEDERATIA ROMANA DE HALTERE |
| ANA MARIA DAMIAN | NHR AGROPARTNERS |
| MADALINA POPESCU | HBO ROMANIA |
| MARINA POPESCU | FLORIA |
| MIHAELA POPA | CEC BANK |
| MIHAELA MARCU | MEDLIFE |
| MARIA RANGELOVA | CERTASIG |
| CARMINA DRAGOMIR | METROPOLITAN LIFE |
| PATRICIA ZEGREANU | SKODA ROMANIA |
| THERESE HYDEN | AMBASSADOR OF SWEDEN |
| ANITA NITULESCU | EUROLIFE ERB |
| MARIA CRISTINA MATEI | ING BANK ROMANIA |
| GABRIELA MATEI | MICROSOFT ROMANIA |
| RODICA SFACA | FONDATOR RONEX PRODUCTIE |
| MICHELE RAMIS | AMBASADOR FRANTA |
| MIHAELA BITU | ING BANK ROMANIA |
| FUSUN ARAMAZ | AMBASADOR TURCIA |
COMENTARII:
Fii tu primul care comenteaza