Business Arena Awards for Excellence 2018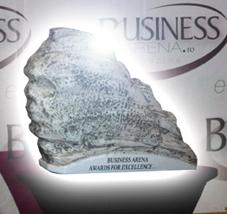 With its strong and diverse tradition in creating new platforms for the business community to share their views and ideas, and in recognizing business success and achievements, spanning over 17 years, Business Arena has launched a new project designed to expand the scope of its annual award ceremonies, adding a new gala to its events calendar.
The Awards for Excellence will be the third major gala event in Business Arena's portfolio this year, joining the list alongside the Most Admired Business Women Awards and Financial Leaders' Hall of Fame Awards.
Working in a challenging business environment, with unpredictable legislation and regulations, businesses and entrepreneurs have their work cut out as they try to build successful operations. Meanwhile, the country's economic growth is beginning to slow down.


The European Commission's Summer 2018 Interim Economic Forecast has shown that Romania's real GDP growth slowed to 4.0 percent (year-on-year) in the first quarter of 2018, after peaking at 6.9 percent in 2017. "The main driver of the slowdown was a contraction in private consumption as inflation weighed more heavily on real disposable income. Export growth, in contrast, remained very robust in the first quarter of 2018 and outpaced the growth of imports," the report notes. The end-2018 real GDP growth is forecast to slow down to 4.1 percent in 2018 and 3.8 percent in 2019.

On the inflation front, the report points out that after two consecutive years of slowing prices, inflation moved into positive territory last year. "Headline inflation started to accelerate in the second half of the year mainly on account of rising food and energy prices and further picked up in early 2018 as the effect of the January 2017 tax cuts faded away. Annual headline inflation stood at 4.6 percent in May this year. The reversal of the January excise duties cut in October 2017 will exert an additional pressure on inflation in the first three quarters of 2018. Thus, inflation is forecast to rise to 4.4 percent in 2018 and 3.4 percent in 2019," according to the report. It also notes that due to higher inflation "the National Bank of Romania has started to tighten its highly accommodative monetary policy. In 2018 so far the key monetary policy rate was raised by 0.75 pps. to 2.5%. These are the first rate hikes since 2008."
As for the labor market, the report emphasizes that "tight labour market conditions are expected to continue over the forecast horizon, with unemployment remaining close to its current very low level." It goes on pointing out: "Nominal wage growth is expected to continue in 2018, albeit at a slower pace, on the back of further increases in public wages and an additional 9% hike in the net minimum wage as of January 2018. Real wage growth, however, is expected to moderate significantly in 2018, due to the higher inflation."


In this context, innovation, resourcefulness, perseverance and a culture of responsible risk-taking have helped many overcome major challenges. Thus, the new awards gala will bring recognition to individuals and organizations in business, culture, sport and civil society that recorded outstanding results and achievements.
Celebrating achievements, excellence and innovation, the 2018 Business Arena Awards for Excellence will cover the following categories:
Award for Excellence in Car Sales
Dental Care Provider of the Year
Award for Excellence in Hospitality Industry
Entrepreneur of 2018
Industry and Technology Company of the Year
Software Company of the Year
Telecom Company of the Year
IT Firm of the Year
Energy Company of the Year
Best Real Estate Development Firm
Award for Excellence in Eyewear Production
Award for Excellence in Healthcare Services
Award for Excellence in Insurance
Award for Excellence in Banking
Farming Equipment Company of the Year
Travel Agency of the Year
Travel & Tourism Firm of the Year
CSR Project of the Year
Award for Excellence in PR & Advertising
Law Firm of the Year
Award for Excellence in Retail Development
Award for Excellence in Finance
Brand of 2018
Food & Drink Company of the Year
Award for Excellence in Sports
Excellence in Civil Society Initiatives
COMENTARII:
Fii tu primul care comenteaza