Conquering new peaks in the travel industry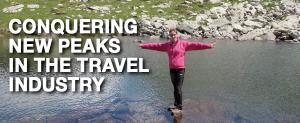 "What do you want to be when you grow up? A tourist!" That's how future entrepreneur Irina Cernea used to answer, as a child, when people would ask her where she saw herself in 20 years. And not only has she become a tourist, but she has also become in charge of other people's tourist activities. As owner and general manager of Neotour Brasov, every day is a busy day: tasks to be fulfilled, responsibilities to be taken, customers to be satisfied and vacations to be planned.
She started her career with a courageous decision. "Neotour Brasov is a franchise of Neotour Travel Agency, but with total freedom to choose its programs, its targets and its strategies. Neotour Brasov was founded in 2008 and, at first, it focused on vacation packages to Greece. I took over the management and ownership, and Radu Cernea, my brother, joined as a partner in 2015, after a major shift in the company's vision. Our aim now is to offer our Romanian customers active holidays worldwide, while revealing the natural highlights of Romania to the entire world," she told Business Arena in an exclusive interview. 2018 brought more complex challenges for the new entrepreneur. So, new times, new measures. "This year we are diversifying the area of activities that we offer our tourists, as well as the range of destinations. We have already added destinations like Mongolia, Sri Lanka, Antarctica or Armenia to our portfolio."
Running a travel agency requires more dedication, time and patience than most people might think, the company's manager said, and, in the end, it all narrows down to being passionate about tourism and having a real understanding of what tourism really means. "If you prefer an active holiday, if you fancy camping under a star-lit sky more than staying at an all-inclusive hotel, then you can start a business like this, if not… you'd better stay away. People with a real understanding of what adventure tourism means would appreciate the kind of lifestyle I have listed above. If you love tourism, find your niche, find the right people - which is maybe the most important thing - and go for it. But do expect many difficulties to come along the way," she told Business Arena.
Irina Cernea experienced the simple tourist lifestyle from a very young age and that created a solid base for the future tour operator. "I traveled extensively with my parents throughout Romania, especially on trekking trips. Later, I became a member of the "Emilian Cristea" Tourism and Alpine Club in Ploiesti. I took part in my first international expedition in France, in 2002, on Belledonne and Mont Blanc. Many other mountain trekking trips followed, in Romania as well as in Greece, Macedonia, Morocco, along with sailing trips on the Baltic Sea. I firmly believe a travel agent shouldn't just sell a vacation, but they should become your lifetime friend who helps you choose the best holiday for you, according to your interests, your budget, your hobbies and passions," said the Neotour Brasov manager.
For her passion of travelling and helping others travel, she left her hometown without hesitation. Where can you better plan vacations for other people than in the heart of the mountains? "I love tourism and everything related to the travel industry. It was the main reason I moved from Ploiești, my home town, to Brașov. In 2008, I had the opportunity to take over the Neotour franchise and, although I knew there would be a lot of challenges, I grabbed this opportunity with both hands."
So far so good, but the competition is tough and start-up businesses have to bring something new on the market or else they are absorbed by bigger players. Neotour Brasov had a vision and focused on a specific market segment, even if the beginnings were frail. "We started as a tour-operator for Greece and Bulgaria. We still offer vacations to Greece and Bulgaria to our loyal tourists, but our aim for now is to offer our customers adventure tours. We believe the adventure travel market will grow a lot in the future. While it is true that many Romanians still like to lie on the beach all day at an all-inclusive hotel, more and more people are looking for something different, such as a vacation where they can experience the authentic culture of the place and do some fun activity, such as hiking, cycling or mountain-biking. More and more customers put emphasis on the experience rather than the accommodation itself (that doesn't mean they aren't looking for decent accommodation though). This has shaped our image as a company a lot. People have started to perceive us as an adventure travel company more than a "classic holiday" company. This is very encouraging for us, as it is what we have always wanted."
Investment and good management are key ingredients to any company's success, but Neotour Brasov likes to push things a little further to ensure it gets a bigger slice of the market share - meaning the company's people will try things themselves before recommending them to their customers. "As always, we will continue to invest time and money in finding good local partners and visiting the destinations we sell, finding the best routes, the best accommodation, as well as interesting and unique places. In order to provide good information to our tourists, it is very important for us to know the destinations we sell. This is why we have invested and will continue to invest in… visiting the destinations ourselves. This year, we have hired two new employees in order to develop both the outbound and the incoming departments. So, we are investing a lot of time, which is our most important resource, in designing the programs, finding the local partners and in talking to the tourists. In fact, we are travel consultants, not only sellers of vacations. Our approach is to provide tourists all the information about the chosen destination, the local food, local customs, and not just give them a brochure and sell them a vacation. That's the reason why most tourists become our friends."
But is this good enough in a competitive market, where strong tour operators come up with all sorts of strategies in order to bring more customers in their portfolios? Irina Cernea nods without hesitation: a good interaction with the client makes a difference on the market. "We offer tours for small groups, from four to 12 people, and we emphasize on communicating with our tourists. That is why our groups are accompanied by a Romanian guide or the individual tourists have our phone numbers, which we answer 24/7. Our tours can be customized, so the tourists can have a vacation as per their wishes. To put it in other words, compare buying a ready-made suit with having a tailor making a suit for you. That's what we do: we offer custom-made vacations to our customers."
Asked if there is a segment in the company's activity expected to see more growth in the near future, Irina Cernea explained that it all depended on how customers saw their vacations and how the market evolved. "When we talk about segments, we define segmentation by the type of activity or by destination. We really think, in time, fewer people will choose all-inclusive vacations in Greece, Bulgaria and Turkey, and more people will understand that life is too short to be spent lying on a beach in the sun and eating as much as possible. So, more people will go towards active vacations, and we don't mean hard-core adventure, like climbing Cerro Aconcagua or Elbrus. An easy cycling vacation or a sailing vacation, for instance, is what people will feel like trying more in the future and that's why we have already included these types of activities in our offer. This year we developed a new type of activity: cycling tours. This is why we expect the turnover to grow by about 25 percent this year."
Still, what makes Romania different as a consumer's market as compared to western countries in terms of choosing a vacation or in terms of travelling culture? The mentality, the Neotour Brasov owner suggests. "We say it with a lot of regret: most Romanians want cheap vacations. For Romanians, the key element in selecting a vacation is its price. It happens almost every day. We have potential customers asking about our vacation packages and the first thing they look at is the price. The destination? It doesn't matter; the most important thing is to be cheap. Quality? It doesn't really matter. Many times they don't even want to know what a vacation includes, what we have to offer that is different. There is, however, a segment of people who understand that our time on this planet is the most finite resource that we have. We cannot spend it on cheap holidays where the only memory to come back with is the taste of the all-inclusive food. I think buying an experience, a memorable one, is becoming attractive for many. Other markets are more content-driven and tourists are more conscious about what they buy. "
Considering this aspect, does Romania stand any chance of evolving and becoming a mature market in the near future? The Neotour Brasov management is very optimistic in that sense. "I think the travel market in Romania will grow, based mainly on good connection flights. The potential of tourism in Romania is extremely high. I foresee an increase in domestic trips and also in inbound arrivals. No matter what, people will always travel. Maybe, sometimes they will choose a short holiday or a destination not so far from Romania, but they will travel anyway. So far, we have offered mostly vacations outside Romania, but starting this year we are offering more domestic destinations. We will begin with cycling tours, including cultural objectives. There are lesser-known, interesting places in Romania, which are not included in the offers of other travel agencies. We aim to include these places as well as active tours in our offer, as we have identified a big potential for growth here."
A challenging market will always come with a lot of difficulties. Again, Irina Cernea lists the mentality of Romanian customers as the most pressing issue a travel agency has to deal with. "The perception of what a quality vacation really means and the low interest for organized trips (with guide, private transportation, local partners) are indeed difficult. Romanian tourists often choose to travel on their own, considering that kind of vacation cheaper than one organized by a travel agency. Many think that spending their own time looking for hotels, flights, local tour operators, restaurants and so on costs less than going on vacation using a travel agency. It is so untrue," says the general manager, who lists tourists' satisfaction as her main professional goal.
"Our aim is to offer tourists a memorable lifetime experience," she says. And when you are climbing on the highest peak and reaching the top of the world, any experience becomes a memorable one. That's why, Irina Cernea believes the most wonderful success she has accomplished with her company was a… trip. "I could talk about the climb on Aconcagua, where five tourists and our guide reached the Aconcagua Peak, at almost 7,000 meters altitude, as the biggest achievement of our activity. To our knowledge, we are the only travel agency in Romania that managed to take a group of people to the Southern Hemisphere's highest summit last year. Considering the type of travel services that we offer, I can say that every satisfied tourist can be considered a success. But in this case, success won't depend only on the tourist or the guide, by also on the weather conditions," she says with a smile, adding that challenges never scared her anyway. "Challenges are everywhere, anytime, such as hotels or guesthouses that don't want to work with travel agencies, airlines frequently cancelling flights, other agencies not respecting their agreements with tour operators and so on; but when you love what you do, any challenge is easier to solve. We are very lucky to have a great team, used to dealing with these kinds of problems, and really wanting to grow along with the agency."
Having tried out so many destinations herself, before recommending them to her customers, Irina Cernea has traveled throughout much of the world. But this positive, full-of-life entrepreneur confesses that she loves silence more than noise, the mountains and nature more than the city. "I love hiking in the mountains, being in nature, listening to the singing birds, far away from the cities. If I'm not in the mountains, I solve puzzles… this is my way of relaxing."
Any destination recommendation for our readers? She shies away from making assumptions about what other people might like. She insists that each place has its own vibration, so each tourist should create their own memorable experience. "So far, I have traveled in Europe, Africa and Asia. It's difficult to choose a favorite destination, because every destination has something unique to offer. But I do love Sweden because I sailed there in the past three years, I love Morocco for the desert and the variety of its landscapes, I love Macedonia for its mountains full of flowers, I love Turkey's Cappadocia for the amazing landscape and… I love Romania for the nature, the mountains and the traditions."
The interview is also available in our print edition of Business Arena.
COMENTARII:
Fii tu primul care comenteaza