Women power through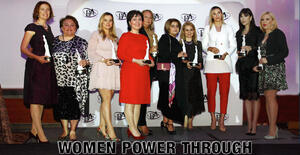 Business leaders entrepreneurs and high-ranking professionals got together to celebrate the ladies that make a difference in various sectors of the economy and contribute to the country's general development. The 2021 edition of Business Arena's Most Admired Business Women Awards Gala recognized women's success and achievements in the workplace, their creativity and leadership and their vital contribution to the success of business and banking activities throughout Romania.
In fact, improved gender equality in decision-making is the main driver of progress in the EU, according to the latest Gender Equality Index from the European Institute for Gender Equality (EIGE). However, the report shows that, with a score of 67.9 out of 100, the EU is at least 60 years away from reaching complete gender equality, if it continues at the current pace. Among the member states, Sweden, Denmark and France keep their top spots. The awards for most improved go to Italy, Luxembourg and Malta, with each gaining around 10 points since 2010. Greece, Hungary and Romania are lagging behind the rest.
"We have seen small, steady gains year on year but this time we have a reason for concern. The coronavirus pandemic poses a serious threat to gender equality progress, which we cannot afford. More than ever, policymakers will need to use the results of our Index to design inclusive solutions that promote gender equality in our society, both during and after the pandemic," said Carlien Scheele, EIGE's director.
In turn, Helena Dalli, European Commissioner for Equality, said: "Gender equality must be sought in all areas of life for all Europeans - regardless of their gender - to reach their full potential. The Gender Equality Index is a crucial tool in this quest as it tracks progress. I congratulate those countries that have improved their score over the past year. Nonetheless, there is still a long road ahead in many aspects, particularly in the digital world. As our present and future are increasingly digital, we need to ensure that women and girls occupy their fair share of this sector and are encouraged to contribute towards its growth. The EU Gender Equality Strategy adopted this year sets out key actions for the next five years, to step up the work towards equality and we need to see it through and fully implemented to ensure that women and men can be free, will thrive and lead."

SPORTS PERSONALITY OF THE YEAR

MADALINA CASU

ROWER, ROMANIAN ROWING FEDERATION

For achieving a high level of recognition and admiration from peers and the general public for outstanding results and overall performance.

TELEVISION PERSONALITY OF THE YEAR

DENISE RIFAI

KANAL D

For achieving a high level of recognition from the general public for professionalism, integrity and forceful interviewing style, reflected by the success "40 de intrebari cu Denise Rifai", her talk show on Kanal D, an innovative format, with a bold editorial approach that has generated interest across all segments of the media market.

LIFETIME ACHIEVEMENT IN FINANCE

ANCA BIDIAN

CEO, KIWI FINANCE

For achieving a high level of recognition and admiration from the business community for outstanding results, strategic thinking and leadership.

COMMUNITY MODEL OF EXCELLENCE AWARD

PAULA BUSE

VICE PRESIDENT FOR MENTORING, PROFESSIONAL WOMEN'S NETWORK ROMANIA

For vision and steadfast commitment to providing an outstanding model of leadership and excellence for professional women and the community.

MOST DYNAMIC APPROACH TO BUSINESS GROWTH

MEDA ANNEMARIE VASILIU

GENERAL MANAGER – NORDIS HOTELS

For outstanding skills and strategy in developing successful business operations in a highly competitive sector.

CEO OF THE YEAR

MIOARA POPESCU

CEO – IDEA BANK

For professional success, outstanding leadership skillsand for achieving a high level of recognition from the general business community.


MOST ARDENT COMMUNITY ADVOCATE

LIANA MINASYAN

DIPLOMATIC COUNSELOR EMBASSY OF THE REPUBLIC OF ARMENIA IN ROMANIA


For vision and leadership in promoting critical aspects for the development of fairness, opportunity, social justice and humanitarian principles.

LEADING CORPORATE EXECUTIVE

VIRGINIA OTEL,

DEPUTY GENERAL MANAGER GARANTI BBVA LEASING & COMMUNICATION LEADER GARANTI BBVA GROUP

For creativity, strategic thinking and leadership in building a strongand successful career, with a high degree of responsibility in a highly competitive industry.
MOST ADMIRED WOMAN IN BANKING

MIHAELA POPA

FIRST VICE PRESIDENT - CEC BANK

For providing an outstanding model of professional success and vision in a highly competitive business sector.
MOST ADMIRED BUSINESS WOMAN OF THE YEAR

MAGDA PESU,

GENERAL MANAGER - ANADOLU AUTOMOBIL ROM

For achieving a high level of recognition and admiration for business success, vision and innovative leadership.

Coming back to our awards gala, this year's event was moderated by Andi Alexandru Antemia and organized in partnership with CEC Bank, EximBank, Garanti BBVA, Apulum Porcelain Factory, Romaqua Group Borsec, World Class Romania, Soley Tour, Kanal D, Brandoers, BlackCab, and Ramada Bucharest Parc Hotel.


For more details and photos from this special event, see the next print edition of Business Arena.
COMENTARII:
Fii tu primul care comenteaza