Most Admired Business Women Awards Gala 2022
An increasing number of women manage industrial facilities, major companies and build their own successful businesses in Romania nowadays. They have achieved a high level of recognition. Therefore Business Arena Magazine proudly announces the upcoming special awards gala dedicated to the ladies that make a difference in business.

Experts agree that Romania has seen some improvement in gender equality in recent years, but efforts must still be made to ensure equal opportunities for men and women in the workplace.
According to a new report, Women's Entrepreneurship 2020/21: Thriving Through Crisis, from Global Entrepreneurship Monitor (GEM), about one in three growth-oriented entrepreneurs active in the world today are female, and slightly more than 30 percent of women entrepreneurs surveyed expect to hire six or more employees in the next five years — a marked increase from 18.7 percent in the 2019 report.
Their agility to adapt to business disruption and changing market realities is one reason why women entrepreneurs are finding ways to thrive. Women entrepreneurs have another reason to remain optimistic: in 2021, "… start-ups with female founders … raised more venture capital dollars and have executed more exits at greater values than at any point in the last decade," according to an article in The New York Times, thanks to more angel investors and other fund partners looking to support female-owned businesses.
All of this is extremely encouraging news for female business leaders and entrepreneurs. Business owner Ginger Sloan was quoted as saying: "In today's current rocky climate, female corporate leaders, business owners and entrepreneurs must not forget that we are not only the core of the family unit but also a critical component of the international economic landscape." "Our strength and leadership is the driving force of every stable economy globally."


In this context, Business Arena continues its tradition, celebrating women's achievements and their vital contribution to the success of business and banking activities throughout Romania.
The Most Admired Business Women Awards Gala 2022 will bring together entrepreneurs, investors, business leaders, diplomats, and professionals from a wide range of sectors to celebrate the successes of women in business.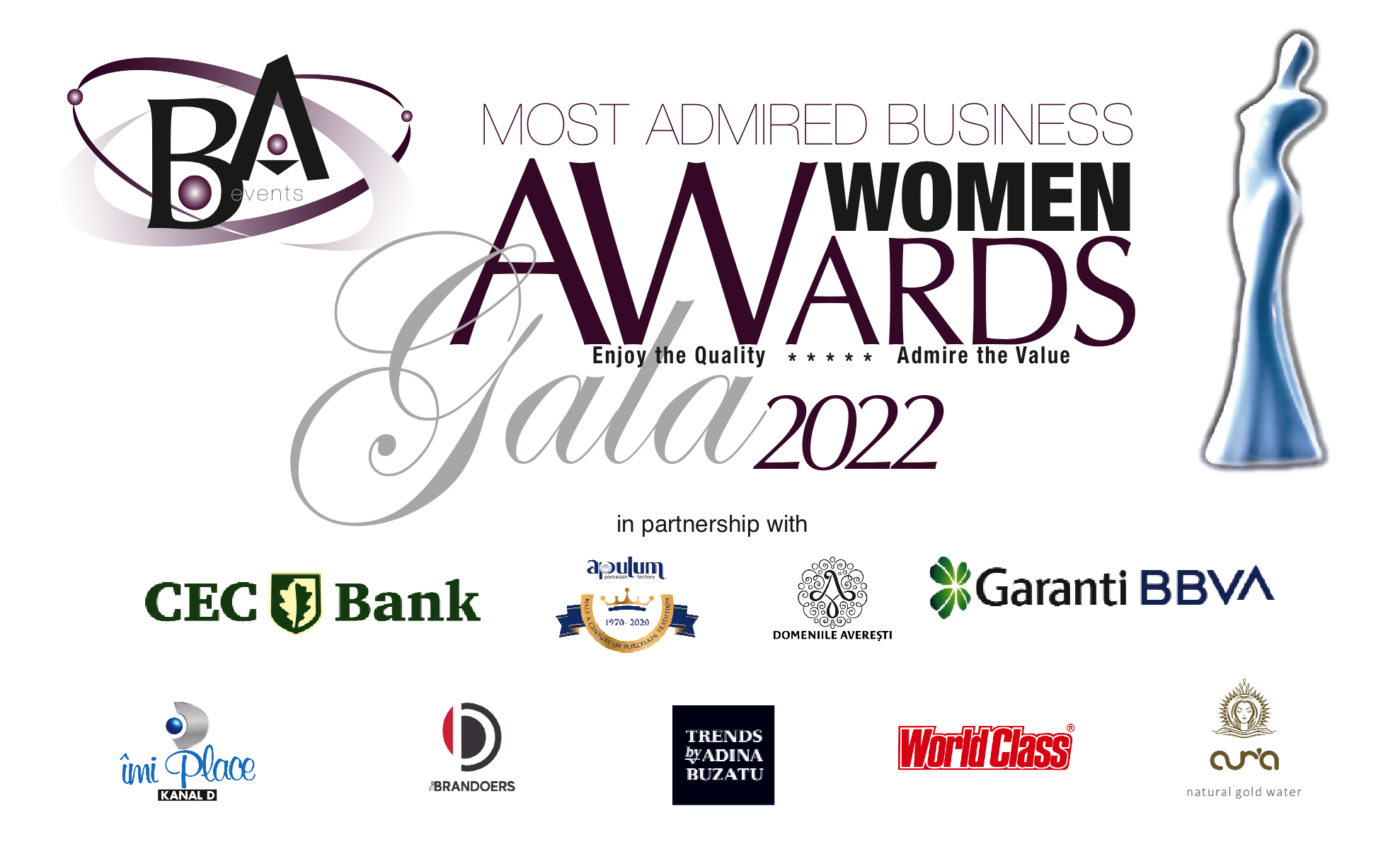 THIS YEAR'S AWARD CATEGORIES


Most Admired Business Woman of the Year

CSR Professional of the Year

CEO of the Year

Model of Excellence

Best Entrepreneur

Most Creative Leadership

Lifetime Achievement

Leading Corporate Executive

Most Dynamic Approach to Business Growth

Most Ardent Community Advocat

Most Dynamic Ambassador of Romanian Creativity

Most Creative and Innovative Approach to Business Excellence



Here are the top nominees as determined by our readers' votes so far.

Please select your winners for the listed categories and send us your choices.

| | |
| --- | --- |
| NAME | COMPANY |
| OANA TABAN | DENT ESTET |
| iILEANA BOTEZ | BURSA DE VALORI BUCURESTI |
| RUSANDA COJOCARU | CREATOR BOOKLETTA |
| ADRIANA ALIONTE | SHAKESPEARE SCHOOL |
| CRINA DULUTE | DOMENIILE AVERESTI |
| ANNA GRZELONSKA | NN ASIGURARI |
| DR. CRISTINA OBREJA | LIFE DENTAL SPA |
| EMILIA GHEORGHIU MILICIN | ORTODENT |
| JIANG YU | AMBASADOR REPUBLICA POPULARA CHINEZA |
| DANA STANCIULESCU | CORE INVEST HEALTH |
| VIVIANA IORDACHE | DERMALIFE |
| LARISA PETRINI | FOOD REVOLUTION DAY |
| DIANA SEGARCEANU | AVENOR COLLEGE |
| SINZIANA MAIOREANU | AEGON |
| DANIELA BUDUREA | WESTERN UNION ROMANIA |
| IRINA POGONARU GEORGESCU | PHOTOLIU |
| CRISTINA BATLAN | MUSETTE |
| NINA MOLDOVAN | LIBERTY TECHNOLOGY PARK CLUJ |
| GEORGETA DENDRINO | INTERACT ROMANIA |
| CAMELIA ENE | MOL ROMANIA |
| GEORGIANA SCHMUTZER | TRIP TAILOR |
| ANA MARIA DAMIAN | NHR AGROPARTNERS |
| MADALINA POPESCU | HBO ROMANIA |
| MARINA POPESCU | FLORIA |
| ELKE MEIER | BCR |
| MIHAELA MARCU | MEDLIFE |
| MARIA RANGELOVA | CERTASIG |
| CARMINA DRAGOMIR | METROPOLITAN LIFE |
| PATRICIA ZEGREANU | PORSCHE ROMANIA - SKODA |
| LEA STANCIC | AMBASADOR REPUBLICA SLOVENIA |
| ANITA NITULESCU | EUROLIFE ERB |
| MARIA CRISTINA MATEI | ING BANK ROMANIA |
| GABRIELA MATEI | MICROSOFT ROMANIA |
| RODICA SFACA | FONDATOR RONEX PRODUCTIE |
| MICHELE RAMIS | AMBASADOR FRANTA |
| MIHAELA BITU | ING BANK ROMANIA |
| FUSUN ARAMAZ | AMBASADOR TURCIA |
COMENTARII:
Fii tu primul care comenteaza