CEC Bank stays focused on healthy organic growth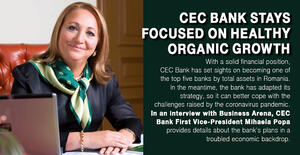 With a solid financial position, CEC Bank has set sights on becoming one of the top five banks by total assets in Romania. In the meantime, the bank has adapted its strategy, so it can better cope with the challenges raised by the coronavirus pandemic. In an interview with Business Arena, CEC Bank First Vice-President Mihaela Popa provides details about the bank's plans in a troubled economic backdrop.
What are CEC Bank's main 2020 goals?
Last year, CEC Bank received a capitalization of 940 million lei, representing the contribution of its shareholder, the Romanian state. It is one of the few state capital infusions approved by the European Commission and considered investment under market conditions. This capital increase was based on a business plan, with clear indicators, which convinced the Brussels authorities.
CEC Bank is going to continue to grow organically by increasing its loan portfolio for the real economy. We are also going to start a series of investments in technology, allowing us to serve Romanian customers everywhere. We already have the most extensive branch network (over 1,000 units) at home, but we are considering offering remote services to Romanian expatriates. Our goal is to secure a place among the top five banks in Romania.
To what extent will the bank's results be affected by the coronavirus pandemic in your view?
The beginning of the year, the first two months of 2020, was promising, with increases in the main lines of activity. Following the declaration of the state of emergency, the situation changed, we saw a temporary decrease in demand for new loans, but now we have a lot of requests, for example through the SME Invest program.
Despite the challenges, for the first quarter, CEC Bank reported a net profit of 114.1 million lei, up 26% compared to the same period last year.
What are your estimations on the main macroeconomic indicators this year and how will they reflect in the bank's activity?
At this stage, the full economic impact of the coronavirus pandemic is difficult to predict, both in terms of magnitude and duration. Mankind has gone through a unique situation, in which lockdown measures were ordered and economies suddenly slowed down. We have seen increases in unemployment rates, decreases in turnover and GDP. Now, Romania, together with several other countries, has reached a phase in which restrictions are being relaxed. But it is still unclear how the economy will restart and how consumption and investment appetite will be affected in the long run, influencing loan demand, as well as loan repayment capacity. We are monitoring and analyzing the situation continuously and, if necessary, we will take measures to adapt along the way. We have liquidity, and we are here to continue financing the economy, where it is needed.
What measures has CEC Bank taken to avoid major disruptions in operations and how are employees and customers protected?
Banking services are essential to the public, and that is why we have focused on measures to ensure business continuity. Also, another set of important measures have been designed to ensure employee and customer protection. And last but not least, given the fact that some companies suspended their operations and many people were furloughed, CEC Bank has taken steps to support customers whose economic situation was affected. During this time, we have managed to preserve operational continuity. Customer operations have run normally, we've had continuity in ATM network operation and we have ensured the cash supply for our branches and ATMs. CEC Bank branches have implemented a series of protection and safety measures for employees and the public in the context of the new coronavirus.
Another important direction has focused on developing solutions for loan customers experiencing financial hardship as a result of the crisis. For individual customers, we have created a mechanism, allowing an automatic payment freeze, regardless of the type of loan, and offered free access to Mobile Banking, providing them access to banking services without the need for their physical presence at our branches. As for corporate customers, we have developed loan deferral and restructuring solutions. CEC Bank proactively offered its own payment deferral solutions, before these aspects were regulated by a government emergency ordinance. Therefore, we have a smaller number of loans deferred under GEO 37/2020 than the average in the banking system.
How would you characterize 2020 from a banking industry standpoint?
Twenty-twenty has been a challenging year. While in the first months of the year, the concerns were related to increasing and consolidating our market position, with the onset of the pandemic, during the state of emergency, the priorities changed. We have adopted a series of necessary measures to overcome the challenges, ranging from ensuring business continuity, to protecting customers and employees, and supporting those affected by the pandemic.
To what extent have confidence levels between customers and banks improved lately?
Currently, the banking system has enough liquidity, and it is well capitalized. And if we consider the state of emergency, the banks functioned normally and there were no blockages. We, at CEC Bank, have seen an increase in deposits, and this evolution is confirmed by data available at macro level. Banks continue to be the main destination for people's savings, proving there is confidence in the banking system. The previous economic crisis, 2008-2010, also brought along conflicts with customers, but I think lessons have been learned since then. A fair relationship, ensuring the balance between contractual relationships and an adequate risk exposure, contributes to increasing customer confidence.
What are the challenges that CEC Bank is facing in the banking market?
In Romania, we have a low bancarization rate: only six out of 10 people have a bank account. The rate is much lower than in developed European countries, such as Great Britain and France, where we are talking about bancarization rates of around 95%, and it is also lower that in neighboring countries, such as Hungary and Bulgaria. The degree of financial inclusion is even lower in rural areas and among senior citizens. If we want to convince them to use an account or a card, the personal interaction with an employee is very important. It gives them confidence. They can receive guidance, and they know where to go if they encounter a problem. Therefore, the presence of a physical network is necessary.
One of the main challenges is the age structure of the client portfolio, but the aging population is a problem that Romania faces at national level. CEC Bank is one of the most important pension distributors nationwide, with over 400,000 such customers, of which about 10% receive their pensions in cash. During the state of emergency, the bank ensured adequate cash availability at rural units on pension payment days and even facilitated the payment of pensions in cash at home for certain categories of customers. In May, we issued free-of-charge cards to retirees and ensured distribution to their homes, through the Romanian Post. It was a way to protect the seniors, and we hope that at least some of them will discover the benefits of modern payment instruments and continue to use them.
What products and services are most in demand today?
This crisis has accelerated the introduction of digital technologies. During the state of emergency, we saw a significant increase in card and online payments. I believe that, in the future, remote services will gain more and more weight. For customers, their free time is becoming more and more important, and Internet Banking and Mobile Banking offer the convenience of accessing banking services anytime and anywhere.
To what extent is the profile of the bank's customer changing and what investments is CEC Bank planning to make to meet the new market requirements?
In the first quarter of the year, CEC Bank launched an online customer enrollment program, by which customers can gain access to banking services such as current accounts, mobile banking and debit card without visiting the bank.
How strong is the competition on the Romanian banking market, and which segments provide opportunities for growth?
We are analyzing solutions not only for those affected by the crisis, but solutions to actively contribute to economic recovery. We are considering financing programs for sectors such as HoReCa, agriculture, construction, healthcare, where the need for investment is high. These areas can make a positive contribution to economic growth and can at least partly offset the contraction caused by the COVID-19 crisis.
This is also available in our print edition of Business Arena.
COMENTARII:
Fii tu primul care comenteaza