Austria-Romania Roundtable Business Conference 2018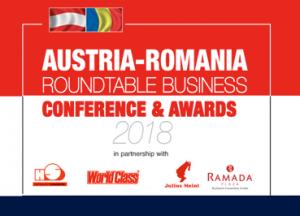 Her Excellency Mrs. Isabel Rauscher, Ambassador of the Republic of Austria, has confirmed participation at this year's edition of the Austria-Romania Roundtable Business Conference. The conference will focus on the latest economic trends and their impact on Austrian investments in Romania, bilateral trade, development prospects and challenges. Frequent changes in legislation and taxation, stuffy bureaucracy continue to represent major hurdles for investors in Romania. However, Austrian investors have positive expectations and continue to remain strongly committed to their development plans in this country. In this context, Business Arena is proud to announce its annual event dedicated to Austrian investors. Business leaders, bankers and entrepreneurs will all get together to discuss and share their views on the latest economic trends and challenges at Business Arena's 2018 Austria - Romania Roundtable Business Conference. Representing one of the strongest business communities in Romania, Austrian investors have created more than 100,000 jobs in over 6,800 companies, with investments totaling around ten billion EUR.
In line with its tradition, the event will end with an award ceremony in recognition of business success and individual efforts dedicated to the development of Austrian – Romanian business ties.

Invited speakers :
· Her Excellency Mrs. Isabel Rauscher, the Ambassador of Austria;
· Mr. Dan Banacu, General Manager, Holzindustrie Schweighofer Romania;
· Mr. Kent Orrgren, CEO, World Class Romania.


This year's topics for discussion focus on:

Austria's view on the future of the European Union:

- policy areas that need changing;
- growing Euroscepticism and its potential impact on business and investment in Europe;
- strategies to promote the positive aspects of the European project.


Austrian – Romanian business and economic relations:

- Austrian investment in Romania;
- bilateral trade;
- new sectors of interest for Austrian investors.


Romania's business environment and its challenges:

- unpredictable legislative and taxation landscape;
- low availability of skilled workforce in some areas;
- slow infrastructure development;
- bureaucracy;
- ways to overcome challenges.


Market attractiveness:

- business sectors with development potential;
- Romanian market's positive aspects.


Economic prospects for Romania in 2018:

- predicted economic growth;
- exchange rate/ interest rate evolution;
- business confidence.

Banking and insurance - trends and expectations for 2018:

- potential areas of growth in banking this year;
- challenges and opportunities in the local banking sector;
- new products and services;
- growth prospects for Romania's insurance market;
- competition;
- legal and regulatory issues.


Energy - new development opportunities and competition:
- challenges facing the sector in 2018;
- competition.


Real estate – growth prospects and investment:

- new investment opportunities;
- market attractiveness.


Wood processing industry:

- competition;
- sustainability;
- investment.






COMENTARII:
Fii tu primul care comenteaza