Western Balkans nation sets out ambitious goals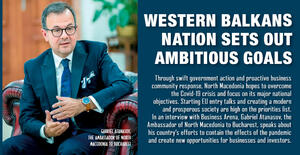 Through swift government action and proactive business community response, North Macedonia hopes to overcome the Covid-19 crisis and focus on its major national objectives. Starting EU entry talks and creating a modern and prosperous society are high on the priorities list. In an interview with Business Arena, Gabriel Atanasov, the Ambassador of North Macedonia to Bucharest, speaks about his country's efforts to contain the effects of the pandemic and create new opportunities for businesses and investors.
How would you characterize the relations between your country and Romania, and what areas need improvement?
The overall bilateral relations between North Macedonia and Romania are excellent. Recently, on April 30, we marked the 20th anniversary of the signing of the Treaty of Friendship and Cooperation between Romania and the Republic of North Macedonia, which established the framework for political, economic and cultural ties. Our countries are today strong partners and the bilateral cooperation within the Treaty continues to develop.
Of course there is always room for im­pro­vement. We have many oppor­tunities to explore in the context of our economic relations. Romania has a huge potential and we are aware of that. We would like to see more Romanian investments in North Macedonia. We have created very good conditions for attracting foreign investors and we have a very skilled competitive labor force. Romania and North Macedonia are sharing common traditions and many similarities. Both countries belong geogra­phically to Europe and are part of the Balkan Peninsula as well. People are sharing the same values, both countries are NATO members and we have common interests in strengthening the cooperation in the field of security. North Macedonia is striving to be part of the EU as a strategic goal. We are relying very much on the Romanian support in this endeavor and we are grateful for the strong commitment of Romania. We would like all EU countries to have the same approach and to be aware of the necessity to integrate the countries that have made progress as soon as possible.

What was the volume of bilateral trade between North Macedonia and Romania in 2020 and what are the most traded goods between the two countries?
The evolution of the Covid-19 pandemic had a negative impact on trade exchanges between our two countries in 2020. So, Romanian exports to North Macedonia stood at 212.6 million USD, with a decline of 11.1% compared to 2019, and below the level of exchanges in the years 2017-2019. The imports amounted to 130.9 million USD, so -28,5% compared to 2019, and the overall commercial exchanges totaled 343.5 million USD, accounting for a 18.6% contraction from 2019. Export and import volumes in both countries have shrunk compared to the years 2016-2019.
Obviously the pandemic has had a strong impact, but still we have to be optimistic for the future, and not underestimate the previous positive trend of increased trade in normal times, and the fact that North Macedonia is Romania's second-largest trade partner in Western Balkans in terms of trade volume. The most traded goods are metals and the metallurgical products, then machinery, electrical appliances and electrical equipment, followed by textile materials and products derived from textiles. Also, at the top we can count vehicles, transport equipment, chemical products, plastic, tires, mineral products, food products, beverages, tobacco and other products.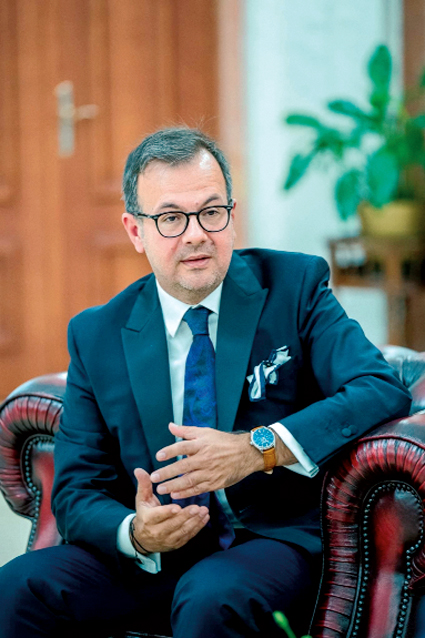 How much potential is there for further growth in economic relations between the two countries? In what sectors?
We see a big unexploited potential and we are committed and dynamically working on straigh­tening the ties between our two economies and business communities, with concrete and effective steps towards the development of Romanian-Macedonian economic and trade relations.
We have agreed to re-establish a Macedo­nian-Romanian Bilateral Chamber of Commerce (or Council) and to reinvigorate the Intergovern­mental Commission for Economic Cooperation. Also, we are planning to organize a Business Forum and a "Week of Macedonian Products in Bucharest", and most probably to have economic missions in Skopje and Bucharest at least four times a year. Macedonian and Romanian markets have great potential, emphasizing the need for better mutual communication between the two business communities and improved awareness about the opportunities offered by both countries in attracting foreign investment.
The Republic of North Macedonia has signed investment protection treaties and agreements for the avoidance of double taxation with many countries, and with Romania, indeed. At the same time, North Macedonia is a signatory of multilateral Free Trade Agreements as the SAA - Stabilization and Association Agreement with the EU member-states. And according to the SAA, the Macedonian export of agricultural-industrial products maintained the duty-free treatment on the market in Romania (as an EU member).
We are making mutual efforts to intensify co­ope­ration in the field of tourism, joint appea­rances in third markets, as well as cooperation in the field of metallurgy (shipyards) and in the field of wine industry. A very important future step for en­cou­raging tourism and trade exchange is the opening of a direct flight Bucharest-Skopje-Bu­charest.
What are North Macedonia's overall strengths as a potential investment destination?
The Republic of North Macedonia as NATO member and EU candidate country is an excel­lent choice to locate a business for a number of rea­sons: It has a strategic geographical position at the crossroads of two main European transport corridors, with a highly-liberalized foreign trade policy. It has signed various bilateral agreements that give local producers free access to the European Union and other markets, making North Macedonia a highly-competitive produc­tion and export platform.
It has a stable monetary environment with one of the lowest inflation rates in the region and a stable currency,
It offers a favorable tax environment with one of the lowest corporate income tax rates in the world; in addition, North Macedonia has several Invest­ment Zones with 10-year tax holidays for corporate profits, employment income, VAT, custom duties. It has a highly-qualified workforce and one of the most competitive labor costs in Europe.
It has an investor-friendly Government, fast company registration, its one-stop-shop system for company registration completing the procedures within four hours.
Taxes, Customs and other Incentives:
Investors in the free zones are entitled to a 10-year tax holiday for profit and corporate tax and 100% reduction of personal income tax for a period of up to 10 years. Investors are exempt from VAT payment on imports and trade of goods in the free zo­nes. Additionally, investors are exempt from payment of customs duties for equipment, machi­nes and spare parts.
The land in the free zones in Republic of North Macedonia is available under long-term lease contracts for a period of up to 99 years at conces­sionary prices.
Investors are exempt from paying utility taxes to the local municipality, and fees for land building permits. They also benefit from free connection to natural gas, water and sewage network. The Government may support growth of capital investments and income with a return of 10% of investment costs in new machines and equipment, or investment in buildings and land.
Many Romanians drive through your country on their way to holiday destina­tions in Greece. What tourist attractions should they visit in North Macedonia?
Certainly, many Romanians are transiting North Macedonia and many of them are also staying couple of days mostly as tourists. I can share with you some figures in this regard. Starting 2017, we have had an increased number of overnight stays in different cities in North Macedonia. The number of tourists increased in 2019 by 13,5 % compared to 2018. So, we had a number of 18,984 tourists and 33,439 overnight stays in 2019, which means an increase of 7,1% compared to 2018. Unfortunately, due to the pandemic crisis, the lockdowns everywhere in Europe and worldwide, and the measures taken, in 2020 we faced a decrease in the number of tourist and overnights. Only 1,850 people were registered with a total number of 3,403 overnights, which translates in a total decrease of 90% compared to 2019. The tourist sector is very important to us and the revenues from this sector account for almost 7% of the country's budget. So, from the end of June 2020, we opened our borders to everyone, without any restrictive measures of mandatory quarantine, if the person is traveling without Covid-19 symptoms. North Macedonia has a lot to offer to foreign tourists. Lake Ohrid is the pearl of the Balkans. This Ohrid region is under the protection of UNESCO. Only in this area can one visit one church or monastery every day of the year. North Macedonia is a mountainous country, so there are many interesting places to visit such as Galicnik, with its famous traditional wedding event. Krusevo is the place where the first independent Republic was created under the Ottoman empire for a very short period of 10 days. For skiing, Popova Sapka, Mavrovo and Kozuf at the south are the places to be. In the capital, Skopje, the old bazaar must be visited and areas around the city as Matka canyon. The wineries are amazing, to be visited alongside traditional dishes with mixture of oriental and occidental touch.
What are the next steps to be taken by North Macedonia in order to obtain a start date for EU entry negotiations?
In order to be part of the EU we need to modernize our society. This is what we are doing every day and the reform process has never stopped. We continue to harmonize the domestic laws with the EU ones and certainly to apply them according to the rule of law.
Major important steps have been taken by the current Government in order to be closer to the EU and to be part of NATO. You may recall the Prespa agreement with Greece and the agreement on good neighborly relations with Bulgaria. Those efforts were praised by the international community because such agreements are never easy for a nation to achieve, and that was very clear to many stakeholders. My personal opinion is that we are more than ready and prepared for setting the negotiations frame and the date for the first intergovernmental conference with the EU. We need a consensus by all EU countries and apparently one country is not satisfied with the discussions in the frame of the historical commission of Bulgaria and North Macedonia. Having this in mind, we should not forget last year's green light from the European Council in favor of North Macedonia. So, to conclude, we will continue to find a solution with neighboring Bulgaria, because we are of the opinion that there is no other alternative for us except the EU. We call upon European values in the 21 century and for the sake of the European peace project and credibility of the EU, a start date should be obtained as soon as possible because the countries in our region are part of Europe, need stability and a clear perspective. The negotiation process will be long anyway and according to the new methodology proposed by France and adopted by all members, the process may be reversible, so the EU should not be afraid of the enlargement process because it can be taken as an added value to the peace, stability and prosperity of Europe as a whole.
What was the impact of the COVID-19 pandemic on your country's economy and society as a whole?
The total number of Covid-19 cases in our coun­try, since the beginning of the pandemic, stands at 153,461. The number of recovered patients reached 136,545, there were 5,042 deaths, and the number of active cases at the moment is 11,874. For a country of about two million, that is a lot. I would say that we have had a difficult year. First of all, our healthcare workers gave their best handling the situation, and we are all grateful, although, it is sad that many families lost their loved ones.
The pandemic has had a particularly dire impact on economy around the world. As the number of cases and fear of contagion has spread, to facilitate physical distancing, North Macedonia, as most countries, adopted either full or partial lockdown measures to prevent the transmission. We had a reduction in working hours in some sectors and, unfortunately, some of our citizens lost their jobs. Our economy has been highly affected by this pan­demic crisis. For example, domestic compa­nies in different sectors like manufacturing, restaurants, food and other facilities, also export companies, agriculture and tourism, were the most affected. The sad truth is that we are all aware that this pandemic has negatively affected not just our economies, but also our social lives. Our way of living has changed.
What measures have been taken in order to help the economy get back on track?
During this health and economic crisis, the Government of the Republic of North Macedonia saw an opportunity to create a new and stronger Mace­do­­nian economy, an opportunity for structural change and growth. Our Government has been dealing with the negative effects of the pandemic crisis with five packages of economic measures, so far. The fifth package of economic measures targets both individuals and companies, for a stable and developed Macedonian economy and for improving liquidity. It contains a total of 29 measures, worth 9.7 billion denars or about 160 million euros.
The fourth package of economic measures represents a successful strategy for preventing the collapse of the healthcare system, economy and social security. This package aims to ensure the sustainability of the domestic economy and jobs, to help recovery in certain sectors, to ensure the stability of social transfers and to provide policies that will help the implementation of a rapid exit strategy when the crisis is over.
The third package contains measures for citi­zens and measures for the economy. Target categories include unemployed people, socially vulnerable categories, high school students, students, and young people up to 29 years of age, low-income citizens, medical personnel. For the economy, it addresses the sectors affected by the crisis, do­mestic companies (manufacturing, food and other facilities), export companies, services, agriculture and tourism.
In turn, the first two packages of economic measures dampened the first blow of the economic crisis caused by the coronavirus. The main features of those measures were their timeliness, their com­prehensiveness and the prompt response.
What major objectives would you like to have achieved by the end of your term in Bucharest?
I have many objectives, but some of them stretch beyond my mandate. I would like to establish direct flight connections between our countries. There is a growing necessity. We need to build more bridges in order to connect more of our people, businesses, cultures and traditions. In this context, by the end of my mandate, I would like to see a bilateral meeting between our presidents, taking place in Skopje or Bucharest. We need to organize a business forum with the participation of interested companies and business people, and I can tell there is an interest. The chambers of commerce in Romania and North Macedonia have the willingness to strengthen co­ope­ration. Some memorandums of understanding and cooperation have been signed and more are to come in order to create a legal frame. The main ob­jec­tive for me would be to help people in our coun­tries know each-other better, to travel frequently in both directions in order to discover new perspectives.
This is also available in our print edition of Business Arena.
COMENTARII:
Fii tu primul care comenteaza