Scania Romania invests in new projects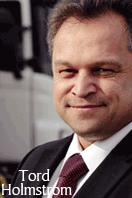 Swede Tord Holmstrom is no stranger to speed and dynamism. Proud owner of a 2008 Corvette, the Scania Romania general manager also hopes to drive his company to success in this market. To achieve that, Holmstrom said the company planed to invest around three million euro this year. The money will finance a number of projects such as improving its services to clients, staff training, opening a Scania dealership in the Bacau region and in its participation to the Young European Truck Driver competition, which allows the company to promote the drivers' profession.
At the same time, the company has positive expectations for the year ahead. "We expect a steady growth in all areas, as a natural consequence of Romania's ongoing development and due to our actions aimed at promoting value-added services for the customers. Considering a long term perspective, we expect the service operation to have a faster growth rate than "hardware" related sales. In the short run, vehicle sales could probably grow in line with the service operations", said Holmstrom.
Enhancing his company's productivity is closely linked to offering better services to clients, according to the general manager. "We have a very clear idea on what the customer needs and what we have to do. Therefore, we will continue in the same way as we have done for so many years, establishing more and better service points. In the next two years, we foresee the possibility of setting up two new captive dealers, but only if that is required by our customers," he explained, adding that "we have worked hard on providing improved product and service offers. We have done our best to inform customers on the importance of considering the total profitability and efficiency of their choice of transportation solutions, rather than looking at the initial price only."
The company will also focus on developing its human resources. "Looking ahead, we will surely put a higher percentage of employees in our service operations. A lot of investments will therefore be connected to our human capital," Holmstrom said. Scania Romania currently has 110 employees, along with another 70-80 people working for its independent service network.
To read the full version, see the print edition of Business Arena.
COMENTARII:
Fii tu primul care comenteaza