We are heading towards a digital-oriented banking system, but until then, we have some other challenges ahead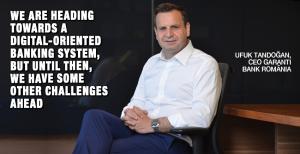 Digitalization has taken banking by storm in the last years. How do you adapt to this trend?
Let me start by saying that there is no surprise to see this dynamism in banking. After other big industries, such as travel, auto, insurance or entertainment have been profoundly changed by the new technologies, it was a matter of time to see our industry influenced by this trend. New players, new products and new services are luring especially the young customers. Mobile banking is growing fast and is becoming the main instrument in banking, at least for basic services. We more than welcomed this trend, by investing early and substantially in our digital channels.

We are one of the pioneers of the digital banking in Romania. Currently, we are the 6th bank in Romania in terms of digital banking penetration. In 2018, the value of the transactions performed through our internet banking platform - Garanti Online, increased by 60%, compared to 2014. In the same year, we registered an increased volume by 60% of mobile banking transactions that were operated through our mobile banking application Mobile ME, compared to the previous year. About 47% of Garanti Bank's deposits are being opened through Garanti Online. Also, we try to customize our products and services to best fit the needs of our customers, because we strive to be a bank with a client centric approach. This is the reason why we always design new products and launch new campaigns. We want to make sure that our clients know they have in us a partner for the long run.
We have just been awarded for the 12th time in the past 11 consecutive years, by the worldwide-recognized Global Finance magazine, as "Best Consumer Digital Bank in Romania". We are the only bank in Romania to win such a prestigious award. In developing our digital services, we benefit from the support and know-how of our shareholders. Garanti BBVA has over 7.5 million digital customers (67% penetration), while Banco Bilbao Vizcaya Argentaria (BBVA) reached 29 million digital clients. BBVA was recognized last year by Forrester Research as having the best mobile banking app in the world, in the top of mobile service offerings from 53 banks across the world.
How do you see the context created by the new competitors, the so called fintech companies?
Competition in the banking industry has refined throughout the years. But at least for now, for the Romanian market, banks have nothing to worry from the fintech and tech companies as long as they constantly improve the delivery of financial services on digital channels, expand their presence online, and connect with people 24/7 through social networks. Some of the banks are developing their own products to compete with these new players, other banks are trying to buy them. We believe that collaboration, not the competition is the future in this field.
What do you think about the magnitude of financial intermediation in Romania?

Is it enough tosupport local entrepreneurs

The market context and some historic problems are keeping the banking sector and Romanian economy still behind its neighbors in Central Europe. The banking sector's asset size is 95 billion EUR which is around 50% of GDP, while the EU average is over 200% and CEE countries have 100% or higher. Unfortunately, Romania has the last ranking in Europe in this regard.
Romanian banks have around 70 billion EUR customer deposits and together with other funds sector has a total funding capacity of 85 billion EUR. Plus, there is an equity of more than 10 billion EUR in the banking sector.
There are several reasons for this low financial intermediation. First, due to the bad reputation of the insolvencies in Romania banks are more conservative in order not to face problems after granting loans. Every year more than 8.000 companies are going into insolvency. If you consider there are only 720 thousand companies the number of insolvency cases is huge. In Poland there are 2 million companies and insolvency number per year is just 1.000.
Also, in Czech Republic and in Bulgaria the numbers are very low. For example, in Bulgaria there are only 300-400 insolvency cases per year. Unfortunately, some companies in Romania are abusing the weaknesses of the insolvency law and banks find that taking back their loans
is a very long and difficult process. And this "strategy" created a huge pressure on the profitability of the sector. Only between 2011 and 2016 the Romanian banks made 11 billion EUR provisions, and more than half was related to insolvency cases.
So, the banks are thinking twice before making a credit decision due to the bad experience of insolvency cases. In recent years banking sector preferred to take sovereign risk much more than granting loans to entrepreneurs. And today, there are significant amount of government bonds in the banks' balance sheets. Over 20% of the banks' assets are state bonds and it is one of the highest levels in Europe.
Second reason for the low level of financial intermediation is the high share of rural popu­lation. That's why only 60% of adults in Romania have a bank account. This is significantly below the average of the other countries in the region which is 75%.
Third reason of the low financial interme­diation in Romania is the shadow economy, which is estimated to be 28% of GDP, the second highest in EU, after Bulgaria. The fourth reason is that the size of business loans is very low because of limited number of enterprises. In Romania there are around 720 thousand com­panies. But most of these companies are inactive or have very low equity and very low turnover. For example, around 600.000 com­panies have zero turnover or below 100.000 euro yearly.
So, from the bankers' point of view, only a very limited number of companies are eligible for bank loans. According to World Bank-IMF report only 128 thousand of companies are eligible in terms of minimum financial criteria of the banks.
Fifth reason for the low banking interme­diation is that some industries are dominated by multinational companies and those companies are benefitting loans from their parent companies or mother country banks instead of taking a loan from Romanian banking system.
What are your advices for the local entrepreneurs?
As banks, we expect full transparency from the companies that want to become our clients, everything related to their business, especially their financial situations. They should have an open dialog with the banks. As I mentioned, insolvency is still a big problem for Romania and because of that banks suffered a lot of losses. With a transparent communication, the trust between banks and entrepreneurs will be strengthened. Sometimes a company can have difficulties. In these situations, it is better for both parties to agree on a restructuring plan before going into insolvency. It is very important to keep the trust between the partners. This is also true for smaller companies – transparency and fairness are the building blocks of a long-term relationship.
What are your strengths on the Romanian market?
Generally, in Romania the competition is price driven, there is no secret about this. Our prices are, of course, aligned to the market level, but our competitive advantages come from our brand, our technology, our human capital and our innovative products.
We are part of a great financial family, an advantage in this very dynamic banking environment. We have strong shareholder support and a strong reputation locally, but also globally. Garanti Group Romania is held by Garanti BBVA, the second largest private bank in Turkey. In the first half of 2019, Garanti BBVA posted a consolidated net income of EUR 560.24 million and an asset size of EUR 64.48 billion, while its contribution to the economy through cash and non-cash lending totaled EUR 48.27 billion.
Garanti BBVA serves over 17 million customers in corporate, commercial, SME and consumer segments, offering fully integrated financial services. Spanish financial group Banco Bilbao Vizcaya Argentaria (BBVA) is the majority shareholder of Garanti BBVA. In the first half of 2019, BBVA registered a net attributable profit of EUR 2.44 billion.
Secondly, we have highly centralized operations, which bring efficient processes and best customer experience. We also take pride in our technology and our state-of-the-art digital products – Garanti Online and Mobile Me. Also, Garanti Bank is one of the first and still few banks in Romania with a complete smart ATM network.
We are constantly increasing the operational efficiency of the bank, significantly over the sector average. We have been focused on improving the asset quality of the bank. Currently our NPL ratio fell under 4%, and it is significantly under the sector average.
The interview is also available in our print edition of Business Arena.
COMENTARII:
Fii tu primul care comenteaza