Unpredictability dominates market trends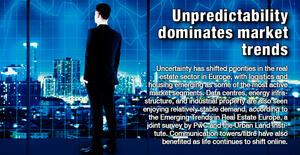 Uncertainty has shifted priorities in the real estate sector in Europe, with logistics and housing emerging as some of the most active market segments. Data centres, energy infrastructure, and industrial property are also seen enjoying relatively stable demand, according to the Emerging Trends in Real Estate Europe, a joint survey by PwC and the Urban Land Institute. Communication towers/fibre have also benefited as life continues to shift online.
Now in its 18th edition, the report explores two shifts: a cyclical downturn juxtaposed with long-term structural changes to real estate.
The COVID-19 pandemic, government responses, the environmental, social and corporate governance (ESG) agenda, and push towards net zero and the acceleration of blurring of previously distinct asset classes are all driving significant change.

The survey notes that real estate is generally still seen as one of the few investment asset classes to generate acceptable returns at a time of low or negative interest rates. However, the pandemic has forced millions to work from home, closed retail stores and accelerated structural changes impacting three mainstay sectors of the real estate world - office, retail and hospitality. 2020 poses immediate challenges to the security of income from these sectors.
The survey reveals a significant degree of pent up capital, with investors waiting for some resolution of 2020's uncertainty. It also reveals an emerging bias towards domestic markets, as investors increasingly favour locations where they have more existing expertise, rely less on local experts and can more easily assess potential investments when travel restrictions are in place.
Amplifying this domestic focus, is the clear expectation that we will see a deals-led recovery with ample opportunities emerging over 2021 within domestic markets without perhaps having to venture overseas.
The prioritisation of stability has also helped Germany gain favour, with Berlin topping the city rankings this year. The relative health of Germany's economy, combined with its effective handling of the virus, has helped the country through this period.
The survey also highlights a growing focus on environmental, social and governance concerns, including net zero strategies and diversity and inclusion. These topics feature prominently as part of an ongoing re-evaluation of real estate's place in society and how it impacts the very fabric of how people live, work, consume and spend our leisure time. The pandemic has reinforced the importance in the minds of many industry leaders of the need to consider how the sector can reduce its carbon emissions, and the importance of the ESG agenda in general.
Capital is plentiful but paused

A positive observation from the survey this year is that capital remains plentiful. Unlike the 2008 global financial crisis, after which capital receded dramatically, this time most investment managers report the existence of pent-up capital, often raised before the pandemic, which still needs to be deployed.
The low interest rate environment supports asset values and fuels demand, although the research and interviews conducted in July and August 2020 revealed a sense of suspended animation with two key drivers.
The first is the COVID-19 pandemic itself, which has put economies on pause. Analysts are understandably cautious about when normality might resume and how it might look when it does. Accelerated trends, changes in demand and newly desired outcomes means the landscape could be harder than ever to navigate. The survey shows a marked decline in business confidence for 2021, with almost half of all respondents expecting a fall in profits.
The second is the government response. Governments across the world have introduced mitigation measures, such as tax and insolvency deferrals, to stave off the worst effects of the pandemic and in some cases even instigating deferrals or moratoriums on rent collection. And, in the United Kingdom (UK), whilst the government has committed to "build, build, build", details of the program are yet to be published.
As a result, a great deal of capital is awaiting deployment pending a clearer view of the future path of policies such as these.
Germany has emerged as a regional beneficiary of the flux this year. The relative health of Germany's economy – combined with low vacancies for office, residential, and logistics property in its major markets – has boosted investors' confidence that income will be resilient in the face of the crisis.
Respondents took the view that the events of 2020 are likely to lower the value of megacities, with contagion adding to the expense, complication and crowdedness of big city life, which may be headwinds on demand.
Despite short term concerns, investors are clearly optimistic about the investment opportunities in London and Paris for the year ahead. These capitals are commended for the relative liquidity they offer investors and their overall prospects in 2021.
This is also available in our print edition of Business Arena.
COMENTARII:
Fii tu primul care comenteaza