Top 10 Most Expensive Pens in the World
10. Grayson Tighe Limited Edition Fountain Pen – $24,000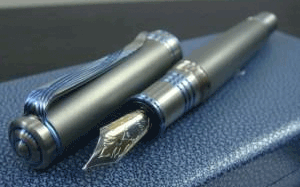 This pen is made from yellow gold weighing 18 carats. An Acanthus leaf is engraved into the pen. It is coated with rhodium and tipped with iridium.
The pen is made by hand and customized in Germany.
9. Visconti HRH Limited Edition Forbidden City Fountain Pen – $42,200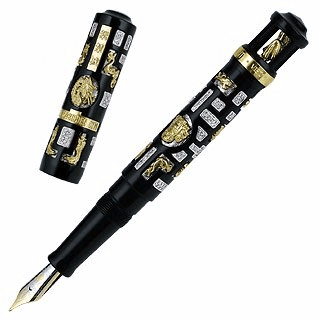 The Forbidden City fountain pen from the Italian pen manufacturer Visconti is made of black resin. It features an innovative filling system called the Power Filler, and boasts of gold and diamonds in the body and nib.
8. Visconti HRH Limited Edition Ripple Fountain Pen – $57,000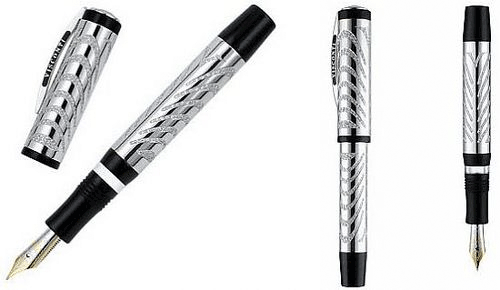 This pen is available in white gold. The body is made of white gold weighing 18 carats. Diamonds are encrusted in the body, and the nib is made of 18 carat gold. The pen features a double reservoir filling system.
7. Mont Blanc Prince Rainier III Limited Edition 81 Pen – $260,200
The pen was given this name to honor Prince Rainier III of Monaco who passed away in 2005 at the age of 81. Only 81 pieces were made. The body of the pen is molded from 18-carat white gold and is encrusted with 996 facet-cut diamonds and 92 rubies. The clip ring also has 19 rubies on it. The nib is made of gold measuring 18 carats.
6. Caran d'Ache La Modernista Diamond Pen – $275,000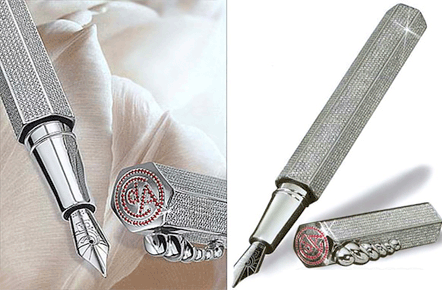 The La Modernista pen has 5,072 diamonds weighing 30 carats encrusted all over its body. It also features 96 rubies, while the nib is made of gold weighing 18 carats and coated in rhodium. It took the manufacturer six months to finish this pen by hand.
5. Caran d'Ache Gothica Pen – $406,453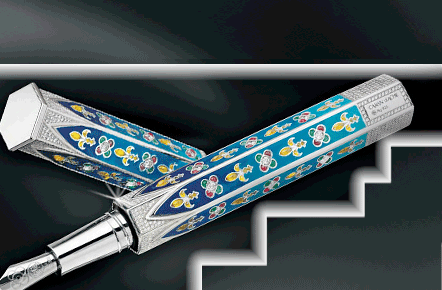 Only 1,140 were created by Caran d'Ache in this tribute to Gothic art. The pen is made of sterling silver coated in rhodium, with a Gothic window of rosette and fleur de lis on both sides combining in brilliant colors.
4. Mont Blanc Limited Edition Mystery Masterpiece – $730,000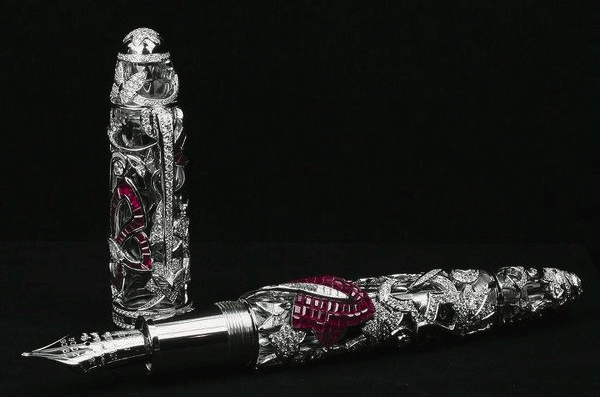 What happens when one of the best creators of luxury watches, writing instruments and leather team up with one of the most prestigious high jewelry manufacturer in the world? That was what happened when Mont Blanc and Van Cleef & Arpels collaborated on this limited edition pen, aptly named the Mystery Masterpiece. The luxury-writing instrument was meant to celebrate the centenary of the German giant, and it did not disappoint. The pen was studded with 840 diamonds. Clients can then choose whether to add emeralds, rubies or sapphires to provide the contrast to the diamonds. The result is truly a masterpiece in every sense of the word.
3.Heaven Gold Pen – $1 million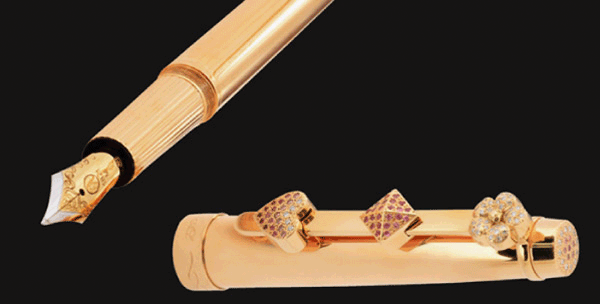 Touted as a girly pen as the body is molded from 24k pink gold. Originally called the First Diamond and Gold Pen, it was created by Anita Tan and features 1,888 diamonds weighing 48 carats, including 161 that have brilliant colors. Tsavorite gemstones estimated to be 2 billion years old and weighing 43 carats also adorn this pen. The gems form diamond, heart and flower shapes in the middle of the pen. Tan supposedly drew inspiration from the cosmos at the start of 2012 when the stars and planets realigned.
2. Caran d'Ache 1010 Diamonds Limited Edition Fountain Pen – $1 million

Caran d'Ache is a well-regarded manufacturer of pencils, writing instruments and fine art products based in Switzerland. It should probably add designer of gemstones to its list of credentials. After all, it has created a limited edition fountain pen that is encrusted with 850 diamonds. The cap of the fountain pen also has 26 lines that are studded with 22 baguette-cut diamonds. The entire body of the fountain pen is already luxurious enough, as it is made from white gold. And yes, this limited edition pen doe s write quite well. Even if it does not, you certainly would not be throwing this away.
1.
Aurora Diamante Fountain Pen – $1.47 million
Aurora is a pen manufacturer based in Italy known for its luxury writing instruments. The company's Diamante fountain pen is known for its smooth flow of writing delivery, though it may be hard to concentrate on your penmanship with this pen when it has around 2,000 diamonds encrusted all
over its body. Yes, 2,000 diamonds, making this pen not just a writing instrument, but a veritable jewelry as well. To top off the statement of wealth that this pen seems to proclaim, the nib of the fountain pen comes in gold. Only one Diamante pen is created each year by the manufacturer, thus making it a rare collectible.

COMENTARII:
Fii tu primul care comenteaza