The Brand Excellence Hall of Fame Awards Gala 2021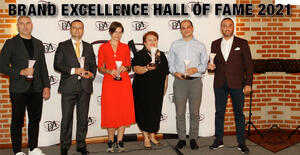 Creating brand awareness is a key step for everyone, whether promoting a new product or reviving an older brand. The winners of last night's the Brand Excellence Hall of Fame Awards have achieved excellent results in that area, as experts say that products and services maintaining a high level of brand awareness are likely to generate more sales, while consumers confronted with choices are simply more likely to buy a familiar name brand product.
The latest addition to Business Arena's event portfolio was warmly received by the business community and it became a success from its first edition. With its strong tradition in recognizing and encouraging business excellence, achievements and overall success, Business Arena celebrates innovation, resourcefulness, perseverance and a culture of responsible risk-taking through initiatives that demonstrate excellence in brand management.
"Top brands continue to enjoy a higher growth in value than the economy as a whole, and brand-strong companies see their value increase even when economic growth slows down. Biggest Romanian brands continue to build momentum and are better prepared for the future," Brand Finance CEO David Haigh was quoted as saying.
Business Arena organized the event with the support of its partners:
CEC BANK; GARANTIBBVA; IDEA BANK; APULUM PORCELAIN FACTORY; CHOCOLAND; WORLDCLASS ROMANIA; KANAL D; AIDA EVENTS; CASA ANKE; RAMADA BUCHAREST PARC HOTEL.
WINNERS 2021

BEST RETAIL BANKING PRODUCT OF THE YEAR


ALPHA PHONEPOS

ALPHA BANK ROMANIA

Recognizing its outstanding strategy and creativity reflected in its successful launch of innovative retail banking products that have achieved a high level of customer recognition and appreciation.

BRAND EXCELLENCE IN BANKING

GARANTI BBVA ROMANIA

The distinction BRAND EXCELLENCE IN BANKING is granted to Garanti BBVA for consistent and relevant brand communication through these challenging times, when the bank proved that brands are more relevant than ever for their communities. Garanti BBVA continued being vocal with what it believes in and staying true to its commitment to put the consumer first and keep the level of customer service at the highest level. The bank succeeded in remaining a relevant brand also on social media, thus developing a strategy showcasing authentic relations with its audience, based on their shared values and providing on its channels quality content, focused - besides the banking news, on topics such as employees' endorsement, environmental protection, and digital safety.

WELLNESS BRAND OF THE YEAR

WORLDCLASS ROMANIA

For achieving a high level of recognition in the market for its strong expansion and communication for Exercise is Medicine and living a healthy lifestyle and for a growth strategy reflected in successful development of operations in a difficult economic climate.


MOST INNOVATIVE BANKING BRAND

LIBRA INTERNET BANK

Recognizing its strong innovation, creativity and strategic thinking in building a successful brand image, with a high degree
of customer awareness and satisfaction.

MOST IMPRESSIVE GROWTH IN RADIO AUDIENCE

IMPULS RADIO

Impuls Radio's upward trend was reconfirmed by last year's third-wave audience research, according to IMAS - Marketing and Surveys and Mercury Research. Impuls Radio recorded the biggest market share growth among the top 15 radio stations in Bucharest in the commercial
target segment, posting a 120% increase compared to the second-wave research of 2020.

BEST BRAND STRATEGY

FIRST BANK

For outstanding consolidation of the First Bank brand through creative, out-of-the box projects and word-of-mouth campaigns.


BEST NEW TRAVEL INDUSTRY BRAND

SOLEY TOUR

Recognizing its outstanding dedication, hard work, inspiration and innovation in building a new brand in a challenging business environment.

BEST INNOVATIVE BANKING PRODUCTS

IDEA BANK

For achieving a high level of recognition and admiration in the industry for its effort to create strong brand awareness through innovation, creativity and groundbreaking products and services.




For more details and photos from this special event, see the next print edition of Business Arena.
COMENTARII:
Fii tu primul care comenteaza