The Book of Excellence 2020
We at Business Arena Publishing Group keep an eye on the latest trends in the business media and put our readers' wishes first, as we constantly aim to extend our readership potential and gain greater coverage and circulation.
In keeping with our expansion strategy, we are happy to introduce The Book of Excellence 2020. Widely acclaimed for its prestigious annual awards dedicated business, culture, civil society, and sport personalities, Business Arena Magazine has heard its business partners and readers alike, who have been asking for a new platform that could put under the spotlight all the Business Arena award winners, with their success stories, challenges, expectations and hopes.

We have decided to build the new publication around our dynamic award events, and showcase their winners: Most Admired Business Women Awards, Financial Leaders' Hall of Fame, Business Arena Awards for Excellence. Our readers deserve to know more about these successful people and organizations, so more than 30 business leaders, entrepreneurs, highly-regarded professionals, companies, and banks will be included in our first edition, with interviews, biographical details and company profiles.
Business Arena is committed to providing the business community with useful insights and tools to manage their operations, and with platforms where business leaders and leading professionals can express their views and ideas.


Overall, this new magazine is designed to include a wide variety of exciting topics and promote business excellence. We plan to publish the magazine annually and jam-pack the pages full of success stories to inspire you. Our aim is to inspire readers with new ways of thinking; promote greater awareness of issues affecting their business opportunities; and expand our audience to a new generation of business people, entrepreneurs, and professionals.




The Book of Excellence will cover the most dynamic busi­ness sectors in this country, including banking, car manufac­turing, IT&C, real estate, agri­busi­ness, hospitality, retail, pharmaceuticals and so on. It will have a company profile section, lists of top companies in multiple categories and of course exclusive interviews.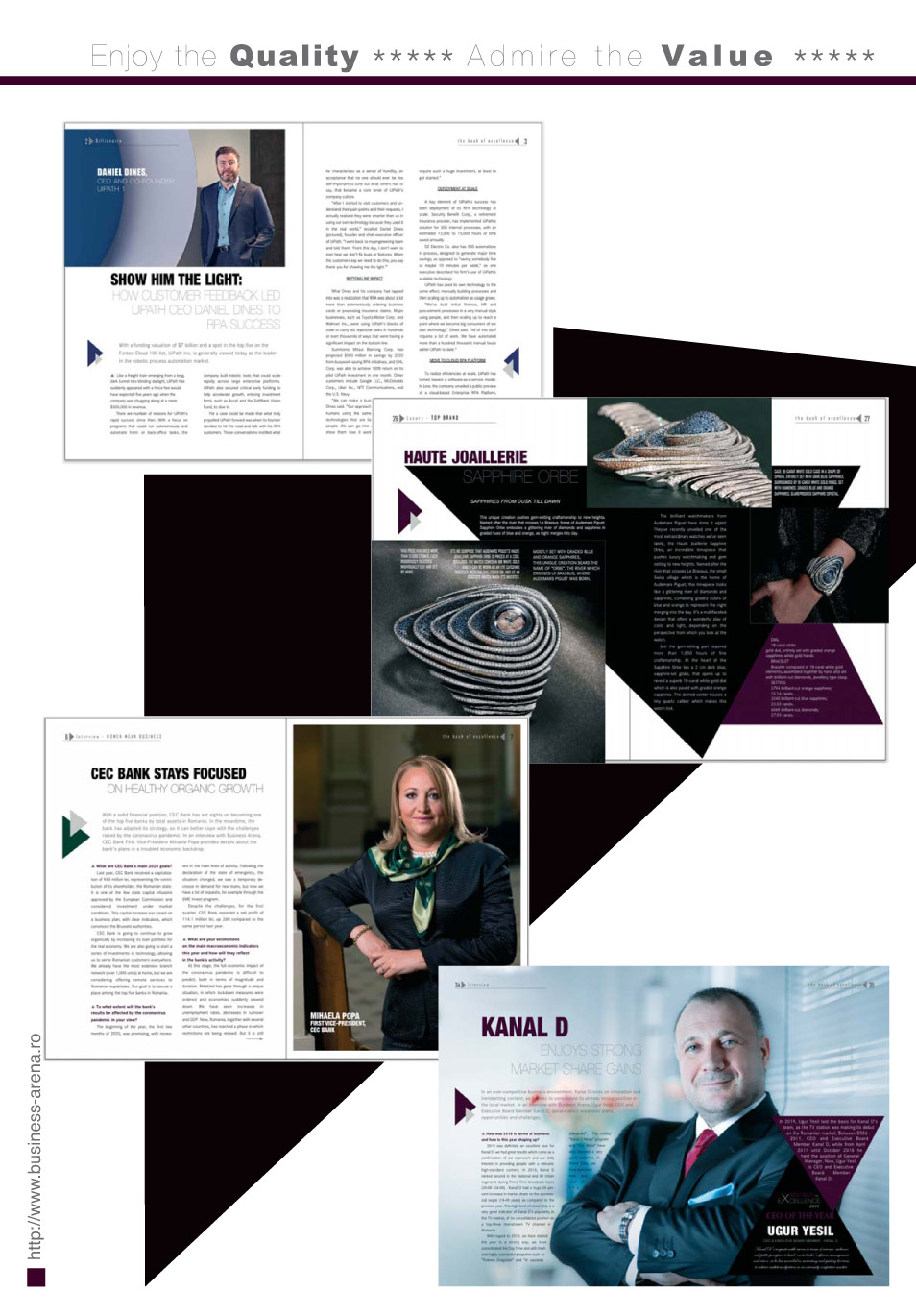 COMENTARII:
Fii tu primul care comenteaza