Power of music, electricity of culture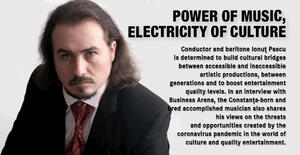 Conductor and baritone Ionut Pascu is determined to build cultural bridges between accessible and inaccessible artistic productions, between generations and to boost entertainment quality levels. In an interview with Business Arena, the Constanta-born and bred accomplished musician also shares his views on the threats and opportunities created by the coronavirus pandemic in the world of culture and quality entertainment.
How did your story as an artist begin? What led you to pursue a career in music?
I believe what really matters is the set of personal affinities of each individual, who manages and guides the most important choices in life based on emotions.
In other words, we are attracted to the things that we like doing with passion. It may seem obvious, but I know quite a few people, some highly successful professionals, who are unhappy with their more rational life choices, if they are not in tune with the daring dreams of their youth. I'm not just talking about artistic dreams, because not all people have this calling - and that's natural. I'm talking about passions, in any field. In my case, I took the risk of making music my profession precisely because, until the age of 18, I had been able to directly compare the two worlds between which I oscillated every day: the artistic and the non-artistic one.
Initially music was only a secondary activity for me, unlike some of my friends who were enrolled "full time" in music schools or high schools. At the 'Energetic' High School in Constanta, my subjects included "Installations" and "Machine Parts", I had many "Workshop" classes and I did practical training in power transformation stations around the city, in addition to the other subjects of a regular high school. Obviously, the teachers didn't really understand what I was doing there, as they knew about my decision to become a musician. Nor were they too happy about my periodic two-three week international tours with the "Rhapsody of the Sea" folk band, in which I was an accordionist. I was a little envied for that, back then in the early days after the Revolution, but I usually managed to make up for it by sometimes bringing my accordion to school.
Looking back, I must confess that I don't know what kind of career I could have had with the accordion, even though I was already playing classical music and planning to study in Moscow, but I can certainly say that meeting my wife-to-be brought the needed change to my view on life. Being the end of the 11th grade, we were able to allow our imagination to en­visage a future full of boundless possibilities, such as creating a "musical" family. It seemed a feasible business plan and here I was aspiring to the profession of opera singer. Madeleine (my wife) had already made a number of steps in that direction, as a student of the Music High School. Basically, the admission to the Conservatory became the first obstacle in our planned strategy. In a nutshell, we were both admitted by the Voice Department, then, in the third year, our daughter, Aida, was born, and she is now a second year Voice Department student. That's the musical family we imagined 25 years ago, according to the plan.
Later, while I was a soloist of the Constanta and Bucharest Opera Houses, I attended the Faculty of Orchestral Conducting, seen as a professional "upgrade", based on that set of affinities I menti­oned earlier. Obviously, it's hard to stop when you've climbed a lot and you're close to the top of the mountain. So the next step was a two-year master's degree at the Milan Conservatory and a four-year doctorate in Bucharest - a total of 15 years at the Conservatory (you have to be well prepared in the business arena, right?)
Who were your mentors, the people who left their mark on your life and career?
Our daughter's name was not inspired by Verdi's work, as one might think. It is in fact a tribute to one of our teachers and, later, our wedding godmother, Constanta soprano Aida Abagief, a mentor to many important voices and important representatives of the old generation. It was a great honor for us to take over from a professional of her stature, benefiting from her entire experience built during a glorious period of the Romanian opera scene.
For two years, I received guidance from late tenor Dorin Teodorescu, in whose class I was a student. Four intense years with the great director Hero Lupescu, who taught the opera classes at the Conservatory, or the pedantic courses of the old master Dragos Alexandrescu carved in me a deep respect for the stage, art in general, and for this profession in particular. Later, during my second undergraduate studies, I learned a lot from master Cristian Brâncusi, an experienced and meticulous conductor, and from master Nicolae Coman, a refined composer and professor of the art of harmony. Apart from the knowledge and resources accumulated from these people, I can say that I was impressed with their human qualities, becoming real models of conduct in life and in my career.
Of course, I have learned enormously from many more professional encounters with outstanding personalities, which could be named here, but the list would be too long.
What inspired the creation of Aida Events and what is its mission?
Any civilization identifies itself with the level of culture it has cultivated. Here are two of the 15 definitions of the word "culture" in the Romanian Explanatory Dictionary: 1. The totality of material and spiritual value. Understanding that we are dealing with material and spiritual values, on the one hand, and with raising the level of intellectual development, on the other hand, the society needs the involvement of responsible people of culture. Now, the offer for the general public is somewhat passive and quite exclusive. Basically, cultural events rely on an audience that is already prepared to consume such artistic products, without having a direct involvement in the training process. Yes, you need a certain level of knowledge to be able to enjoy all the benefits of a cultural product. It is an elevated language, but with perseverance one can become familiar with that new language.
Basically, Aida Events deals with the enrichment of the current language, by progressively raising the bar of its cultural events. An adequate repertoire selection and its presentation in a complex form can be, as it has already been proven, a bridge between accessible and inaccessible products. Moreover, all age segments are targeted, in order to ensure a bridge between generations - very necessary in an education process that relies on replicating models and values. I know those are great dictionary words, but I support my words with actions.
Last year, for example, in November, we presented the "Connecting Opera" project in Bucharest and Constanta, with 170 artists (soloists, orchestra, choir, children's choir and actors) launching a great anthem dedicated to humanity, singing a collection of international pop-rock hits in a classical style, culminating in a total emulation with the famous "We are the world".
Of course, the impact was felt on several levels, being basically a charity concert for the benefit of the "Hope and Homes for Children Romania" foundation. The audience? Between five and 80 years old, including children from foster care. The event benefited from TV cove­rage, TVR broadcasting the concert on Christmas Eve, so the audience was much larger overall.
Another example is the "Romanian Extraordinary Gala at Jerusalem Symphony." On December 1, we managed ("for the first time in history," as Insight Tarom magazine reported) to have a well-known foreign orchestra play a two-hour 100% Romanian program, together with 10 professional soloists from Romania. Again, with an accessible program, including orchestrations of famous songs (folk or pop music), the audience got their money's worth. Obviously, the success also involved a great image gain for Romania.
In short, we want to activate Romania's potential energy by raising the quality level in entertainment, which we could call "cultural entertainment".
Of course, in addition to the big concerts, we also perform at chamber level, with fewer musicians, but with good music repertoires adapted to each customer, from pianissimo to fortissimo.
To what extent is the Romanian public open to attending cultural events?
The general public's access to cultural events is particularly conditioned by the prejudices perpetuated in people's families or in their circle of friends. It takes a lot of courage to break routine patterns or trends. Openness exists in each of us, the need for inner progress being natural to humans as a species.
The problem arises when the person who starts consuming more "serious" products is ridiculed or accused of snobbery, depending on their age. Again, it is human nature (perverted, this time) not to easily accept the rise of an individual from a group stuck on a certain intellectual level. I don't want to upset anyone, but it is obvious: the cultivation of social virtues is directly proportional to the messages received through each individual's choice of entertainment, and social virtues mirror people's level of civilization. I'm talking about messages... literally. For example, lyrics say everything about one musical genre or another. They can be a simple filter when it comes to judging what could qualify as "good" music.
My remarks may sound a little caustic for some, but I am thinking of the young generation that has the fate of the nation's heritage in its hands. By extension, the same is valid for the entire world. We become what we choose to consume, and this generation's emotional food depends on us, on the living example we offer every day.
As for instrumental music, since we're on the subject, there is a broader discussion about the abstract, but direct messages that it can convey emotionally and intellectually. I won't go into details here, but I will say this: music is a very powerful tool! Use responsibly with children (and with yourself)!

Music is a universal language, but are there any differences in stage experiences in Romania and elsewhere in the world?
Personally, I don't make a fundamental difference between the two. Every artist's experience on stage stems from their belief in the message they want to convey through the story in which they are involved. The audience must benefit from artistic products that meet the highest quality standards. Of course, theaters with a long tradition have tougher requirements. It is a greater responsibility to sing in Italian to an Italian audience, or in German to a German audience, for example. Then, there are theaters with well-trained, passionate audiences, with notable previous experience, who will notice even the smallest deviations from the score. From that point of view, I can say that the Romanian public is more lenient...
But that doesn't mean we shouldn't offer them the best performance.
On the other hand, a difference could be made in terms of stage facilities or the quality of productions, which (unfortunately) depend on the allocated budgets. From ambient temperature control, to the level of comfort provided by materials used for costumes or makeup products, I can say that we still have some improvements to make.
Coming back to the audience, I would like to see here talkback sessions organized after each show, allowing spectators to ask questions about the production or about the artists. This would stimulate the desire for knowledge, refine the intellectual discourse and sedimentation of emotions.
What impact has the coronavirus pandemic had on cultural life and the entertainment industry? What do you think will be the long-term effects?
A quality artistic performance requires dedication and thoroughness, many hours of study, which are common among professionals in the entertainment industry, experienced or beginners. However, the personal motivation for an artist is given by meeting with the audience, by reaping the fruits of their work. I think the same is valid for the world of sports, which is basically a show, a competition for spectators' delight (in addition to the other psychological functions it has).
It is clear that the arts and sports are not vital to the survival of the human race. Like many other services, we could live without (HoReCa, wellness, etc. - see the simple countryside life). But I am sure that every modern person agrees with the old saying, quoted by British Prime Minister Neville Chamberlain, in 1938: "It is by art man gets nearest to the angels and farthest from the animals."
Another great quotation was attributed to Churchill (even if there is no proof that he actually said that), when he was asked to cut funding to the arts in order to support the war effort: "Then what would we be fighting for?" At least, it invites to reflection.
People have gone through many trials and still returned to theaters and concert halls every time, stimulated by the same impulse that takes them to the cinema even though they could watch the same movie at home. The same goes for stadiums.
This could be a chance for qualitative growth at the expense of quantity, with the public becoming much more selective in choosing events. In other words, a substantial decrease in the amount of kitsch is very plausible, with genuine value prevailing, like separating the wheat from chaff. Obviously, I'm talking about monetized events.
In other words, I think the shows will be tailored to the taste of the audience, with the producers analyzing more the avant-garde or experimental dose included in a classical piece, for example. And, based on that idea, public funding will choose more carefully the gladiators in the arena.
Fortuitously, we are going to reach a new normality, somehow even more "normal" than before. It is the great chance of the public to choose which direction they want to go after this survival game.
What are your near-and medium-term plans?
I have a few contracts abroad starting August, but, in the meantime, I am working on some alternative ways of covering expenses. I am learning new skills in the area of production of monetizable online material, I'm analyzing the possibility of having my doctoral thesis (The Cinematographic SYMPHONISM) published and launched as an e-book, and I'm (finally!) trying to complete a compositional project that I've been secretly working on for many years. It is very likely to be a success, because it was designed from the beginning for the general public.
Of course, I am ready to adapt to the new conditions - as they will be revealed to us along the way. If necessary, I won't exclude the possibility of a "non-artistic" profession, having a qualification as a high voltage electrician ('Energetic' High School, remember?).
The editorial is also available in our print edition of Business Arena.
COMENTARII:
Fii tu primul care comenteaza