Light at the end of the tunnel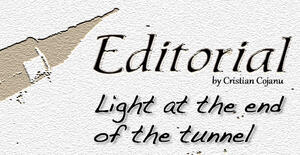 As vaccination roll-out gathers pace and social distancing measures are gradually eased, the business community hopes to see a return to some sort of normality in the coming months. However, the evolution of the pandemic is still unpredictable and may present further risks, experts agree.
Even so, Romania's economic pros­pects remain positive this year, according to European Commission's (EC) Spring European Economic Forecast. The EC's report points out that Romania's real GDP is expected to increase by 5.1% this year and 4.9% in 2022, suggesting that "the phasing in of projects under the Recovery and Resilience Plan is set to lend new impetus to investment growth."
On a similar note, Foreign Investors Council's most recent Business Senti­ment Index indicator shows a generally optimistic perception of Romania's business environment. In a press release presenting the findings of its survey, FIC notes that "there is a feeling of moderate optimism," among its respondents "about the direction in which their businesses will grow in the next period." It added: "This current positive perception can be explained by overcoming the uncertain times which characterized the previous months of the crisis and also by the vaccine occurrence and the success of recent vaccination campaigns."
According to FIC, "investors confi­den­ce in the Romanian market is reflected in the answers regarding the investment plan for the next 12 months. More than half of the respondents (51.1%) expect invest­ments to increase and only 13% will put them on hold. This result represents the highest score registered since the launch of BSI, companies surprising a maximum level of investments in the next year." Another positive message came from EBRD President Odile Renaud-Basso, who paid her first official visit to Romania in virtual format. Discussions focused on Romania's post-Covid-19 recovery and the ways EBRD's investments can support those efforts.
Speaking ahead of her meetings, President Renaud-Basso was quoted as saying: "Despite the ongoing pandemic, Romania is one of the fastest-growing economies in the European Union and has huge potential to unleash in the infrastructure sector and reform of state-owned enterprises. With accelerated reforms and increased project implementation capacity, Romania could become one of our top investment destinations."
Find more opinions and predictions about domestic and global economic and geopolitical trends in this edition of Business Arena.
This is also available in our print edition of Business Arena.
COMENTARII:
Fii tu primul care comenteaza