Have you moved your business online?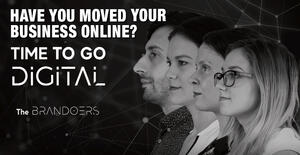 More and more businesses in Romania are busy moving their operations online in order to cater for people's needs and current lifestyles. Studies show that there is an increase in consumer interest for online shopping, so the purchase decision is made in the comfort of their home, with the help of mobile devices in particular. In this context, advertising agency The Brandoers has registered an increase in requests from companies wanting to move their business online, needing a website, a conversion funnel, as well as a marketing strategy adapted to the current business environment.
Our team constantly analyzes consumer behavior and pays special attention to our customers. In this way, we can adapt the strategy and come up with solutions so that the services or products of the brands we promote meet the real needs of the public. Sustained investments in online presence has favored the use of our individual services, but once those services are implemented, our customers also choose our online promotion subscriptions. Many of our recent partnerships started with one project, such as building a website or creating and managing paid ads on Facebook, Instagram and Google, but they gradually turned into retainer deals, tailored to customer needs. We build brands that have a strong story behind them and we are "the doers" (Brandoers): we successfully implement marketing strategies.
Initially, we started with the idea of promoting different personal brands. But a while later, word of our activities spread from person to person, from brand to brand, so we began working with many customers who are, most importantly, visionaries. Each of them is unique in their own way. Most of us spend quite a bit of time on social media for relaxation and for keeping up-to-date with the latest developments, whether it's on Facebook, Instagram, YouTube, TikTok or LinkedIn. Therefore, we make the most of these spaces by always bringing and using new methods of promoting the products we believe in.
We have promoted events that take place both in Romania and abroad; clothing and jewelry stores, such as ColibriArt, brands and leadership/ personal development/ entrepreneurship courses, such as Happy Cards and Academy4Startup, professional services offered with passion in various fields (House of Barbers, Femina's Health Center, etc.). We are constantly developing our portfolio in new business segments, with various areas of interest, and among our newest clients we can list Elita României, which aims to promote the true values in our country, and the Oryvo team, through which we broke the barriers of foreign market entry (online store with exclusive delivery in Dubai).
The period that we have just gone through has been critical for all of us. Therefore, we have had to adapt to the requirements of our customers in terms of partial or complete "move" to the online environment. At the moment, most businesses notice the advantages of online presence, and we have decided to help our community to develop in this environment by hosting live webcasts on our social media pages, presenting steps, stages, tips & tricks for online operations. Some of our scheduled tasks have been postponed or canceled in the past few months, but, proportionally, a number of other tasks have been secured, keeping us busy and making us realize that we can overcome any obstacle.
Mariana and Bogdan Ldaru created The Brandoers team, and they came up with the initiative to promote unpolished, brilliant ideas and concepts from all over the world. They are the leaders who have set out on the journey to bring out perspectives and news to the surface in the online environment, the best environment in which you can start a personal business.
Our team offers a set of services that you can hardly find elsewhere gathered in one place.
Each of us has an important role and represents a branch of our operation, without which we would not be complete.
Mariana takes care of Marketing, while Strategy Building is Bogdan's job. In addition to many other activities (editing media content, photo shoots, creating and editing video material, checking our own materials, constantly offering new ideas, etc.), they keep in touch with customers and raise awareness on what we create in the online environment.
Project Manager Vasile Nicoleta always gives us the energy and has a smile on her face every day. She plans the posts, events and materials for our customers, she checks them and makes sure that what we publish reaches our target audience.
An impeccable post and website content can only be achieved when you not only have outstanding pictures and videos, but also a text that conveys your message, your emotions and your passion for the brand to your customers. Words always create empathy! And this area is handled by Andreea Mnil, our team's copywriter and website content creator.
Overall, each of us can provide a set of skills and services that customers require separately, which is often confusing. The separation of these services makes it difficult for us to achieve the proposed objectives, if they are not part of a well-constructed strategy. That's why we have chosen to create a team capable of building a brand from scratch, offering complete services, so that customers will find it easy to work with a single team. This leads to continuity and progress. However, it should be noted that this process is a long one, but in the end our efforts are always successful.
In the future, we want to work with all kinds of brands, large and small, to discover products and stories that we can promote. We also plan to work with new brands, created by young people, help them grow both online and offline, because there are so many projects that cannot see the light of day due to the lack of promotion. At the same time, we want to work with young people who want to start their careers in our field, online marketing. We know that there are many talented students or recent graduates in this field, who do not know where to start.
Most of the time, we manage to combine the pleasant and the useful. The online environment is flexible, diverse and enjoyable, and so is our daily work. We laugh, we have fun, we organize, and, at the same time, we take our work seriously and with great passion.
We put creative ideas into practice. We help brands find their true potential and build a loyal online audience, we constantly adapt to the new social networks, discovering new ways of promo­ting brands that have potential. We are a creative team, passionate about innovation and, most importantly, we are "The Doers".
We are The Brandoers!
This is also available in our print edition of Business Arena.
COMENTARII:
Fii tu primul care comenteaza