Green urban mobility projects spur growth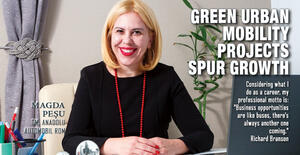 A new era of electric urban mobility creates new business opportunities, and Anadolu Automobil Rom gears up to take advantage of the favorable market conditions. In an interview with Business Arena, the company's General Manager, Magda Pesu, speaks about the challenges of doing business in a highly competitive market segment and its extraordinary growth potential.
What products do you currently offer to potential customers in Romania?
We currently represent four major bus brands on the Romanian market: Isuzu, Karsan, Temsa Skoda, and SOR, each of them having well-defined strategies in the area of alternative fuels.
What after-sales services are offered to customers and what is the contribution of these activities to the company's annual turnover?
We offer a full range of after-sales ser­vi­ces to our customers, from mainte­nance and repairs to supplying original spare parts and accessories. We also provide systems diag­nos­tic, checks and repairs as well as painting and body repair services. After-sales services typically have a 10 - 15% contribution to our total annual turnover.
What were the company's main achievements in 2020 and what are its objectives in 2021?
Thanks to the European bus fleet mode­rni­zation programs and promotion of clean urban transportation, 2020 generated very good re­sults for our company. Based on public ten­ders, we delivered full-electric buses to a number of municipalities. Thus, we delivered 20 SOR electric buses to Zalau, 20 Karsan electric buses to Dej, Suceava received 10 Karsan Jest electric buses, while 30 electric buses went to Brasov. We also sold diesel-powered buses last year. Nine Isuzu buses were delivered to Botosani, four to Chitila town hall, while Stefanesti town hall received Temsa and Karsan buses. As for our 2021 targets, we want to double our sales of elec­tric buses, given that there is a high market demand for electric-powered urban public transport vehicles.
What are your expectations regarding the company's sales this year and how would you characterize 2021 in terms of Romania's passenger transport market?
The sales of buses for urban public trans­port continue their upward trend due to the availability of European funding. As for the sales of buses for national and inter­na­tional transport services, things are not so good, as transport companies are still strongly affected by the effects of the pandemic. Tourism is expected to partially recover this year, but the acquisition of new coaches is unlikely to happen. Bus fleets are generally old, and whether we are talking about regular, occasional or contract transport service significant fleet renewal investments are going to be needed in the coming years.
What challenges have you encountered in this market?
We are a long-standing provider of urban mobility solutions for the Romanian passe­n­ger transport market, representing major ma­nu­facturers in the industry, and we are con­stantly trying to adapt our operations to the often-changing legislative landscape. The lack legal predictability in passenger trans­port and economic policies creates difficu­lt­ies in the organization and planning of our activity.

Another difficulty for us is the shortage of specialized personnel for bus maintenance operations. A stable and predictable legislative framework and the availability of skilled workforce would be extremely beneficial to our activity.

What are the most appreciated models that Anadolu Automobil Rom offers on the Romanian market?
Currently, our best sellers are full electric bus models such as Karsan Jest, Karsan Atak, SOR ENS and SOR EBN. In the local public transport segment, fleets are going through a visible renewal and modernization period, even if the pace is slow. The modernization strategy to which Romania has committed itself together with the other EU countries has two main components: passenger safety and environment protection. We provide a wide variety of products that meet those requi­rements, with many electric models covering the entire range of bus lengths, also natural gas-powered busses, and recently one of the manufacturers we represent has announced the introduction of an autonomous bus.
How strong is the competition on the Romanian market and which segments provide growth opportunities for the company?
Romania has a significant development potential in the alternative propulsion bus market segment, which sees the most intense competition, currently offering the best growth opportunities for our company. Certainly, the competition is fierce, as most major bus manufacturers are present in Romania.
What investments have been made on the local market and what development plans are being considered for the near future?
Recent investments have been channeled towards material resources (specific equip­ment for electric bus fault diagnosis and main­tenance) and human resources, involving both hiring of specialized electric bus main­tenance personnel and the constant training of existing staff.
What are your expectations regarding the economic trends in Romania this year, and what is their predicted impact on the company's operations?
As the pandemic subsides, the economy is becoming more dynamic and our industry is expected to grow too.
However, we should keep in mind that urban bus acquisition procedures stretch over several months, and delivery may even take several years. In turn, the other types of passenger transport services have been affected by the difficulties faced by the private transport companies.

To what extent have the company's operations been affected by the health crisis, and what measures have been taken in order to limit potential negative effects?
From the very beginning, we have taken the necessary measures allowing us to con­ti­nue our activity in complete safety. Of course, we have been affected by the pandemic due to the large number of Covid-19 cases, trig­gering factory closures for weeks at a time, and generating increased delivery times.

What are your main professional goals for 2021?
Our main objectives are to maintain our market leading position in the sale of electric buses in Romania, and help the market accumulate as much knowledge as possible on the use of electric buses and everything this process entails: operation, installation of charging stations, maintenance and repair operations.
We are focusing on these aspects and we are supporting our current and future customers, so that the transition from internal combustion buses to zero emission buses is made as smoothly as possible.

This is also available in our print edition of Business Arena.
COMENTARII:
Fii tu primul care comenteaza