Farlei Kothe, CEO Stefanini EMEA: Resilience is the keyword for companies in 2021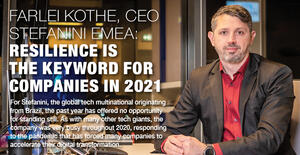 For Stefanini, the global tech multinational originating from Brazil, the past year has offered no opportunity for standing still. As with many other tech giants, the company was very busy throughout 2020, responding to the pandemic that has forced many companies to accelerate their digital transformation.
"We had started our own digital transformation journey long before 2020 rushed us all in this direction," says Farlei Kothe, the CEO of Stefanini in the EMEA region. "We are now in the position to lead and guide our customers as seamlessly as possible through the digital transformation process, which is no longer optional for any company. We have all gone online in the past year to a certain extent, regardless of our industries, and this shift brought along not only opportunities, but also threats that many companies were not familiar with. Cyber threats, in particular, became a challenge, especially for companies in industries that had not been the traditional focus of hackers, such as medical companies, industrial companies, entrepreneurial companies, government agencies and so on."

These new risks prompted Stefanini to expand its focus on cybersecurity in the region last year. Provider of IT services for more than 33 years, in 41 countries around the globe, Stefanini entered the cybersecurity market in 2016, when it started a joint venture with Israel-based Rafael Advanced Defense Systems. The company leverages Rafael's technology designed for military-grade cybersecurity and its own global sales channels. Stefanini Rafael Segurança e Defesa's managed security services have grown rapidly in Brazil since the joint venture was announced. The company soon opened another Security Operations Center for Latin America as the demand in the region was on the rise.
In the EMEA region, Romania is a key market for Stefanini, especially when it comes to acquisitions or strategic joint ventures. As a result, when plans to expand the cybersecurity pillar outside Latin America took shape, a local investment here was the next logical step. Therefore, in 2020, Stefanini joined forces with the Romanian company Cyber Smart Defence (CSD), one of the most dynamic cybersecurity companies in the country. Stefanini Group has also recently opened a Security Operations Center (SOC) in Bucharest to cover the needs of its clients in the entire region. Meanwhile, CSD plans to grow its turnover up to five million euros in the next three years.
The timing could not be more perfect, as Bucharest has recently been appointed to host the European Cybersecurity Competence Centre, the hub that distributes EU and national funding for cybersecurity research projects across the community bloc.
"What Stefanini and CSD had to offer each other was one of the most valuable assets one could trade these days: time

"Leaving aside any investment figures, Stefanini Group and CSD signed a strategic partnership," says Mdlin Dumitru, founder of Cyber Smart Defence and CEO of the new joint venture. "We are investing in the future together, and what we had to offer each other was one of the most valuable assets one could trade these days: time. Stefanini gained instant access to the local cybersecurity market,
without having to go through the usual trial and error phase, and we were happy to gain access to an extremely valuable pool of clients, which would have definitely meant an important time and effort investment on our part if it hadn't been for Stefanini."
The tech giant follows a strategy of acquiring or setting up joint ventures with young and ambitious local entrepreneurs from all over the world, offering them a global platform for their solutions and services and, at the same time, constantly expanding and refreshing its own portfolio. In 2019, Stefanini Infinit was the first such joint venture in Europe, focusing on marketing and digital. Cyber Smart Defence followed in 2020, focusing on cybersecurity services, but the expansion plans continue for the Brazilian tech multinational.
"We are constantly looking for new and innovative solutions, expanding our global ecosystem to provide true digital transformation to our clients. To this end, we plan to add at least two new ventures every year to our portfolio," says Farlei Kothe. "We are in the final phase with a new acquisition in Romania, a deal that we will close in the first semester, and we plan for another venture in the region later this year. We have several discussions open in different stages with potential partners and we are constantly trying to expand to key markets."
Digital hygiene, as important as physical hygiene these days, says Alexandru Bertea, Chief Cybersecurity Strategist at Stefanini EMEA

Back to cybersecurity, 2020 was of paramount importance for the industry. "Security is countercyclical: this industry tends to grow while broader macro conditions deteriorate," explains Alex Bertea, Chief Cybersecurity Strategist, Stefanini EMEA. "During the pandemic, the need for cybersecurity services increased, especially as a result of the shift towards remote working, but also because specific security trends have accelerated a digital transformation process that was already underway."
The losses caused by cybercrime for companies in 2020 were around two trillion USD. For this year, they are estimated to be no less than six trillion USD. "Historically, this figure never dropped," says Alex Bertea. "This is why digital hygiene has become just as important as physical hygiene these days."
Think of it this way, he says: "Every second, a cyberattack happens in the EU. Some 43% of the costs of cyberattacks come from data loss and data leaks. Hackers are prepared to sell personal data for amazingly cheap prices. The figure varies between 20 cents and 15 US dollars. A lot less than one would assume. At the same time, the damages are hard to quantify, as they are not just direct costs, they can cause significant reputational damage and other losses that are harder to quantify but very significant."
Last year can be viewed as the first step in a move towards a completely different way of operating. "There is no going back to the "business as usual" model that we knew before the pandemic," says Farlei Kothe. "Companies will have to develop a new way of doing business if they want to thrive and move forward. And this new model definitely includes digital transformation, accompanied by a solid cybersecurity strategy and defense plan."
Alex Bertea explains the magnitude: "Clients are now shifting from on premises and hybrid to cloud environments and are using these services actively. We are not talking about 5% of the users in a company anymore, it's usually more than 80% of the users that are interacting with these environments. So, this has become a greater challenge for security teams in a very short period of time. In addition to the data that users voluntarily provide when accessing a specific application, there is also data that is collected automatically by the simple fact of visiting websites, through devices, such as Beacons, Crawlers and Cookies. Once a company that manages such data is compromised, data will be lost, and it can be auctioned in dark markets for less than one dollar. Also, deep fake technology is not just a prank anymore or a tweet or a very nice Instagram post but a real threat. These ransomware practices can leave an entire company paralyzed for days, weeks or maybe even months. Sometimes, the demands are so high that they can really leave a company on the verge of bankruptcy."
Security goes hand in hand with technology and product development, which is why companies need to secure their apps, the endpoints, and all the laptops and devices they are streaming from. Cybersecurity teams now have to secure not just some parts of the organization but the entire organizations, protecing all employees within their work from home environments, as well as all the applications they interact with.
Speaking on his experience at Cyber Smart Defence, part of Stefanini Group, Mdlin Dumitru explains: "These days, cybersecurity and physical health are our most important concerns. Some 98% of the IT systems we have tested had critical vulnerabilities. At the same time, 95% of the owners and IT directors of these companies believed that they did not have any major security problems in their infrastructure."
According to Netwrix's 2020 IT Trend Report, the topic of data security has become a priority for three out of four companies in 2020. If companies were spending their budgets on cybersecurity products a few years ago, lately, they are turning to cybersecurity outsourced services, performed by highly trained, specialized professionals, with the pandemic demonstrating the importance of this field.
"A successful cyberattack is performed by hackers rather than by machines or software, which is why improving security should take the same approach, using the same human skills and the appropriate mindset. I believe making use of a human team of ethical hackers to secure systems is the correct approach," says Mdlin Dumitru.
It is estimated that 3.5 million jobs may be generated by the cybersecurity market in 2021. Stefanini is one of the highly active and rapidly growing players on the market and is looking only for best-in-class professionals to come aboard and support its growth.
Cybersecurity is a line of business that is based on trust

"Our recruitment efforts are spread throughout Europe, with a special focus on Romania, Spain, Germany, UK, Poland and the Republic of Moldova," says Mdlin Dumitru. We are actively recruiting the best-in-class cybersecurity professionals, especially Operational Technology Security professionals and Security Operations Analysts. We have a tough recruitment process, based on punctual and situational questions, as we are looking for the best."
"Because we can only afford the best," adds Alex Bertea. "Cybersecurity is a line of business that is based on trust. It is a very sensitive topic and trust is key to a client's decision. But when you have the best professionals, an Israeli DNA that comes from the very successful cybersecurity venture Stefanini Rafael, when you offer 24/7/365 top-level services anywhere in the world, and you are working with some of the best technology partners in the industry, trust is no longer an issue."
Speed is another focal point, he explains. "In our SOC in Bucharest we are able to deliver world class services from day one. And we can offer proof of concept to a client within days." The Brazilian tech company prides itself on being big enough to invest in its innovation ecosystem to take customers through the digital journey, and small enough to be customer-centric and flexible to adapt to their individual needs.
"Our customer is at the very center of our strategy as Stefanini Group and this is especially true for cybersecurity services," adds Farlei Kothe. "We offer more than just out of the box solutions. We take pride in customizing every delivery and every project to our clients' specific requirements, adapting to whatever business objectives they have. We also help our clients increase their resilience. To achieve business resilience, every project a company starts nowadays needs to start with one key question: is my system secure?"
This is also available in our print edition of Business Arena.
COMENTARII:
Fii tu primul care comenteaza