Editorial - Economic growth prospects outweigh political risk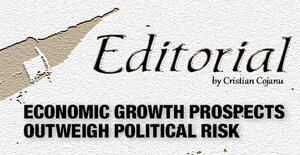 While the healthcare system is struggling to cope with the high number of COVID-19 cases, Romania's ruling coalition is in turmoil, following the sacking of Health Minister Vlad Voiculescu. Of course, the business community can only hope the political instability is short-lived, and doesn't put additional pressure on the economy.
For now, there are positive signs, with the IMF revising up its economic growth prediction for Romania to 6%, compared to a previous forecast of 4.6% in October. Moreover, the IMF sees Romania's economy growing by another 4.8% in 2022, according to the latest edition of its World Economic Outlook (WEO) report.
In fact, most analysts agree that Romania business opportunities remain exciting. Commenting on the recent PwC M&A Outlook report, Dinu Bumbăcea, Partner and Advisory, PwC Romania, said: "The signals from the economy are positive, and the return to activity seen at the end of 2020 is expected to continue in 2021, as there is money in the market. Both strategic and financial investors have substantial capital resources, financing is cheap due to still very low interest rates and the time is right for companies that want to expand, consolidate or diversify and transform their business by acquiring resources and new technologies."
More good news came from Standard & Poor's, as the rating agency revised the outlook on Romania to stable from negative "due to decreasing fiscal risks," while maintaining rating at BBB-/A-3. "We expect the government's fiscal efforts will be sup­por­ted by an economic rally. Roma­nia's economy demonstrated resilience in 2020, when it contracted by a relatively modest 3.9%," an S&P statement read. It noted that the country's post-pandemic economic recovery would depend on EU-funding. "Romania is a key beneficiary of the grants from the EU's Recovery and Resilience Facility (RRF). The country has a compa­ra­tively weak record of absorbing EU funds but we consider even an absorption rate of around 50%, in line with the 2014-2020 pro­gram period, would offer material benefits."
Despite the recent political turbulence, the S&P has positive expectations: "We expect the coalition to remain united in its approach toward fiscal sustainability and to front-load reform ambitions to 2021-2022, before politics gradually adapts in the run-up to the 2024 super election year."
S&P also said it expected the govern­ment deficit to reach 7% of GDP this year. "We also forecast that the fiscal deficit will gradually reduce to 3% of GDP in 2024 supported by the government's medium-term consolidation ambitions and the recovering economy. We believe this will halt the erosion of Romania's government balance sheet and we see its net general government debt to GDP stabilizing at around 50% of GDP by 2023."
Find more expert opinions and read about new business trends in this issue of Business Arena, as we continue to keep an eye on all the aspects affecting the business community.
COMENTARII:
Fii tu primul care comenteaza