Creator of dreams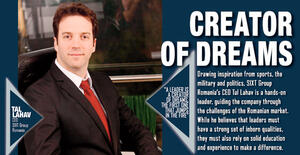 Drawing inspiration from sports, the military and politics, SIXT Group Romania's CEO Tal Lahav is a hands-on leader, guiding the company through the challenges of the Romanian market. While he believes that leaders must have a strong set of inborn qualities, they must also rely on solid education and experience to make a difference.
How would you define leadership based on you own experience? What are the main qualities of a good leader?
Leadership means inspiration, motivation, and empowerment of a team to achieve shared targets and goals. Leadership is to care for others and for the team more than for yourself. Leadership means constant positive energy, being a source of inspiration and emo­tion, having the right attitude that creates the belief in "Yes We Can" and "Always Yes". I have always kept in mind the idea of challen­ges and opportunities. When there is a YES, there is a way, and there are great solutions to challenges.
Leadership means always to remember that success does not come easily. It is a result of years of hard work, commitment, attitude, crea­tivity, consistency, continuous learning, flexibility and adaptability.
There are no failures in our world; failure is another step on the road to success and obs­tacles are only challenges that build character and lead to achie­ve­ments.
Leadership means to never stop running and never give up. Leadership is the knowledge to know that the sun shines even after the darkest night. A leader is a creator of dreams, attitude, emo­ti­ons, and stories with a happy ending. The leader is also the first one that jumps in the fire.
A leader celebrates and appreciates the present and creates the future, while challen­ging themselves and the team to reach new achievements, always valuing each member of the team as an asset.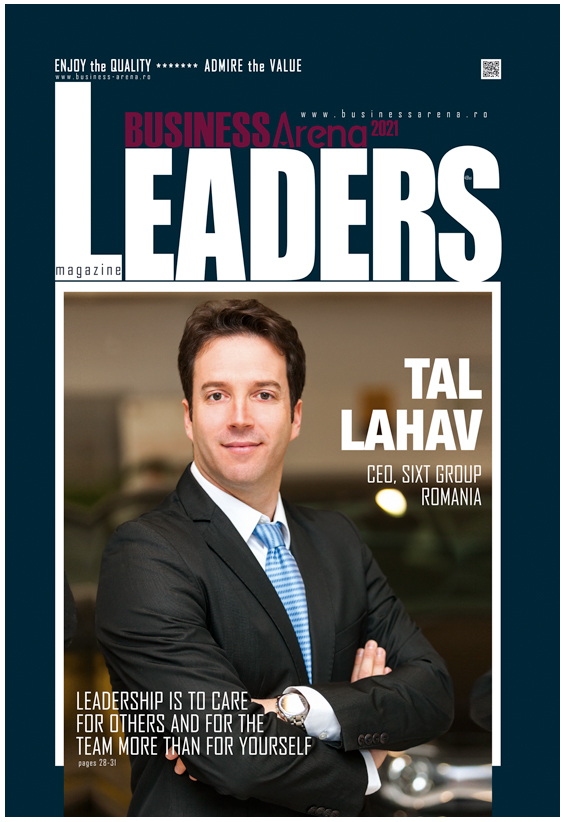 What is the difference between a leader and a manager in your view?
A manager is someone who can make a per­son implement a task. A leader is someone that can make a person shape it.
You can learn to be a manager, but you are born to be a leader, and you learn how to become an even better one. That native attri­bute you have in your DNA can be visible from the start. It makes you a dynamic person, a kind of a dreamer, an early adopter, flexible, like a fish in stormy waters.
What type of leadership do you normally use and what makes it more suitable in your view?
I am a coach-style leader who aims to al­ways be hands-on, leading by personal exa­m­ple, communicating closely with the people and empowering them to act and think and ex­plore. Going through the challenges together and pro­viding support and responsibility com­bi­ned with the sharing of success creates an em­powered team.
Are there leadership role models that have influenced you? Who are they and what makes them special?
I've had various role models throughout my life, from family members to coaches and other role models. Without giving specific na­mes, I've always felt a connection with leaders in sports, politics, and the army. The sports connection (part of my personal world) has given me the belief that mistakes are normal in the quest for success, and each mistake is in fact just another step forward on the road to success. I've also learned that there is no I in team, a team is always stronger than any individual, and it cannot function without a leader. It needs a leader to give it cohesion, to guide it towards its targets, and help it navigate through challenging times. The army connection (which was also part of my life) has given me the sense that leaders lead by example. The leader takes all the responsibility for failures, while success is to be celebrated and shared. Finally, the political connection has showed me how individual leaders can make a difference and change people's lives. People need leaders to facilitate and guide their journey to success.
To what extent is leadership an acquired skill?
I do believe that various skills, knowledge, and experience can be acquired and mastered through training, practicing, and experiencing. Yet I believe that various main leadership attributes especially interpersonal skills, emotional intelligence, and the sense of leadership are inborn and they mix with early years education, environment, real life experience and events.
To what extent does the younger generation of managers have the right skills to become true leaders?
This is a challenging question. On the one hand, the younger generations are early boomers in so many aspects; social media and technology are boosting so many attributes and knowledge at a younger age. On the other hand, the challenge for the younger generation is to understand that leadership is about people and about how you communicate and reach to people, and it is about emotions and feelings. All that must be combined with a solid education - they need to work hard, to study, learn and specialize if they want to reach excellence in what they do.
Is Romania's business environment a good training ground for a future business leader? Please elaborate.
The term training in the context of leadership must be elaborated and explained. As I said before, leadership is a sum of various attributes that a person is born with, grows and interacts with, being shaped by them, while learning, practicing, and experiencing at a young age. Adequate training in the business world combining aspects such as knowledge-gaining, interpersonal skills development, on-the-job training, and close coaching will all develop great leaders in most cases as long as these attributes already exist and are only being nurtured to shine through.
What are your predictions about Romania's economic trends in 2021 and 2022?
2020 was by far a year that reconfigured all the economic segments. The entire business environment was affected. Some companies are still facing huge challenges and others have suc­ceeded in finding a way out, and even developing some answers and solutions, like us. All the economic segments have suffered, and people experienced economic, psycho­logical, social, health and wellbeing challenges. The coronavirus affected our business and the industry in general.
In Romania, our group has experienced and overcome many challenges since its arrival in this market, and that has allowed us to be prepared and have the financial ability, kno­wledge, the proper strategy and mana­gement to go through all this with minimum impli­ca­tions, while gaining new experience and know how. We are part of a powerful mul­ti­na­tional group that is always prepared to face different challenges, including situations never encoun­tered before. SIXT Global has made va­rious strategic investments during this period, and I am optimistic and ready to take on what comes along the way.
For the coming years, we believe that the Romanian economy will see a healthy growth resulting from combined retail, corporate, and government investments and consumption generated by disposable incomes and savings and through foreign retail, corporate, and governmental funds flowing into Romania. We believe that the fundamentals in Romania support economic development due to massive demand and people's desire for a better quality of life based on infrastructure enhancements, and solutions in areas such as residential, com­mercial, healthcare, education, and improved wellbeing in Romania. And all these combined with improved political and regulatory proces­ses and guidelines will results in a sustainable economic development for the coming years.
How the context affected and is affecting your company's/ bank's operations?
We have taken firm steps and adapted our services to the new conditions to suit our customers, employees, and suppliers. We have created solutions that enable customer safety, trust, convenience, and flexibility, all wrapped in a package of professional excellence and ex­ci­tement for renting, leasing and buying ex­perience. And last, but not least, we are giving back to the community by focusing on CSR pro­grams under the aAlwaysYesToEducation platform.
On medium term, we are focused on bu­siness development, continuing SIXT Group Romania's development, progress, education, creation and effort for results and achie­vements. We aim to make SIXT Group Romania the chosen mobility provider for local cusot­mers in all automotive segments: lease, rent, purchase, and service. At SIXT Group Romania, we are looking for local expansion possibilities, both organically and further through potential acquisitions. We are further looking at all automotive and mobility segments, from private to public, from retail to corporate, and from traditional to new trends such as electrical mobility (also through our BYD importer).
We believe in our ALWAYS YES concept, and despite the challenging times we live in we must all continue our development, our pro­gress, our education, our creation, our in­no­va­tion and our efforts for results and achie­ve­ments.
This is also available in our print edition of Business Arena Leaders

COMENTARII:
Fii tu primul care comenteaza