Business Arena Awards for Excellence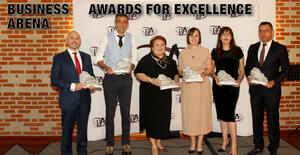 Business leaders, diplomats, sports and cultural personalities got together to celebrate a year of hard work, challenges and success at Business Arena's 2020 Awards for Excellence gala.



Meanwhile, Business Arena would like to take the opportunity and thank its partners: FIRST BANK; APULUM PORCELAIN FACTORY; SOLEY TOUR; ROMAQUA GROUP BORSEC; CHOCOLAND; WORLDCLASS ROMANIA; KANAL D; AIDA EVENTS; CASA ANKE; RAMADA BUCHAREST PARC HOTEL The host for the night was ANDY ALEXANDRU ANTEMIA

See the upcoming print edition of Business Arena for more details, reactions and photos from this special awards ceremony.


AWARD FOR EXCELLENCE IN TELEVISION INDUSTRY

KANAL D

For its outstanding contribution to creating a strong local TV industry, while achieving a high degree of awareness in a highly competitive sector.

EXCELLENCE IN BANKING CUSTOMER SERVICE

CEC BANK

Recognizing its strong business model, outstanding new products
and digitalization, supporting its commitment to promote financial inclusion.

PORCELAIN MANUFACTURER OF THE YEAR

APULUM PORCELAIN FACTORY

For achieving a high level of recognition and admiration from the entire business community for its commitment to excellence and 50 years of success
in a highly competitive industry.


EXCELLENCE IN BANKING LEADERSHIP

UFUK TANDOGAN

CEO – GARANTI BBVA ROMANIA

Following a successful career of over 30 years in the banking system, Mr. Ufuk Tandoğan – CEO Garanti BBVA Roma- nia, will withdraw from his duties within the bank in the coming future. During his 9-year tenure at the helm of Garanti BBVA Romania, the bank consistently increased its asset size, furthermore improving its market share
by organic growth and consolidating its position in the sector. Currently, Garanti BBVA Romania is one of the healthiest financial institutions in the local market. The bank's overall performance during Ufuk Tandoğan's leadership is reflected also by a rise in Garanti BBVA's brand awareness, being named "Superbrand" in the past few years.

AWARD FOR EXCELLENCE
IN REAL ESTATE AND CONSTRUCTION

PREMIER GLOBAL LAND

For creativity and strategic thinking in building a strong and successful operation, with a high degree of recognition and outstanding reputation among customers and business partners in a highly competitive industry.

MOST ADMIRED INNOVATIVE BANKING ADVOCATE

MIOARA POPESCU

CEO – IDEA BANK

For leadership, strategic thinking and vision in focusing the bank's efforts on innovative and creative products and services, based on a sustainable and modern business model.


AWARD FOR EXCELLENCE IN CLIENT SERVICE

EUROWEB

For achieving a high level of recognition and admiration from peers and customers for outstanding results in tailoring services to its clients' needs.

COMENTARII:
Fii tu primul care comenteaza