Alpha Bank breaks new ground with first Romanian Covered Bond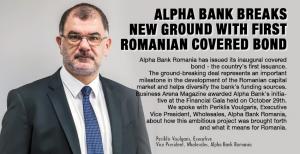 Alpha Bank Romania has issued its inaugural covered bond - the country's first issuance. The ground-breaking deal represents an important milestone in the development of the Romanian capital market and helps diversify the bank's funding sources. Business Arena Magazine awarded Alpha Bank's initiative at the Financial Gala held on October 29th. We spoke with Periklis Voulgaris, Executive Vice President, Wholesales, Alpha Bank Romania, about how this ambitious project was brought forth and what it means for Romania.
What are the benefits of a bank if it issues covered bonds on the capital market?
Covered bonds are a financing solution commonly found on international financial
markets, whereby the issuing bank seeks to diversify its financing sources, as well as to lower their average cost, attracting new funds for the development and expansion of its acti­vities. At the European Union level, almost 30% of the mortgage loans granted by financial institutions are financed by the issuance of covered bonds, a solution frequently used by all banking systems in Europe.
With covered bonds we can attract long-term money, which we can place in Romania, also on long term, in mortgage loans. In addition to that, such an instrument allows us to address the mismatch in maturities that our Romanian market otherwise has, because the market finances mortgage portfolios through short term deposits.
Who were those interested in this type of placement? Are there more Romanian or foreign investors?
The European Bank for Reconstruction & Development (EBRD) and IFC took almost half of the inaugural issue (EUR40m and EUR50m, respectively). Since this is the first ever deal from Romania, there was a lot of interest, not only from outside Romania, but also within, and we managed to attract interest from institutional investors, pension funds, asset management companies and commercial banks, thanks to the merits of this new instrument.
We found interesting that the Alpha Bank bonds have a better rating than the sovereign rating. How do you explain this?
Alpha Bank Romania's covered bonds are rated Baa2, one notch higher than Moody's sovereign rating of Baa3. The bonds issued by Alpha Bank Romania are guaranteed with a very good quality loan portfolio, which is also reflected in the rating given by Moody's.
It has to be made clear that the rating of a cover bond issuance is based both on corporate factors – financial situation of the issuer, the quality of the credit portfolio assigned to the cover pool, the quality of the internal processes and of the credit policy – and on macro factors – the country rating, the regulatory framework and so on.
Do you think your initiative will be followed by other banks?
Given that Alpha Bank has taken the initiative and opened up the covered bond market in Romania, I am sure that some other banks are going to follow, particularly because this is a very good way of mitigating the maturity mismatch in funding across the mortgage market.
Alpha Bank Romania listed on the Bucharest Stock Exchange its inaugural €200 million euro-denominated covered bond issue, representing a first for the financial and banking sector in Romania.
The bond, which has a five-year maturity and pays a floating rate coupon, is backed by prime Romanian residential mortgages and is rated Baa2 by Moody's. The transaction attracted strong investor interest from both local and international institutional investors, including the IFC and the EBRD.
The project has been carried out in collaboration with Barclays Bank PLC who acted as Arranger and Lead Manager and Alpha Finance Romania as
Co-Manager, PwC as Asset Monitor, Allen & Overy London and RTPR Allen & Overy as Arranger's Counsels, and Clifford Chance Badea and Clifford Chance London as Issuer's Counsels. The bond is
listed on both the Luxembourg and the Bucharest Stock Exchanges. Covered bonds are a common financing solution on international financial markets whereby the issuing bank seeks to diversify its funding sources and lower average cost by raising new funds for the development and expansion of its activities. Europe has a tradition of over 150 years in this area, with the European market covering 83% of the issued covered bonds, for a volume of issued covered bonds of about 2 trillion euros. Only in the last five years, in the EU covered bonds have been issued to the tune of 400 billion euros. At European Union level, almost 30% of mortgages from financial institutions are funded by covered bonds, a frequently used solution by all banking systems in Europe.
The interview is also available in our print edition of Business Arena.
COMENTARII:
Fii tu primul care comenteaza