15 years after joining the European Union, Romania has an unparalleled growth potential in terms of banking, financial intermediation, level of financial education and level of economic prosperity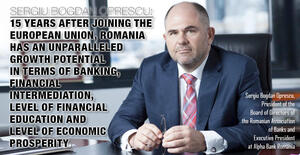 'Romania has recorded huge progress since its entry into the European Union, but in order to reach European averages, the country still has a long way to go.' Sergiu Bogdan Oprescu, President of the Board of Directors of the Romanian Association of Banks and Executive President at Alpha Bank Romania
I have the great pleasure of wishing "Happy Anniversary!" to the Business Arena publication at this time of celebration, on the appearance of issue number 100. Having been launched a decade ago, during the economic crisis, the publication manages to highlight the latest trends and information regarding the economic life of Romania, in an objective and non-partisan way.
Business Area captures in its pages the evolution of the Romanian economy, with the progress recorded in the development and consolidation of the financial market. 15 years after joining the European Union, Romania has an unparalleled growth potential in terms of banking, financial intermediation, level of financial education and level of economic prosperity. Romania has recorded huge progress since its entry into the European Union, but in order to reach European averages, the country still has a long way to go.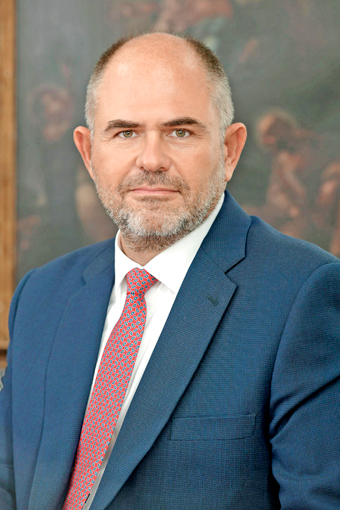 We should obtain a convergence advantage, meaning that our speed should be higher than that of the group we are following.
The challenge for the banking system is to contribute to the development of the Romanian economy by increasing the degree of financial intermediation, as there is a close correlation between the two indicators. Individual economic welfare would improve by increasing the degree of financial intermediation from 25% to the average level recorded in the European Union, which is 85%.
The awards you grant year after year to those people and companies who strive to do more in order to improve certain aspects of Romanian society are certifications of business excellence that any professional in Romania wishes to have in their track record.
My wish to you is to continue to let yourselves be guided by the same basic principles that you have followed so far and to excel by maintaining the same standard of professionalism, in order to transparently and objectively reflect the progress made at every stage and the great achievements recorded in the evolution of our national economy.
Sergiu Bogdan Oprescu, President of the Board of Directors
of the Romanian Association of Banks and Executive President at Alpha Bank Romania

COMENTARII:
Fii tu primul care comenteaza