Café Athenee opens for business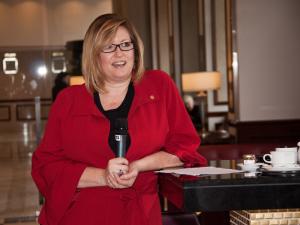 Athenee Palace Hilton has announced the completion of the renovation works scheduled in 2010 and the opening of Café Athenee, which hotel officials characterize as a new contemporary and fashionable restaurant.
Guests of Café Athenee located at Athenee Palace Hilton will enjoy classical European dishes and a unique selection of beverages in a modern but still traditional outlet.
"I look forward to introducing the Café Athenee to the Bucharest social and dining scene, a contemporary, elegant and chic café which will undergo metamorphoses from day to evening. From café to lounge giving the city an exciting new venue and concept," said Linda Griffin, the newly appointed General Manager of the hotel.
The opening of Café Athenee completes the refurbishment works of the hotel's ground floor, presenting along with the brand new Main Lobby and rejuvenated Colonnades a new look of Athenee Palace Hilton hotel.
The last phase of the renovation works will follow beginning of 2011, when Roberto's, the hotel's main restaurant will undergo a revival of its Italian concept.




COMENTARII:
Fii tu primul care comenteaza