Women celebrate business success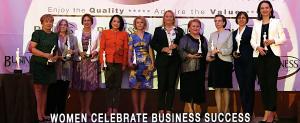 A recent Smartree report has shown that the average gender pay gap in Romania is five percent, well below the European level, which stands at 16.3 percent. In fact, Europe continues to be a mixed bag in terms of gender equality, and progress has been slow, according to the latest Gender Equality Index.
It shows that the EU's score has only gained four points in the last ten years, now at 66.2 out of 100. Sweden is the top performing country, with a score of 82.6, while Greece moved to the bottom with 50 points. "We are moving forward at a snail's pace," said Virginija Langbakk, Director of European Institute for Gender Equality (EIGE). "We are still a long way off from reaching a gender-equal society and all countries in the European Union have room to improve. In some areas, the gaps are even bigger than ten years ago. Our Gender Equality Index clearly shows whether government policies are matching the specific needs of women and men and whether they are working or not," she added.
The report shows that the area of decision-making has seen the biggest growth over the last ten years, especially in the private sector. "Although gender equality in decision-making improved by nearly 10 points over the past decade to reach 48.5, it still has the lowest score. This largely reflects the uneven representation of women and men in politics and marks a democratic deficit in EU governance," the report noted.
In turn, the second edition of the Mastercard Index of Women Entrepreneurs revealed that that "women entrepreneurs around the world continue to progress despite gender-related cultural biases that can create significant roadblocks hindering them from advancing their businesses." On this note, Mastercard's Chief Financial Officer, Martina Hund-Mejean, said: "Women entrepreneurs have made remarkable strides as business owners around the world, even as they work to achieve their full potential. We believe that by drawing attention to their efforts, we can further support and empower women in their drive to run successful businesses and lead richer, more fulfilling lives."
According to Mastercard's report, the top 10 markets offering the best opportunities for women to succeed as entrepreneurs are New Zealand, Sweden, Canada, United States, Singapore, Portugal, Australia, Belgium, Philippines, and United Kingdom.
The Index also notes that "the opportunity for entrepreneurship is not necessarily aligned to the pace of a market's economic development. Emerging economies such as Ghana (46.4 percent) – one of the Index's three newly added markets along with Malawi and Nigeria – Uganda (33.8 percent) and Vietnam (31.3 percent) were found to have higher women business ownership rates, compared to more developed ones."
With 28.9 percent, Romania is among the top 10 countries in terms of women business ownership rates.
In this context, business people, bankers, entrepreneurs and diplomats got together to celebrate the ladies that make a difference in various fields and contribute to the development of Romania's economy and society. The 10th edition of Business Arena's Most Admired Business Women Awards Gala recognized women's success and achievements in the workplace, their creativity and leadership and their vital contribution to the success of business and banking activities throughout Romania.
The gala was hosted by Larisa Claru, and it was organized in partnership with CEC Bank, Garanti Bank, Alpha Bank, NHR Agropartners, Apulum Porcelain Factory, Corporatebaskets, Hama Romania, Meli Melo, World Class, Domeniile Blaga – Dealu Mare; Trends by Adina Buzatu, Cristiana Radu Media and Ramada Parc Hotel.
Winners 2018

CSR Professional of the Year
GILDA LAZAR

JTI ROMANIA
…for achieving a high level of recognition and success as promoter of corporate citizenship and community impact projects.

Most Creative and Innovative Approach to Business Excellence
DANA NASTASE

HAMA ROMANIA
…for superior vision and innovation in developing successful projects and business operations.

Most Dynamic Approach to Business Growth
LUDMILA CLIMOC
ORANGE ROMANIA
…for outstanding skills and strategy in developing successful business operations in a highly competitive sector.

Most Creative Leadership
SIMINA MARIA BAIASU

IDEA BANK
…for creative planning, innovative leadership and strong expertise in a key business sector.

Most Admired Approach to Business Development
CAMELIA BAZAC
FORZA ROSSA HOLDING LTD
,…for innovative strategy, leadership and successful business development in a key business sector.

Leading Corporate Executive
CORNELIA DUMITRESCU
ALPHA BANK
.…for professional success, overall leadership skills and for passionately supporting and mentoring employees within a major organization.

Lifetime Achievement
ANA MARIA MIHAESCU

DIRECTOR INDEPENDENT
.…for achieving a high level of recognition and admiration from the general public for business success and outstanding leadership.

Most Ardent Community Advocate
TAMAR SAMAS
AMBASADOR ISRAEL
…for vision and leadership in promoting critical aspects for the development of fairness, opportunity and social justice in Romania.

Model of Excellence
VIRGINIA OTEL

President of Professional Women's Network Romania
.…for vision and steadfast commitment to providing an outstanding model of leadership for professional women

Most Admired Business Woman of the Year
MIHAELA POPA
CEC BANK
…for achieving outstanding success and a high level of recognition for qualities of creative leadership.


See the upcoming print edition of Business Arena for more details,
reactions and photos from this special awards ceremony.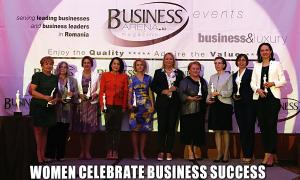 COMENTARII:
Fii tu primul care comenteaza