The high price of imposture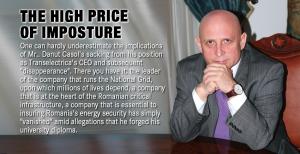 One can hardly underestimate the implications of Mr.. Dnut Casol's sacking from his position as Transelectrica's CEO and subsequent "disappearance". There you have it: the leader of the company that runs the National Grid, upon which millions of lives depend, a company that is at the heart of the Romanian critical infrastructure, a company that is essential to insuring Romania's energy security has simply "vanished" amid allegations that he forged his university diploma.
We have this incredible fact: a house electrician (not even a good one) has run Romania's National Grid for six month before a journalist from the education site edupedu.ro exposed the imposture. How low have the state institutions fallen so that a high-school graduate and a university drop-out got to be appointed to lead of one of Romania's most important companies for its survival? It is utterly unbelievable that no one in the security community bothered to inform the decision makers that Dnut Casol's (lack of formal) education was a liability for Romania's national security. How on earth could a company that is listed on the Bucharest Stock Exchange (BVB) fail to ensure a proper examination of the formal credentials of the newly-appointed CEO and correctly inform the investors? Not a blink, not an eyebrow risen... Let's recap Mr. Dnut Casol's scrappy education and career: Born in Teleorman, Dnut Casol graduated a vocational training high-school as an electrician, in 1992. Between 1993 and 2006 he worked according to his qualifications as a field electrician changing fuses and mending cables with Electrica SA and Enel Distribuție Muntenia. It took him 16 years to be promoted to field team deputy-leader (wow!), a position that he held until 2016 when he moved to General Electro Proexim, a sub-contractor for Enel Distributie Muntenia. From here, somehow, he managed to get parachuted as the head of the all-important Bucharest branch of Transelectrica. Then, on December 21, 2018, he was "ordained" CEO of Transelectrica. For both positions he needed a university diploma, so he literally fabricated one for himself.
More than anyone else, Mr. Dnut Casol is the embodiment of professional imposture, of intellectual theft and academic villainy. He is the all-too-present person who will not spare a though before committing intellectual crime in order to get the job. Mr. Casol, however, is in a class of his own, because even if there are countless politicians and party cronies that collect dubious academic titles, no one has gone as far as to fabricate his own university diploma and forge an official academic document. Nobody other than Mr. Dnut Casol has fabricated their own diploma and managed to get away with it. It's absolutely incredible how a person that should hardly be allowed to change bulbs and fuses in the buildings of Transelectrica found his way to the company's CEO chair and was allowed to sit in it.
Never since the dark times of the late '40s and early '50s has professional imposture become state policy, promoting inept people to strategic positions within state-owned companies or to key positions within the state apparatus. Never since the darkest hours of the communist economy have people with no economic aptitude been promoted to such important positions. People like Dnut Andrusca, a functional illiterate that found it difficult to put together three words to articulate a meaningful sentence, or Anton Anton, the one who wanted to store electricity in disused gas deposits, have held ministerial positions. Or Petre Daea, with his obsession for sheep and cormorants. Or Viorica Dancila, the Prime Minister who can't stop massacring the Romanian language or committing diplomatic gaffes that literally put our nation at risk.
Meanwhile, Romania has become a net importer of electricity for the second month in a row. In Septem­ber, the price for electricity hit the record-high 750 lei/MWh and the average price on the day-ahead market is double than the one recorded on the connected markets like Hungary, Czech Republic or Slovakia. And on Friday, September 20, 2019, Romania recorded the lowest production of electricity in modern history. The price of natural gas rocketed too, and Romania's imports cost double than in the Vienna hub. And the weather is still warm, but come winter we will discover the wisdom in one of our ex-president's words, as he pointed out that "winter is not like summer".
Yes, ineptitude, imposture, theft (be it intellectual or otherwise) have a price. We all pay it, in full.

This is also available in our print edition of Business Arena.
COMENTARII:
Fii tu primul care comenteaza