Overview of the Bucharest office market in 2019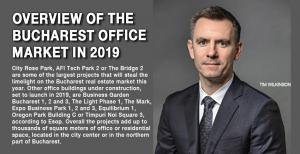 City Rose Park, AFI Tech Park 2 or The Bridge 2 are some of the largest projects that will steal the limelight on the Bucharest real estate market this year. Other office buildings under construction, set to launch in 2019, are Business Garden Bucharest 1, 2 and 3, The Light Phase 1, The Mark, Expo Business Park 1, 2 and 3, Equilibrium 1, Oregon Park Building C or Timpuri Noi Square 3, according to Esop. Overall the projects add up to thousands of square meters of office or residential space, located in the city center or in the northern part of Bucharest.
The total office building transaction volume in Romania in 2018 was of 531 million euros, representing a 55% share of the investment volume. In total, investors committed 957 million euros to the local real estate market last year, with the retail and industrial segments occupying the second and third positions in terms of investor interest.
Five of the seven largest transactions pertained to office projects in Bucharest, namely The Bridge, Oregon Park, The Landmark, Campus 6.1 and Crystal Tower. At the same time, the Danone Group's headquarters building in Bucharest, the Lascar 31 Business Center building, which hosts the European Commission's local office, the Bucharest Corporate Center, situated on Buzesti Street, the former Bank of Cyprus headquarters on Calea Dorobanti and a portfolio of four properties of the East Balkan Properties group have also changed hands in 2018, according to Cushman & Wakefield Echinox. Investors have been interested both in "trophy" assets, built by renowned developers, with a portfolio of international tenants with long-term commitments, and in secondary buildings, which can generate robust returns. "The flow of new investors into Romania is expected to continue, attracted by the higher returns achievable compared to other CEE markets. With this trend, prime yields in the office and industrial markets are expect to compress by between 25 – 50 basis points. This is driven by more prime assets expected to be transacted and a higher level of competition among investors for the best properties. However, for this growth to continue to its maximum potential, it is essential that Romania promotes and continues its economic growth and does better to give investors confidence in the stability of the business environment," said Tim Wilkinson, Partner for Cushman & Wakefield Echinox.
In 2019 the Central-North area will dominate the volume of deliveries, with approximately 75% of the spaces announced to be delivered, namely 203,126 sqm, according to the same source. "Considering that 38% of the 2018 deliveries are already leased, some of the companies will prefer to secure contracts in the projects to be delivered in the following year. With a pre-lease level of only 9% in the beginning of 2018, 2019 offers numerous pre-lease alternatives that are more financially flexible, opportunity window that will only be maintained for a limited time," said Alexandru Petrescu, Managing Partner at ESOP Consulting.
The Central-West area, with a stock of A Class spaces estimated to exceed 400,000 sqm by the end of 2019, of which over 60% of properties delivered after 2017, is certainly the second largest business area, after the Central-North perimeter, real estate agents announced. "Office requests for areas ranging from 1,000 to 3,000 sqm came from medium-sized companies with between 80 and 300 employees in Romania, as well as large companies with thousands of employees opening several branches in major cities of the country, such as Accenture or Endava, but also from companies that offer personal services to corporate employees. It is noted that the demand in this segment exceeds 70% for big office projects, class A and B, under construction or recently delivered. Significant examples of transactions between 1,000 and 3,000 sqm include companies such as Beler Soft, EGT Romania, Samsung, VEEAM, UiPath, Fitbit, General Electric, which rented new spaces in premium office projects such as Aviatorilor 8A, Times Square, Landmark, Metroffice, AFI Park and AFI Tech Park in Bucharest," said Alexandru Petrescu. His opinion on the evolution of the real estate market this year is shared by Bogdan Sergentu, Head of Valuations & Consulting, Cushman & Wakefield Echinox: "The local real estate market has continued its positive trend, with a solid demand in all segments, something which was reflected on property values as well. In 2018 we had a consistent activity volume," he said.
Here are some office projects that have got the public attention in 2019:
The Ethos office building. Situated in the Floreasca area, in Bucharest, Ethos House has an exterior façade inspired by the Renaissance architecture. The building has a leasable area of around 8,000 square meters, distributed on ground floor and seven above-ground floors. The building also provides 100 parking spaces located on two underground floors. The Ethos House is located in the immediate vicinity of Lake Floreasca, Verdi Park and Promenada Mall, said Anastasios Gotsis, owner of project.
One Victoriei Center office building in Bucharest (former Bucharest Corporate Center), a business center located in the business center area of the Capital. Located at the intersection of Buzesti and Gheorghe Polizu streets, near Piata Victoriei, with a leasable area of approximately 12,000 square meters, the 13-story building was formerly the headquarters of companies such as Generali and IBM. The building, part of the One United Properties portfolio, has attracted new tenants, such as BRD or Food Panda.
AFI Tech Park 2 office project. The total office space provided will reach 200,000 sqm. AFI Park currently includes five office buildings, with a total leasable area of 70,000 sqm, mainly rented to multinational IT&C companies. Separately, AFI Europe will start work on the second building of the AFI Tech Park office project, near the Parliament's Palace. The company will invest 37 million euro in AFI Tech Park 2, which will bring 25,000 sqm of new office space on the market. The first building in this project, which has 22,000 sqm, was completed at the end of 2018 and is 80% leased, according to company representatives.
City Rose Park, on Bulevardul Expoziţiei in Bucharest. GTC plans to start the construction of this new office complex in 2019. The 100-million- euro project will include three new office buildings. The first two buildings will offer 18,300 sqm and 17,200 sqm of leasable space, respectively. They will require an investment of almost 70 million euro. The first two buildings are scheduled to be delivered in mid-2021, and the third is set for completion in 2022.
The material is also available in our print edition of Business Arena.
COMENTARII:
Fii tu primul care comenteaza