Orange seeks new talent for the jobs of tomorrow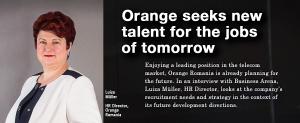 Enjoying a leading position in the telecom market, Orange Romania is already planning for the future. In an interview with Business Arena, Luiza Müller, HR Director, looks at the company's recruitment needs and strategy in the context of its future development directions.
How long has Orange been present on the Romanian market?
The story of Orange in Romania started more than 20 years ago and I am very proud to be one of the "pioneers", as I had the chance to be part of the team from its early beginnings.
Commercially, the company was launched in 1997, under MobilRom name and rebranded to Orange in 2002. Since then, we made history on the Romanian market. In 2004
we became the market leader, position that we succeeded to maintain until now, and we are honored to be Romanians' most
loved telecommunication brand.
Orange Romania is part of Orange Group, one of the world's largest telecoms companies. How does the Romanian market look through the eyes of a foreign investor?
Indeed, Orange Group currently operates in 28 countries, on five continents. Romania stands out for its hardworking and competent workforce and is known as a reference in the IT&C and innovation domain in Europe, with a real potential to transform into the Silicon Valley of the region.
Romania has all the characteristics of a vibrant market, with challenges and opportu­nities likewise. On this market, the ability to make quick decisions is essential. Looking at our customers, we see Romanians as tech enthusiasts and early adopters of new
techno­logies. Innovations have always been received with great interest here. In addition, the exponential use of mobile data that dou­bles from year to year is a true growth vector.
How many employees do you currently have?
The success of Orange in Romania is the merit of a high-performant team that currently counts for more than 3,500 employees.
Although we are widely known for our voice and internet services, a consistent part of our team is represented by Orange Services, a division fully affiliated to Orange Romania, that provides IT services and innovation to the Orange group globally.
What are the recruitment plans of Orange for 2019 and for the future?
We will keep our focus on recruiting the most talented candidates for our organization, that is a sure thing. Further on, the recruitment strategy is aligned with the company's development directions. This means that we will focus our attention on expertise in the areas of Artificial Intelligence, Big Data, Internet of Things, software development, Digital, without neglecting the roles we have previously considered, in our Customer Service, Sales, Marketing or Technical departments.
What qualities does Orange look for when recruitinga new employee?
Regardless of the job specificities, there are some common traits that we wish our future colleagues to have, namely to be friendly, honest and willing to invest positive energy in projects. As we are a telecom company, we also like when we find candidates that are passionate about technology and innovation, always focused on investing in their profes­sional passions. Curiosity and proactivity are also highly appreciated.
In the last years, Orange Romania was recognized as Top Employer. What does it take for a companyto become top employer certified?

It's true, for the last six consecutive years, Orange Romania obtained this certification from the Top Employers Institute, an inde­pendent organization that audits and certifies excellent work conditions offered by employers to their employees.
The certification is a proof of the company's attractiveness on the labor market and con­firms that our work environment is appreciated by employees. During the process are audited all HR po­li­cies, including talent management, training and skill development, performance manage­ment, leadership, career planning, pay & benefits, and culture.
For this reason, we consider the certifica­tion a well-deserved performance, a result of the sustained efforts that HR and management teams invest every day to create the right con­ditions that enable our employees to express their potential to the fullest.
Furthermore, worldwide, it is worth

men­tioning that Orange is the only telecom operator among the 13 top global employers. This acknowledgement endorses the employees' high level of commitment to the company, as 89 percent of employees say they are proud to work at Orange and 83 percent recommend Orange as a good place to work.
The interview is also available in our print edition of Business Arena.
COMENTARII:
Fii tu primul care comenteaza