Now you see it/now you don't: the offshore draft bill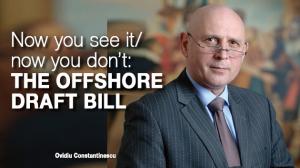 The recent squabbles in the Parliament over the draft offshore bill has exposed, once again, the lack of strategic vision of the Romanian politicians. Once more, as if it was needed, the country's leaders failed to understand that the Black Sea gas reserves are a strategic game-changer that has to be dealt with in view of that.
Let's recap: according to official estimates, 200 billion cubic meters of natural gas reserves lie underneath the Black Sea. If confirmed, the reserve may double Romania's average output for at least 20 years. This is enough to push us in third place among Europe's largest natural gas producers. And this is only what may come from the Neptun, Trident, Midia and Pelican perimeters, where exploration drilling has been successfully carried out by OMV-Petrom, Lukoil, ExxonMobil, and Black Sea Oil and Gas. If all the current Black Sea projects mature into full production phase, that is.
Currently, Romania extracts around 11 billion cubic meters of gas, more or less on a par with what it burns or processes in its petrochemical industry. In 2025, however, Romania may be able to offer 20 billion cubic meters of gas to the European market, a market that for decades has been all but a Russian monopoly. And we all know how powerful a political weapon is the temperature in a house in Europe, in the middle of winter.
Conversely, we all know what the tumbling oil and gas prices have meant for the coffers of the Russian state in the past decade, and how much the Kremlin depends on its gas and oil revenues. Currently, the natural gas price is less than 20% per cent of what it was 10 years ago. For comparison natural gas reached an all-time high of $15.39 in December of 2005, while the USD/MMBtu is currently oscillating around the $3.25 mark. Roughly the same when the shale gas rebellion sprung in Pungesti, Vaslui. Then, in October 2013, around 200 radical environmentalists, local peasants led by orthodox priests blocked the deployment of Chevron's shale gas exploration drilling equipment.
Somehow, the exploration for the resource that has brought the Russian economy to its knees has stopped in Romania. Amid all these, it is obvious that Russia is not very happy to see Romania transforming itself from a client into a serious competitor on the gas market.
Now, coming back to the current debates in the Romanian Parliament, they are childish, to say the least. Not that one may expect Economy Minister, Danut Andrusca, to bring any commendable contribution to the debate. Or the Energy Minister, Mr. Anton Anton, for that matter. No minister has put forward any credible data so far, no study of impact, no projection or forecast on how developing the offshore industry may impact the Romanian economy. The only topic for debate is on how we are going to spend the money and on what. As if we already had the money…which we don't.
Add to that the way in which the governing coalition played "now you see it/ now you don't" with the draft offshore bill in Parliament, giving the impression that it's approval by the Parliament is at Mr. Liviu Dragnea's mercy, and that the offshore draft bill is used by the social-democrat leader as bargaining tool in his quest for freedom. And this is precisely what the investing companies dislike most: to depend on the caprices of one man, who has so many things to lose in his quest to remain free and who is willing to negotiate everything with anyone that will guarantee his freedom.
This is an unnerving situation for companies that have already spent an awful lot of money for the elusive Black Sea gas and oil. According to data made public by ANRM in February this year, ExxonMobil and OMV Petrom have already invested about two billion dollars in the Neptun perimeter, Lukoil over 500 million dollars in the Trident perimeter, and Black Sea Oil and Gas, 200 million dollars in the Midia and Pelican perimeters. Even so, the companies are yet to make the final decision whether to commit themselves and pursue with the production phase. They all need a legal framework that offers predictability.
It is obvious that the Romanian politician is not used to reason over matters that require one to plan ahead for decades rather than days, and the offshore draft bill, once again, has exposed this weakness.
No Romanian politician has thought about what we need to do in order to transform the natural resource into hard cash and social wealth. There has been no debate on the infrastructure one needs to ship the gas from tens of kilometers away from the shore, how we process it on shore, how we transport it to customers, what workforce is needed to successfully run the offshore rigs, to repair them and to make sure that no ecological disaster may occur during the exploration or the production phases. Then we needed a proper debate over the legislative and fiscal matters and a stable framework that will stay in place for a reasonable amount time and shape Romania's economy for half a century.
This is forward thinking on a scale that scares Romanian politicians. We live in a country where a miracle lasts for three days and a law for much less.
COMENTARII:
Fii tu primul care comenteaza