Dress code: Business Attire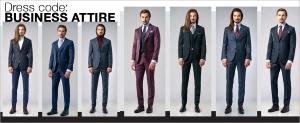 They say the first impression is the one that counts. A man can project an air of masculinity not only through presence, physique and authority, but also through his choice of clothing. This is also a perfectly valid statement in an office environment, and a professional look may even be part of the job requirements.
Code name: Business Attire
As its name suggests, the business attire comprises the outfits worn at the office by people who work in business. Depending on their position and company policy, this dress code may vary from classic and formal to smart-casual, business-casual and even casual.
Traditional business attire
This dress code is a classic one, and focuses on strict elegance. The suit is formal, single-colored, usually in dark navy blue, with
a tie and business shirt that can be a French-cuff style with cufflinks. The shoes are also a classic type, Derby or Oxford, in black natural leather. Accessories such as the watch, cufflinks, briefcase, organizer and even the perfume must be subtle. All the pieces of clothing and accessories must have that impeccable look, as if they had just been taken from the hanger or out of the box.
Smart Business casual attire
In this case, the dress code is more relaxed than the one I mentioned earlier. You can wear a suit, comprising of a casual jacket and dress pants in complementary colors, with a business shirt and tie, and dress shoes. Accessories such as the watch, cufflinks, briefcase and the organizer must be top quality, but they can have modern accents.
Casual business attire
Chic, comfortable, but mostly utilitarian, these are the words that definitely define the casual business attire. This dress code makes the transition from the formalism imposed by the business dress code to the more relaxed approach characterizing the classic dress code, combining the two styles. So, in this case, you can choose casual pants and even jeans, regular- or band-collar shirts, sweaters, vests and jackets. Ties are optional. Shoes are casual, and include sport-inspired footwear.
Have a stylish autumn, my dears!
Adina Buzatu

The articol is also available in our print edition of Business Arena.
COMENTARII:
Fii tu primul care comenteaza