A CulinaryOn-going experience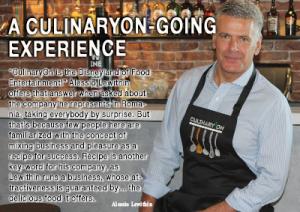 "CulinaryOn is the Disneyland of Food Entertainment!" Alessio Lewithin offers that answer when asked about the company he represents in Romania, taking everybody by surprise. But that's because few people here are familiarized with the concept of mixing business and pleasure as a recipe for success. Recipe is another key-word for his company, as Lewithin runs a business, whose attractiveness is guaranteed by... the delicious food it offers.
It's actually what binds all the CulinaryOn events together. The company organizes gatherings for both private and corporate customers. They host team building events, corporate events, as well as conferences, birthday celebrations, kids and bachelorette parties, and cooking Master Classes. The first CulinaryOn center covers an area of 1,300 square meters, where fun feels at home, Alessio Lewithin told Business Arena in an exclusive interview. The center has mobile cooking stations, special cooking tables for chefs, a bar and multimedia systems. "We officially had our grand opening in October, but we had already started building awareness through networking, digital and print platforms since September 2017. In the first 20 days of October, we hosted 15 events, with 500 guests, as we had promotional, as well as corpo­rate and private events. November also started strong, with an important number of corporate clients requesting team building and fun cooking events. December is also going to be a key month for us, with a strong pipeline and conver­sion rate. So, I do believe that CulinaryOn has managed to make a statement in Bucharest and secure its place in the market," the manager said.
The CulinaryOn center is able to host up to 200 people under the same roof. It includes a VIP room, where private events can be held. Of course, all events are attended by famous chefs. The center also has a separate room used for wine tasting, offering Romanian as well as Italian wines from Tuscany and Piemonte.
Even though it is a new arrival in Romania, CulinaryOn is a brand with tradition in other markets. It represents an international network of cooking and entertainment studios, with centers in Singapore and Moscow. One hundred more new locations are to be opened worldwide soon. Launched in 2012, the company opened its first center close to the Kremlin, in Russia, on some 850 square meters. The Moscow center hosts five cooking studios and a conference hall. Over 70,000 guests have attended the company's events so far. As for Romania, there are big plans in the pipeline. "CulinaryOn is a global company. We are always looking at opportunities to expand on new markets. The next project is the opening of CulinaryOn in St. Petersburg, Russia, by February 2018. With the opening of our center in Romania, we have created a hub for expansion in Central and Eastern Europe, so we are now looking at other markets as well, such as Poland, Serbia, Croatia or the Czech Republic. Our priority here in Romania is to grow the business and consolidate our operations. At global level, expansion in Asia and the US are key priorities for us," said Lewithin. Until then, the focus remains on customers. "Now that 2017 is coming to an end, we forecast that around 3,000 people are going to experience the CulinaryOn concept in Bucharest by the end of the year. In 2018, we are going to reach over 16,000 guests and a strong 30,000 plus by 2020," he added. Globally, the company has hundreds of international corporate customers. "In Romania, we have managed to create a healthy corporate customer portfolio so far, with over 20 international corporations in just one month. And the list is expanding every week. So, it's a very good sign for us," said the CulinaryOn partner.
The company has 18 permanent employees in Romania, and, next year, CulinaryOn's management is planning to grow this number to 30. Globally, over 200 permanent employees work for the company. Some of them are well-renowned chefs. In Romania, chefs employed by CulinaryOn work their wonders using three large modular cooking studios in the center opened in Bucharest. "CulinaryOn had a global turnover of over five million euro in 2016, and in 2017 we are going to see significant growth thanks to CulinaryOn Bucharest. We are a 360 degrees service provider. Our revenue stream is well balanced and similar in different geographical areas. Around 60 percent of our business comes from corporate events, such as team building sessions, conferences or networking events. Around 25 percent of the revenues is generated by private parties and the rest by our open Master Classes. We are confident that this business model allows us to keep the current customers, generate repeated purchases and have a healthy new customer acquisition rate year after year," the manager explained.
It can be quite challenging to bring in customers, corporate or otherwise, in the world of event management. The competition is fierce on the Romanian market, and many companies go over-the-top in order to stand out among event service providers. An attractive event, with good catering is nothing new here. So, what can CulinaryOn do about it? "There are three key factors for the success of our company. The first is its size: we can cater to many customers at the same time, and do that several times a day. Most competitors are limited to only one facility, while all our operations, globally, can host up to seven separate events at the same time," Alessio Lewithin explained. "The second and third factors are the flexibility and comprehensiveness of our offer. Most venues can offer one or two kinds of services; but CulinaryOn's philosophy is to be the one-stop-shop for our customers, offering a large variety of services all under the same roof: from cooking events, corporate team building training and parties, to private events, kids birthday parties and conferences."
The beginning wasn't easy at all, though. "As with any start-up anywhere in the world, the most difficult thing was getting awareness to the most efficient level. We are now managing the process very well by diversifying our resources. Also, CulinaryOn is a concept that needs to be seen and experienced rather than explained, so we are pushing hard on getting customers to see the venue, experience CulinaryOn and… come back."
Alessio Lewithin addressed a very interesting phenomenon on the domestic market. Culinary shows and the public's interest for anything related to the gourmet world and cooking delicious food have seen a significant growth in recent years, here, in Romania. What caused this change of views and preferences in the Romanian public? "I believe that there are many factors involved. For sure, food and wine have been the center of aggregation since mankind walked the Earth. We manage to combine food and entertainment into a memorable and magical experience that is significantly different from traditional restaurants, cooking schools and ballroom venues. Basically, quoting Walt Disney: "It's not the magic that makes it work; it is the work we do that makes it magic."
Asked if there were similarities between the Romanian and Russian markets in his business, he gave a surprising answer, when considering the perceived differences between Latin and Slavic cultures: "Romanian and Russian consumers are very similar. Both nations enjoy a good company, celebrating, eating good food and sipping great wines. The celebrating culture is very similar, so here, in Romania, we can learn a lot from the experience we have gained in Moscow." Having said that, he unveiled his next moves: "For sure, we are looking at consolidating our operations in Bucharest, while keeping an open eye for opportunities throughout the country. I believe that cities like Cluj-Napoca, Timisoara, Iasi and Brasov offer the right mix of corporate and private customer pool. We are talking about customers that are looking to change the way they think about entertainment and are ready to experiment with new trends, experiences and opportunities. Romania is a good market for us and we intend expand as we grow," said Alessio Lewithin.
Along with the expansion, come new investment opportunities within the company. And there are two areas which are going to see more investment in the following years from CulinaryOn. Which ones exactly? "Digital, Digital, Digital and People, People, People," says Lewithin with a smile. "In less than 20 days of operations, we hosted over 500 people in our CulinaryOn business in Romania. I can't recall such a strong start anywhere. I also have to admit that we fitted our venue from scratch to its current look and feel in just two months and a half."
He and his company are here to stay. It's a promise, the manager says. "I am not planning to move anytime soon. Actually, my family and I are "adoptive Romanians", if I may say so. We have been living here since 2011. We bought an apart­ment here and we have made Bucharest and Romania our home. So, you will see Alexandra – my wife – and I for quite some time here. Profes­si­o­nally, our objective is to create a center of excellence for future CulinaryOn teams to come and learn with us, and then go in key positions around the world bringing the magic of CulinaryOn across the globe. And, of course, generate a lot of value for the company and all the shareholders!"
The interview is also available in our print edition of Business Arena.
COMENTARII:
Fii tu primul care comenteaza