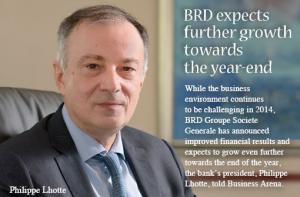 While the business environment continues to be challenging in 2014, BRD Groupe Societe Generale has announced improved financial results and expects to grow even further towards the end of the year, the bank's president, Philippe Lhotte, told Business Arena.
"Our first quarter results are satisfactory. We are increasingly optimistic about the Romanian economy, which has been recovering gradually," said Philippe Lhotte. He went on to say that the country's economic growth had failed to make an impact in the economy so far, expecting the real growth to settle in towards the end of the year. "I expect more growth in lending and general operations during the third and fourth quarters of 2014," he said.
Meanwhile, there are still many challenges in the banking system due to poor demand and worrying levels of non-performing loans (NPL). BRD's NPL level inched up to 24.9 per cent in the first quarter of 2014, from 24.8 per cent in December 2013. "However, the NPL level is now stable, so I'm reasonably optimistic," said Lhotte. He also indicated that the reporting procedures would change, covering the entire lending portfolio exposure and including governmental loans, which is expected to boost customer confidence and reduce the overall NPL rates.
BRD posted an increased profit in the first quarter of the year, even though the net banking income decreased by 12.3 per cent. According to the bank's president, the main driver for profit growth in the first quarter was the improved risk quality. "I remember that last year, in the fourth quarter, we had a high cost of risk, which is now improving. That explains the positive results in the first quarter," said Lhotte.
While lending operations for individuals gained ground in the first quarter, corporate lending went down 8.8 per cent compared to the first quarter of 2013. "We had a decrease in corporate lending year-on-year, but if we compare it to December 2013, the volume was stable, with a small growth of about three per cent," Lhotte explained.
Looking at the domestic market, Philippe Lhotte said that Romania's banking intermediation rate, of 55 per cent, was abnormally low. "The services provided by banks still seem very expensive, although we have not increased the fees and some products have even become more affordable. Yet we need to make more efforts," he said.
To read the full version, see the print edition of Business Arena.
COMENTARII:
Fii tu primul care comenteaza