THE POWER OF VOLUNTEERING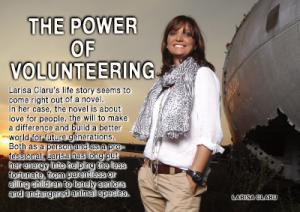 Larisa Claru's life story seems to come right out of a novel. In her case, the novel is about love for people, the will to make a difference and build a better world for future generations. Both as a person and as a professional, Larisa has long put her energy into helping the less fortunate, from parentless or ailing children to lonely seniors and endangered animal species. She has travelled the world as a volunteer, has helped dozens of organizations develop and grow their community impact, and has created an association helping disadvantaged young people in Romania gain their independence. Now, she wants to pass her passion for volunteer work on to her daughters.
Who is Larisa Claru, as a person and as a professional?
I got my first job when I was 16, working for a company selling all sorts of items, from toys, household objects and clothes to electronic equipment. Each agent used to receive a suitcase full of objects that we would sell door-to-door. It was fantastic when I received my first pay, and I was able to buy on my own a pair of white boots I had long desired. Later, I worked as a sales agent, as a store manager, and, in 2004, I moved to Bucharest, where I was hired as a presenter for an MTV Romania show called "Stylissimo". I was also co-presenter on the "Green Report" show on TVR. In my spare time, I would do volunteer work for various orphanages, for UNICEF, for Save the Children Romania. That activity helped me handle homesickness and missing my family. The transition from Cluj to Bucharest was not easy, but it definitely made me a lot stronger.
I learned a lot during the years I spent in the media, but I quickly realized that I couldn't do for long something that wasn't in tune with my soul. So, I returned to my passion, working with disadvantaged children, and I started a beautiful collaboration with the Special Olympics Foundation Romania, as a Fundraising Manager.
In 2007, we had a two-month campaign during which we visited 89 centers for seniors and people with disabilities, donating beds, clothes and toys. On that occasion, I discovered the centers for young people and adults with disabilities that Ceausescu had created far from the eyes of the world, and the conditions were bad (and I honestly believe they are the same today). Nobody cares about them. What we see on TV or hear from various foundations are just small pieces of a bigger picture. The situation is critical even today!
Generally, programs and projects are launched in the big cities and especially for children. But what about those centers for seniors and for people with disabilities that have been forgotten by everybody? Let me tell you… their residents are just waiting for their death.
After my experience with young people with intellectual disabilities, I chose to work for the Marius Ivan Foundation, as a President, and I initiated a number of educational programs.
In 2009, I gathered my courage and decided to follow my dream and travel around the word as a volunteer for an entire year. I participated in projects for orphans and HIV-infected children in Argentina, Peru, Cambodia, Nepal and South Africa. I was also part of wildlife monitoring and saving programs in Costa Rica (saving turtles), Malaysia (monitoring orangutans), South Africa (monitoring lions, elephants and rhinos), and environment protection projects in Australia.
It was a year full of challenges that helped me rediscover myself and unveil my deepest fears. It was a year of learning and, at the same time, it was a beautiful year, full of love. It was a unique experience that changed and enriched my life. When I got back from my trip around the world, I worked for the Make-A-Wish Foundation Romania, as a Fundraising Manager, and I set the basis for The Social Incubator Association together with my friends.

You have an impressive professional and personal background.
What motivates you to spend so much energy on humanitarian work?
Even when I was little, I loved children and I always wanted to take care of children younger than me. When my father would ask me what I wanted to do when I was older, I would tell him that I wanted to be a mother, and my father would always say: "Larisa, you will to be a mother, but what job would you like to do?" And I would simply answer that I wanted to work with disadvantaged children and be their mother too. In our family we had a motto: "All for one and one for all". I grew up in a close-knit family, with two sisters and a brother, with solid principles and values, and empathy was a word often used in our family. My mother would always cook for disadvantaged persons, and we would help her distributing the food. Our door was always open, and we would often have at least one extra person at our table. When that happened, we, as children, would be fascinated to hear all sort of stories. We had a good time. Even our dog, a Great Dane, would stay quiet and listen, which in itself was a source of more amusement every time.
When I was 18, I organized my first fundraising campaign in Cluj. Together with a dear friend, Dana Buf, who is a stylist, we decided to put together a fundraising fashion presentation for a seniors' facility. We didn't raise too much money, but it was enough for some sweets, fruit, a scarf for each resident and a little joy. From 1996, I started to organize fundraising campaigns for various purposes. I raised funds for elderlie's homes, orphanages, centers for people with disabilities, for disadvantaged families and for natural disasters. And I realized that my greatest satisfaction was to give: a hug, a present or even just a smile.
To come back to your question, my motivation is love, love for people. I love life, I love working with and for children and disadvantaged persons. I love spending time around them, and that is why I have done, and I still do, a lot of volunteer work in my spare time. I've learned a lot from children. If we truly listened, we would learn the meaning of unconditional love, empathy and compassion, we would learn to forgive others and forgive ourselves. We would learn to live in the present and enjoy the little things. Thanks to the children, I feel alive and I never forget to enjoy life.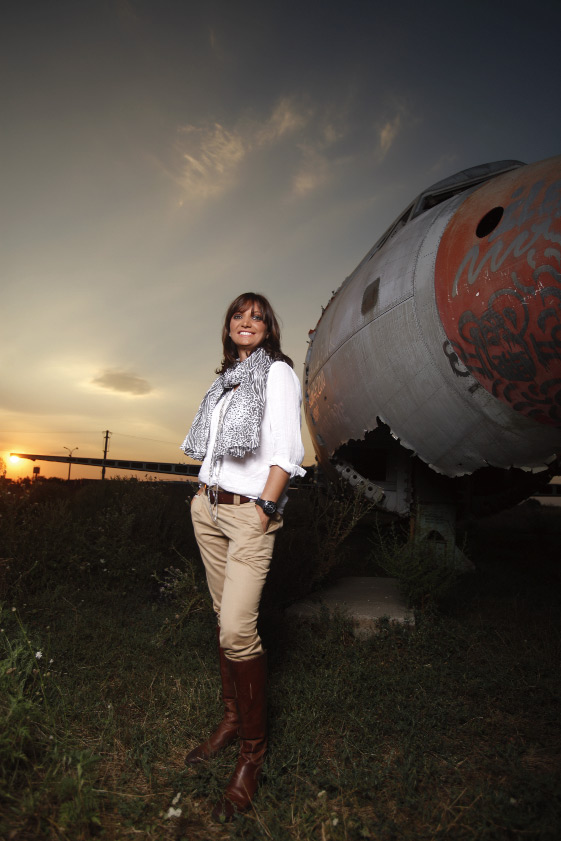 Very interesting, a lot of beautiful projects. But, still, what is your favorite project?
All the projects I have been involved in gave me a sense of fulfilment and enriched my life, but the project I started together with four friends of mine three years ago, to create an association, The Social Incubator, is still the closest to my heart. At Ionut Pascu's initiative, one of the founders, we decided it was time for us to do something more palpable for disadvantaged young people. So, together with Ines Popa, Alina Duscu and Paul Dudu, we set the basis for the association, which focuses on socio-professional integration of disadvantaged young people.
What determined you to start an NGO, and why in this segment?
I decided to launch this NGO for very simple reasons. Together with my friends, the founders of the association, we had been involved in volunteer projects since 2006. Over the years, we realized that it was not enough for us to think about disadvantaged children around major holidays, and we also realized that they needed much more than toys and sweets. We understood that once they leave the system, no one cares what happens to them. So, we decided to do something about that.
On that note, I would like to give you a few examples for more clarity: During Ceausescu's regime, there were around 110,000 children in the state's care system. Today, there are around 60,000, of whom 3,400 – 3,500 leave the
system every year. According to the National Agency for Employment, only two percent of the young people who leave the state's care system are hired with an employment contract, while seven of eight percent of them are working
illegally. What happens to the remaining 90 percent? In Europe, 42 percent of human trafficking victims come from Romania. Who do you think those victims are? Unfortunately, most of them are young people who have been forgotten by our county… And these statistics say it all.
Can you please elaborate on the association's projects?
The objective of the association and of its main program, "A normal future for disadvantaged teenagers", is to support youngsters, aged 16 to 26, who have left or are about to leave the state's care system, in making a smooth transition to adult life, helping them use their skills and achieve their independence in the long run. The program was launched in the Bucharest-Ilfov region in 2016, but it has subsequently been expanded to cover all of Romania's eight administrative regions.
Generally speaking, the program provides career and vocational guidance, psychological counseling, non-formal education, it identifies apprenticeship and traineeship opportunities, and supports participants in finding paid jobs at partner companies or at welfare companies
created by the association (tailoring, carpentry, recycling, etc.). At the same time, the program aims at offering active prevention measures against trafficking of young and underage people, as institutionalized youngsters represent one of the most vulnerable social categories in terms of human trafficking in Romania.
When put in numbers, the results are as follows:
* 396 young people received assistance on socio-professional integration nationwide
* 96 young people found jobs (following the completion of socio-professional integration programs)
* 107 personal and professional development workshops
* 38 courses and apprenticeship sessions
* 53 exploratory visits for educational purposes
* Over 50 sponsors and partners support the program
* Over 100 volunteers are directly involved in the program
A noble and important mission for the community.
What are your plans for the future?
In the future we would like to reach more and more teenagers, to develop our program all over Romania, and, why not, even internationally.
And what are your personal plans for the future?
After my 2009 experience around the world, I've decided that it's time for me to take a new trip. This time, I'm going on a six-month volunteer program, together with my daughters: six-year-old Iva and Andreea, my 15-year-old adoptive daughter. We are going to spend two months in India, two more months in Indonesia, and a month each in Ethiopia and Argentina. All the projects are dedicated to orphans and children from disadvantaged families. I'm going to teach them English and familiarize them with my project "The Power of Volunteering". I'm also going to provide fundraising consultancy.
I strongly believe that this trip will shape my daughters' personality and character. Education must start early, just like my mother did with me. Modern society encourages people to focus on their own interest to the detriment of our responsibility for others. But when we stop focusing on ourselves and start looking towards others, expressing our compassion through volunteer work, not only are we changing the lives of the people we help, but we are also changing our own lives.
The project's objective is to prove that by
giving and caring for others we are changing ourselves. And it is very important not only to pass on core values to the next generation, but also to put them into practice. Our trip is also going to have important documenting component, as I want to explore various approaches on volunteering. I plan to do that by chronicling Iva's and Andreea's experiences, interviewing leaders, NGOs, volunteers, and people who benefit from this compassion act.That experience will help my daughters understand the importance of helping less fortunate individuals and build bonds with the special people they meet. Moreover, telling the story through the eyes of a six-year-old child and a 15-year-old teenager, I hope that our experience will be meaningful to people of all ages. We will document and film every step of our adventure. Andreea is going to be in charge with the filming and I intend to post the videos on the project's Facebook page "The Power of volunteering" at least every other day (in the hope that we have Internet access). At the end, the documentary will serve as a communication tool for a wider audience, and it will be accompanied by courses aimed at encouraging volunteer work in Romania and other countries.
Thank you very much for theinterview and good luck with all your present and future projects. In the end, do you have a message for Business Arena's readers?
If you want to find out more about our trip, you can follow us on Youtube, Facebook and Instagram.
I would like to end with a few quotes that inspire my life:
"I am only one, but I am one. I cannot do everything, but I can do something. And I will not let what I cannot do interfere with what I can do. And by the grace of God, I will." Edward Everett Hale
"You know, as we come to the end of this phase of our life, we find ourselves trying to remember the good times and trying to forget the bad times, and we find ourselves thinking about the future. We start to worry, thinking, 'What am I gonna do? Where am I gonna be in ten years?' But I say to you, 'Hey, look at me!' Please, don't worry so much. Because in the end, none of us have very long on this Earth. Life is fleeting. And if you're ever distressed, cast your eyes to the summer sky when the stars are strung across the velvety night. And when a shooting star streaks through the blackness, turning night into day… make a wish and think of me. Make your life spectacular. I know I did." — Jack Powell
My love for life and people motivates me to go on, and I will never stop until my last breath.
The interview is also available in our print edition of Business Arena.
COMENTARII:
Fii tu primul care comenteaza