Style is never out of fashion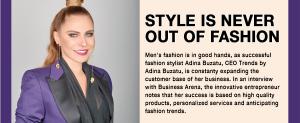 Men's fashion is in good hands, as successful fashion stylist Adina Buzatu, CEO Trends by Adina Buzatu, is constanty expanding the customer base of her business. In an interview with Business Arena, the innovative entrepreneur notes that her success is based on high quality products, personalized services and anticipating fashion trends.
What were your company's main achievements in 2019 and what are your objectives for the upcoming year?
Twenty nineteen has been a very good year for our business as we succeeded to fulfil all our resolutions. Launching our website - www.adinabuzatu.ro – a platform with educational styling articles and online shop - was one of them. Also, expanding our signature clothing line - TRENDS by Adina Buzatu - for a larger audience, has led to substantial sales growth. This new line we've recently developed, based on a total look concept with versatile, high quality pieces and a very good price-quality ratio, brought us even more customers. From genuine leather handmade shoes to fine fabrics suits from brands like Dormeuil, Loro Piana, Fratelli Tallia di Delfino and Vitale Barberis Canonico, any gentleman can find in our shop all the pieces he needs for a complete, refined look. TRENDS by Adina Buzatu collection, together with all the other 52 brands that we exclusively sell in Romania, are appreciated for their premium quality, perfection to details and versatility.
What are your 2020 sales expectations and how would you describe 2019 from the fashion market's point of view?
My predictions for 2019 rely on a growth in sales based on our expansion to the online market, following a similar plan to the one we've used in our shop. Since we are experienced in showing special attention and providing personalised advice to each and every customer in our store, we figured that our online customers deserve nothing less. Thus, customers who get in contact with us will be requested to send us pictures and details about their height and weight. allowing us to give them personalised advice on specific clothing options adapted to their physical aspect, style, skin tone, etc. Our team and our exquisite selection of 52 international brands give every customer the opportunity to find a perfect outfit. I will mention only a few of them which are highly appreciated by our customers: Eton is the worldwide number 1 shirt manufacturer, Magnanni – the Spanish luxury handmade shoe manufacturer, Sand – the total look Danish brand with high quality items, Derek Rose underwear – the British brand, worldwide leader for luxury nightwear and loungewear, the famous Italian Borsalino hats, and many more. Through our wide selection of high-end brands and our approach to customers, we work to increase sales, to secure customer loyalty and to gain new customers.
Which are the main brands in your shop and what other new brands are you planning to bring for the Romanian customers in the near future?
We are constantly following the international fashion fairs and shows in order to bring the latest collections to our customers. And, in the meantime, we observe our customers' needs and taste for fashion, so we can adapt the buying process to the Romanian audience. This year's novelty is Bamboogie – a brand that produces jackets made of technical and innovative soft-shell materials, designed to bear all weather conditions and guarantee the highest comfort even at -30 degrees. The Italian brand Messagerie, targeting men with a youthful attitude, is also much appreciated by Romanian men. Daniele Fiesoli is another brand with excellent quality knitwear, made of the best natural knitting yarns with anti-allergic properties.
What are the main brands on sale in your shop and what other new brands are you planning to bring to Romanian customers in the near future?
We can't deny the fact that the Romanian fashion market knows a very strong competition, but, honestly, we have never faced it directly. Anticipating trends was one of our unique selling points. We are always the first to bring something new and the first to launch trends for the Romanian fashion market. For example, 17 years ago we introduced to the Romanian fashion scene handmade pocket squares made of natural silk. We also brought 'THE' braces, for the first time in Romania, beginning with Albert Thurston British brand, the real inventor of braces, in 1820. These braces are worn by famous people all over the world, from with Prince Charles to Hollywood celebrities. They have been available exclusively in our store for many years. We have over 30.000 customers from Romania and from abroad, who got to know us from social media or by customer recommendation. There are many foreign customers who travel to Bucharest in the morning, especially to shop in our store, and take off in the evening, with a bag full of items and outfits 100% adapted to their needs. Why they choose us? The high quality of our products, the price-quality ratio and our personalised services.
What time of the year comes with a significant growth in sales and what is your strategy to increase sales?
Usually, summer is the best season for sales in the Romanian fashion industry, but we are the lucky ones that don't depend on this time of the year. And this is made possible by the fact that we have a wide selection of brands with different styles, and we have loyal customers who visit us monthly and also recommend our shop to other people. Because we are able to provide outfits for both special events and everyday life, we get to sell constantly clothing items to all kinds of customers, form young boys to adults. We don't have a specific plan to increase sales. We are only constantly securing customer loyalty by providing them high quality products and services. We don't need to invest high figures in marketing and advertising because our products, our services and our customers speak for us.
Is the Romanian public open to advice about choosing high quality clothing items?
In Romania there's still much to be learned in this field. We don't have traditions in educating our customers to choose only the best products. On many occasions, people don't see the difference between a fine fabric suit and a polyester version, if they come in the same colour. Our mission is to encourage people to touch the fabric, try the suit on, and to explain them the difference between quality pieces and mass market products, so they can understand what to choose and why. Once they understand how important the fabric, the cut, the seams and the fit of a suit are, they will become more and more selective with their options. This is how we get to gain more customers day after day. I was talking earlier about the Derek Rose underwear, a brand which was quite unknown in Romania. It was very difficult to introduce it to our market. However, once people start to buy their products and notice the difference from other underwear brands, they become regular buyers.
What is your customers' profile? What socio-professional categories do they represent and what other customer segments are you targeting?
Our customers come from almost all the socio-professional areas. We have many customers from big companies, corporations, from the banking system… the men in suits. They are our loyal customers because they always find our line, TRENDS by Adina Buzatu, to have an exceptional price-quality ratio. On the other side of the spectrum, we have quite a few young people – high school and university students – who come to our store to get dressed for school and for parties. Contrary to popular belief, there are, also, many women who buy shirts, tuxedos, even trousers form our collections. We have the best quality fabric slim fit shirts, in different colours – white, light blue, lilac – and in beautiful prints. Our purpose is to offer our customers the best products and services, and many other will come. This is and has always been our strategy for development.
What are the main trends this coming winter?
This season's casual collections are dominated by leather and fur. We can see opulent fur collars over elegant coats. For those who wear an office attire, the classic suit is an evergreen, but the slim fit suit is also a relevant option. Double breasted suits and vests are still on trend. You can choose plain fabrics or patterns like Prince de Galles, plaid or stripes with a classical twist. Oversized coloured scarves, knitwear and turtlenecks are, also, among this season's favourites. In our shop, you can find o great selection of turtlenecks made of a blend of natural silk and Merinos virgin wool, which you can wear in a casual outfit with jeans and coat or jacket, but also in a smart casual look under a blazer or a suit. You can choose from different colours from lime-green, yellow, orange, bordeaux to purple, violet, indigo, navy blue, white, black and different shades of grey. Colourful soft cardigans are integrated in office outfits, under a suit jacket or over a white shirt and jeans, for a casual Friday look. The minimalist sneaker shoes are a relaxed footwear alternative for suit, while the classic blazer with metallic silver buttons is still a refined option.
What are the main fashion mistakes that Romanian businessmen are more likely to make?
People often exaggerate with their clothing style, probably trying to be noticed. Too many items, too many colours in the same outfit, too matched (or too mismatched), too slim are only a few wrong styling decision people make regularly.
Also, ankle length trousers are not an option for everybody and for every day. When they choose their clothing items, usually, men don't keep in mind all the rules of smart shopping – their body type, their style, the association with other clothes in their wardrobe. The famous metallic buttons blazer styled with same colour trousers represent another styling mistake. The blazer must be always matched with trousers in a contrasting colour. Many businessmen wear the same office suit at evening events, matching it with tan shoes and striped tie, which is an unforgivable mistake. Your office suit is an outfit for daytime only. Also, trying to be noticed, people choose shiny or embellished shoes. In the business attire, these kinds of shoes are totally forbidden.
What are your recommendations to businessmen and professionals for an impeccable image on every occasion?
First of all, they should know that they don't need too many clothing items in their wardrobe. A few high quality pieces are more than enough: a navy suit made of fine fabric, an anthracite grey suit and a black suit for evening; trousers in contrasting colours to wear them with the jackets of the mentioned suits - navy and grey are a perfect match; a few shirts – white, light blue, lavender. In terms of patterns and colours, they can choose striped suit jackets or in shades of bordeaux, dark purple, indigo, beige, brown, even a soft shade of magenta. For example, they can match a jacket in a light shade of magenta with grey trousers, white shirt, plain tie and white pocket square. Also, a navy blazer with metallic silver buttons is a must in every businessman's wardrobe. Plain classic shoes and double-monk strap shoes will complete any refined outfit. Socks are, also, very important for a complete look; plain bold colours socks in contrast with the outfit are an option for the brave ones. The secret for a refined look stays is mixing simple and high-quality pieces and in the attention to details.
What are your objectives and your new projects for 2020?
Besides improving constantly our services, we'll continue to further develop our online platform. Moreover, we are looking at bringing new brands to our portfolio and we'll prepare more fashion shows for our audience. We already have three new young members in our team, and we'll be training them so they can be as good as their colleagues in the shortest time.
The interview is also available in our print edition of Business Arena.
COMENTARII:
Fii tu primul care comenteaza