Smart covering on the real estate market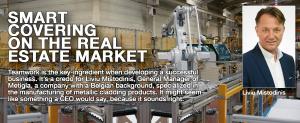 Teamwork is the key-ingredient when developing a successful business. It's a credo for Liviu Mistodinis, General Manager of Metigla, a company with a Belgian background, specialized in the manufacturing of metallic cladding products. It might seem like something a CEO would say, because it sounds right. One might believe that until they see Mistodinis at work. At his company's factory, located at Ceptura, Prahova county, he gives a real lesson in democratic leadership, as he likes to say. Mistodinis communicates easily and responds well to each and every one of his employees.
The results can be seen in the company's human resources history: some people have been working for this company for over 10 years and have no plans of leaving. In a country with high mobility in the labor market, that says a lot about the management practices and the company's values.
Metigla is a company with a history. It has an extensive Belgian experience in the production of metallic cladding products, since 1984, and has been present in Romania since 2000. For many years, it was well-known on the domestic real estate market under the name of Coilprofil. The company opened its first production unit in 2000 with an investment of two million euro. Three years later, the first metal cladding systems under the Metigla brand was launched on the Romanian market. In 2005, another 4.5million euro was invested in a new sandwich panels line. Years 2012 and 2014 brought new product launches. By this time, most real estate developers have heard of Coilprofil.
After its rebranding process and changing its name to Metigla, the company has started working on its new development program, which practically means investing some six million euro in the next two years. The first stage of this expansion process has already been accomplished. So far, part of the money has been spent on purchasing industrial robots. "Their role is to simplify and streamline the production and delivery processes," said Mistodinis.
The company will also invest in launching new products at its Residential division and in extending the production units. At the same time, it plans to invest in the implementation of an ERP system. "We have already invested one million euro this year and will continue to invest four million euros next year in this development process. We estimate for 2018 some 14 million euro in turnover, representing a 20 percent increase as compared to last year. We will also increase our production and storage spaces by almost 50 percent in the next two years," said the general manager of Metigla.
The second part of the development plan will take place in 2019 - 2020. During this time, major investments will be made in extending the production and the storage spaces, as well as in developing the team. "The majority of our investment will be directed towards acquiring new machinery, extending the production space (from the 10,000 square meters, which we own today, to over 15,000 square meters), modernizing the existent production lines, as well as acquiring new lines, which will allow our production capacity to grow by 20 percent, reaching over 35,000 tonnes of products delivered yearly. We will also offer consultancy as well as technical counseling for all our products," Mistodinis said, adding that "this year's rebranding, for which we have used the name of our most well-known product, Metigla, will be accompanied by our most extensive investment program in the last 18 years. Our final objective is to grow the competitiveness of Metigla products and extend our company nationwide, as well as internationally. We have first started with investments in technology, being one of the few players in this market who are already working with industrial robots. This means time efficiency and also process efficiency, so that production as well as delivery are improved. Another project which we are about to implement by the end of this year is a new ERP system, which will manage all the processes in the company and will support its development for the next five-six years."
As Liviu Mistodinis explained, the company will adhere to the growing trend of automation, which is a process happening in international factories. This tendency has a clear goal: to grow efficiency and reduce production costs as well as compensate for the lack of personnel. "It is estimated that, in the next two years, over 1.7 million new industrial robots will be installed in factories throughout the world. Until 2020, the number of robots functioning and working in factories worldwide will be over three million," the Metigla boss explained.
Liviu Mistodinis admits this is his factory's first experience with robots. A robot of this kind is a great investment, he emphasized. Three robots can replace six people. One robot costs over 300,000 euro. "Digitalization is becoming a philosophy of our business. We cannot overlook this step, as it assimilates us. It has become a priority for all industries."
The company has recently diversified its portfolio with two new products, both part of the Residential division. One is a metallic cladding product specially designed for houses with a Mediterranean-inspired type of architecture. The other is a product that will be launched this year, after the company has just launched its Teck model, a profile which combines the appearance of the traditional shingle roof with the features of modern constructions. "Our products are sold in Romania, as well as abroad, through distributors and builders. In our 18 years of activity on the local market, Metigla has been a stable partner, not only by relying on a team of experts, comprising over 100 employees at the end of 2018, but also through diversifying its product range on all activity segments (industrial, residential and pluvial), as well as through extending its production and storage capacity, reaching a production capacity of over 30,000 tonnes a year," said Mistodinis.
Before taking charge of Coilprofil, which is now known as Metigla, he worked for Lafarge, occupying various management positions, both in Romania and France. He graduated from the Mechanical Engineering University in Iasi, but he also studied extensively in France. He has been at the helm of the company for over 16 years and has seen dozens of employees grow. He firmly believes that it's a true challenge to have a close-knit staff and make people work together as a team.
Mistodinis is known within the company as the manager who involves all employees in the decision-making process. He took over the company as a CEO in 2002, when the first investments had already been made, the company had already launched some products on the market and it employed six people. In time, he established Coilprofil as one of the leading firms in the industry, with a wide range of products. "My whole purpose was to establish Metigla as a profitable and secure company on the market, where the employees feel appreciated and respected," says Mistodinis, who loves mountain trekking in his spare time. "Our 2018 salary budget went up 28 percent. As for the profit, we have always reinvested it in the company to raise its value on the market."
Metigla has taken part in some important projects providing metallic cladding products for the National Institute for Laser, Plasma & Radiation Physics at Magurele, in partnership with Strabag. "We have also worked on roofing projects for the National Library, the Olympic Swimming Pool in Buzau and Otopeni, as well as for companies such as Altex, Pirelli Slatina and Penny Market," the CEO concluded.
The interview is also available in our print edition of Business Arena.
COMENTARII:
Fii tu primul care comenteaza