Short guide for an autumn with style

Even though the weather seems to suggest otherwise, autumn will soon set in, with its shorter days, cooler mornings and nights. However, gentlemen should have no difficulty in adapting their wardrobe to the new season, including the formal attire, for their business meetings at the office or in town. One condition though: you should add in the key elements that define the fashion trends for autumn 2015.
One of the highlights of the season is the textile waistcoat, which I like very much for the refinement it gives to any outfit. It is a versatile item of clothing that can be worn with or without a tie, with suit trousers and shirt, having both an aesthetic role and a more practical one, to keep you warm. As for suits, once again I would recommend you to avoid the outfits that have the air of a uniform. However, you should be safe wearing good-quality, solid-colored suits, with fine stripes or checks, or combining colored jackets with suit trousers in neutral colors.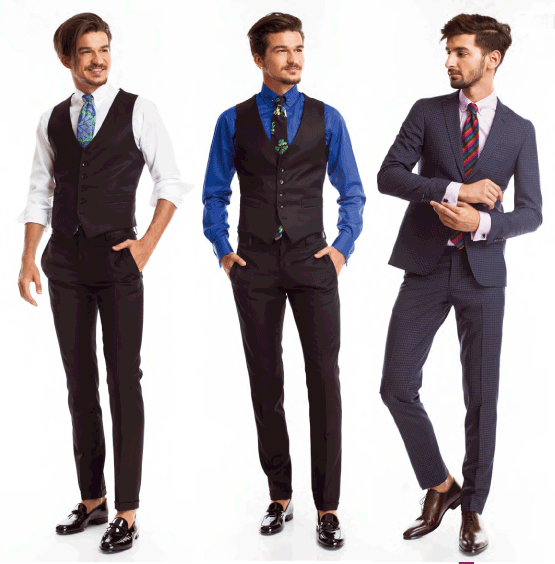 The lapels are important elements in the construction of a jacket, and they borrow the stylish design of dinner jacket lapels. Pin collar shirts continue to be a must-have this season, being a good match for classic office suits, as well as jeans, casual footwear and waistcoats when out at a restaurant or a club. In terms of colors, the most popular one this season is grey, with its various shades. Dark green, army and even mint green, blue and black, as well as accents of red or orange complete this autumn's color scheme.
Hand-made leather shoes in red, green or blue can be the real pièce de résistance for an entire outfit. If you are of the opinion that brown shoes go well with virtually any outfit, you should know that this autumn caramel takes over, being a pleasant color, just as easily adaptable to most outfits.
As a general rule, keep the classic pieces of clothing, but with a modern cut, adding some of the tendencies of the new season. For example, you could keep using the all-season fabric office suits, while the linen, cotton and light wool suits should be replaced with thick, heavier fabrics.
COMENTARII:
Fii tu primul care comenteaza