Running towards success like... water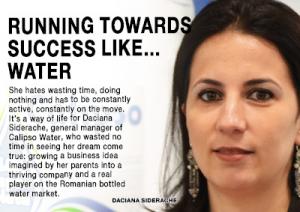 She hates wasting time, doing nothing and has to be constantly active, constantly on the move. It's a way of life for Daciana Siderache, general manager of Calipso Water, who wasted no time in seeing her dream come true: growing a business idea imagined by her parents into a thriving company and a real player on the Romanian bottled water market.
She has seen the company evolve and become a well-known name in the retail world. Calipso produces non-carbonated as well as carbonated bottled spring water, and also a range of soft drinks and aromatized water. The company welcomed a 20 percent growth in the volume of water bottled in the first nine months of 2017, compared to the same period of last year. During those nine months, Calipso sold over 160 million liters of water. "Basically, every Romanian citizen drank at least eight liters of spring water bottled by Calipso by October 1, this year," the general manager said proudly. "We owe this growth to the investment of over two million euro, an investment which we have implemented throughout 2017. Our target is the modernization of our production capacity, as well as the expansion of our spring water distribution network. We have worked on increasing our production capacity in order to make it more efficient, to reduce the impact on the environment by using less plastic in packaging production. We have managed to cut our PET waste by as much as around 60 tonnes per year," Siderache said proudly in an interview with Business Arena.
She affectionately calls the company "her first baby". But the "baby" is not so young anymore. It has years of history and hard work behind it. Calipso was founded in 1991 and was first run by Daciana Siderache's parents. From 1991 until 1999, the company only produced plastic packaging for bottled water. The company saw a stronger development between 2001 - 2007. In 2007, it purchased the land for the construction of a factory in Ilfov country and in May 2010 the first two units of the new production facility became operational. Now, the company has over 150 employees, with 30 percent of them involved in the production process. Finding highly qualified workers is a real challenge in Romania, but the team is lucky enough to have some experienced, as well as talented specialists, the general manager said. "Plus, we do train new people coming to work in our factory."
The plant based in Ilfov has a production capacity of over one million liters per day and occupies over 40,000 square meters. "We have high storage capacity, we can store 12,000 pallets. Our factory operates four production lines, but it can sustain up to 10 production lines. We also own a production line for packaging, meaning the manufacturing of bottle handles or caps, while the rest of the elements needed for producing bottled water we buy from the market."
Calipso spring water reaches consumers through traditional stores, as well as through almost any big retail chain nationwide. "Over 90 percent of our products are distributed in retail stores. Retailers' purchasing power is stronger and they have bigger storage space. Retailers pay a very close look at everything that happens on the domestic market and the producers are carefully evaluated. They bet on quality and don't need a producer who can only deliver for a week or so. Retailers need a trustful partner, who can provide around-the-clock delivery, including weekends and summertime. That's the time of the year which is most demanding, when everyone needs water: the client as well as the consumer. It is very important, as a manufacturer or producer, to be able to ensure delivery during the summer. Retailers always monitor your activity. Whoever can ensure the presence of its products on the shelves in the summer is a producer that does its job well. We, for instance, distribute our bottled water throughout the country with our own fleet of trucks, as well as using other transport companies. We deliver to many places in Romania, such as Turda or Bacau."
Competition is extremely tough in this market segment, with well-known brands fighting to become market leader. But when it comes to production under private label, Calipso has managed to become number one in the market, as most retailers have their bottled water produced under their own brand in the Ilfov factory.
So what makes Calipso water different after all? "Calipso has grown in this market based on its credibility. The bottled water we produce has a pH value of 8, similar to that of the human body. It is an oligomineral water, pumped up from a historic water spring based 270 meters below ground level. Especially during the summer, the quantity of water we consume is highly important. But quality is crucial too. Therefore, we must always be informed, read the label before purchasing one brand or another. The most important aspects we should keep in mind when we read the label are the fixed residues and the quantity of nitrates in the water, as well as its pH. According to our country's regulations, a mineral water is appropriate for daily consumption if the fixed residue is lower than 500 mg per liter and the pH should be as close as possible to that of the human body. Calipso water meets those criteria," Siderache explained.
The tests are very strictly conducted and quality is never compromised. That's why the management of Calipso invested 250,000 euro in building its own laboratory at the factory, a lab which they opened in 2012 and where over 200 water tests are done before the bottles reach retailers. "Of course, once a month the bottled water we produce is also tested outside our laboratory," said the general manager. And, according to the lab tests results, the spring water bottled by Calipso has a level of nitrates below the detection limit of lab instruments. "The fixed residue it contains has a level of only 372 mg per liter, which places our water in the oligomineral league, with a small quantity complex of minerals. In other words, it can be consumed all the time, without any restrictions. Unfortun­a­tely, in Romania the consumption of bottled water is around 33 liters per person. In Germany, for instance, it reaches to 200 liters per person. In Romania, the southern part of the country, in regions such as Dobrogea and Muntenia, there is a preference for still water. In Bucharest, 60 percent of consumers drink still water. In Transylvania, for instance, things are a bit different. Mineral water is preferred there," said Daciana Siderache, who has a degree from the "Carol Davila" University of Pharmacy. She didn't fit in as a pharmacist though. "I was a pharmacist for only a week. That's how long I lasted in that job, when I was asked to replace a relative, who was a pharmacist in a drug store. After a few hours, I was bored to death. It was the moment when I had the revelation that the job wasn't for me. I am a truly active person, I don't like wasting time doing nothing, I have to be constantly on the move," she said.
Her curious nature was a great asset somewhere else – in the business world. "I have always been a very curious person. I am the kind of person who always asks multiple times 'why?' when I am intrigued about something." Daciana Siderache admits she is constantly learning, even in her field.
She has managed to take the company to success, and she won't stop there. Calipso Water ended last year with a turnover of some 50 million lei. "We have increased our capacity by 20 percent, and an increased production volume is also reflected in our turnover. We estimate a 2017 turnover growth of between 15 - 22 percent. We also expect a higher profit this year," she said.
Meanwhile, the company keeps investing in the development of its production units and products. It recently invested some 550,000 euro in a nine-kilometer underground water supply pipeline, and it is also preparing the launch of a small, single serving 0.5-liter bottle range. Currently, Calipso uses 2-, 5-, 6- and 10-liter bottles for its two brands: Calipso and Miraqua. The company also has an aromatized water brand in its portfolio, available in two flavors: with apple juice and lemon juice. The company does not export its products as yet, as it is focusing on covering the high domestic demand, the management said.
Daciana Siderache won't exclude the possibility of opening new production units in the future, in locations which can help the distribution network, such as Moldova, where she has identified development prospects. But that's not the only surprise the company has in store. Calipso is preparing the launch of a new product in the next two years. However, Daciana Siderache preferred not to disclose more on the subject just yet. As for long term plans, she would only say that "in the next five years, we want to increase our capacity and remain a strong player in the market."
Who inspired her to be so determined? It was her father, Adrian Siderache, a civil and industrial engineer by profession. "My father was a visionary, he was always one step ahead of his time, always restless and very courageous," she said, of the man who shaped her ambition. Her advice to those who may want to follow in her footsteps is somewhat on the same note: be determined and never abandon your projects.
The interview is also available in our print edition of Business Arena.
COMENTARII:
Fii tu primul care comenteaza