Riding the rough road to success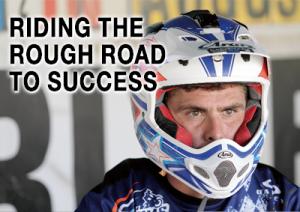 "You can ride it, once you've put it together!" Accepting his father's challenge marked a turning point in Adrian Rdut's life. It happened in Spain when he was just eight years old. He was standing in front of an open box which contained a disassembled enduro motorbike. He was eager to ride it, but his father was strict and clear: "First you put it together, piece by piece, with your own hands, after that you can go for a ride."
So, he embarked on a life journey with love, interest and passion. "I have been passionate about things such as cars, trucks and bikes – anything with an engine – for as long as I can remember. I was only eight when motocross came into my life. Living in Spain with my parents, I had the opportunity to see a kid training on a motocross bike. I realized I would enjoy that too. Later on, my father bought me a 50 cc enduro bike, which I had to assemble myself. I did. It took me two weeks," he recalls. That's when the adventure for this young entrepreneur began, an adventure which has lasted to this day.
Founder of Rams MX School, a place where motocross is taught and learned, Adrian Rdut also boasts a great collection of trophies, which he has won in national and international competitions, since the age of 15. Looking back, he can feel proud. He has been four times National Champion, five times East European Champion, and he has also been Bulgaria's National Champion in motocross competitions. He nostalgically recalls his beginnings in dirt biking: "At 14, I met Ciprian Popescu, who initiated me in motocross training and signed me up for the first national motocross competition. It all started as a game, then things got more and more serious. Later on, I met the Cociu brothers, who had a very good Russian trainer, so that's how I was admitted into a more complex training program. My brother and I started participating in international competitions and championships in foreign countries, as the level was way higher and it helped us grow."
For Rdut, this sport is a way of life. "I still have a training program, I always set new goals and I work hard to reach those goals. That's what keeps me motivated," he told Business Arena Magazine in an exclusive interview.
Motivation and passion are key ingredients that keep his business going. The transition from being a sportsman to being a businessman was a natural step he had to take. "Rams MX School was born from my passion for motocross. As I already mentioned, I've been practicing this sport since childhood, and from the age of 15 I have done it on a competitive level. When I entered into the world of this sport, I didn't see it as a prospective business. It was simply my passion and my ambition to grow. But time passed and maturity happened, so I realized I could successfully combine what I'd been doing for years with having a business in the field."
It all went fairly smoothly from there. "In 2001, I established the foundation for my motocross track, which has been under ongoing development and steady improvement since then, and I am referring to modernizing its design, its space, its infrastructure and facilities. We are proud to have the only enclosed motocross track in the country, with its own irrigation system and electricity network covering all the available space."
As a school, Rams MX's main activity is to teach our applicants how to ride a motocross bike. "We have students from all age groups, starting from the age of four. Our target public is represented by both children and adults, beginner as well as advanced riders. We are visited by people interested in off-road, as well as speed bikes and choppers. However, we also attract people who wish to perfect their skills or gain more experience by racing in difficult conditions, which, in the end, makes it easier for them to ride a bike on the road," Rdut explained.
As with most beginnings, people were reluctant at first. It took time, patience and determination to get students to come in. Rdut recalls that not many applicants signed up to train at his school in the early days. "After 1989, this sport became rather dusty and forgotten and people weren't so keen on practicing it anymore. In recent years, things have changed though, and more and more children and adults come to join our classes. Last year, we had over 100 students, 60 kids and 40 adults." Why do people come knocking at his door? People come to Rams MX School for various reasons, says Adrian Rdut: "Many have never used a motocross bike before and are willing to learn, others just want to refine their skills and compete in championships. Thus, their expectations are different based on what motivates them. What we can do is offer them the best technical and safety conditions, so all of them benefit from professional training."
Rdut started his business in 2001, with an initial investment of over 150,000 euro, from his own pocket. "But it's difficult to quote a precise figure," he admits, "as, in 2001, we also set up the foundation for our motocross track, which, since then, has been undergoing continuous development and change. We are now considering night racing facilities for this track, meaning a floodlights system. This year, with the help of our partner Yamaha Europe, through its official importer in Romania, Moto Dynamics, we have managed to acquire a fleet of 25 motorbikes for our junior school. So, for the moment, we fully use what we have got, while still investing in the infrastructure of our track."
His company has further ambitions, planning to open a boogie car track right next to the motocross one. "We will acquire the vehicles from Yamaha, which is our regular partner," he says, without disclosing when that project might begin.
So far, his company has seen sustained growth, increasing its turnover by 35 percent last year as compared to 2016. And he expects an even higher turnover increase this year. "I didn't experience major problems in opening this school," he recollects. "Once all bureaucratic issues had been solved, everything ran quite smoothly. I already had a solid base, which allowed me to structure my training sessions the way I wanted to, and I already had people who would came to learn how to ride off-road, as well as a space with all the facilities possible. I am referring here to the TCS Racing Park sports base (which is the motocross track at Ciolpani). There will always be issues when running a business, it's true, but none so difficult as to endanger the school's activity in any way."
Surprising as it may seem, motocross, as a sport, used to be much more popular and encouraged in Romania before 1989, than it is now. "Romania is extremely different as compared to other countries in terms of motocross and, unfortunately, I don't mean that in a positive way. Until 1989, the Romanian motocross school was very well positioned and the number people who practiced motocross, as a hobby or on a competitive level, was quite high. There were many motocross clubs and the state (the only sponsor actually) invested in them and in their infrastructure. After the Romanian Revolution, this sport no longer had any continuity. Nobody bothered to invest in it anymore (I am referring to the federation), the competitions started to be scarce and insignificant, and fewer people remained involved in this sport. In the Western countries (even in Bulgaria) a motocross culture is present, that's why these countries are more advanced that we are from that point of view. Romanian motocross market is a small one, but looking at the number of applicants interested in joining our classes, I realize that it has potential."
Based on his experience in the field and as a coach, Adrian Rdut can identify the potential this sport has on the Romanian market, but with two amendments, he confesses: "it is not sufficiently marketed and communicated to the public at national level." He believes the authorities are no longer interested in investing in motocross ("to be honest, they won't do it even for the sports where we do get very good results") or in reviving the spirit of this sport, so everything is left at the mercy of those who have an initiative and wish to invest in it. "In other words, the only way to evolve and develop as a motocross sportsman is to rely on your own resources. Unfortunately, we are the only motocross school in Romania. We can only hope that, in time, motocross will gain more prominence and more schools open their doors to students. I believe our school is on an upward trend and will continue to grow. Motorcycling is a passion and a gateway to escape the mundane. So, I hope more and more people will practice it, as safely as possible. "
With these words, he touched a very sensitive cord in the mind of many Romanians, who are maybe too cautious to try out a sport which, at first glance, might seem expensive, dangerous and not for the faint of heart. "It is not an expensive sport, when compared to others out there, and it is wrongly considered, unfortunately, a dangerous sport. This is exactly what we are trying to do at Rams MX School – teach others, both children and adults, the secrets of motocross and the correct steps to practice it well and safely. We try to educate people this way, through videos, photos and postings on the social networks from all our training sessions and races, where even five-year-olds are brought by their parents, who are either bikers themselves or just wish to offer the young ones an education in terms of two-wheel locomotion. It is mainly parents' responsibility, as it is them who have to be aware that what we are trying to do and what we are trying to offer children is a good thing for their health and for their life. The more they try to prohibit something, the more children will want that thing. And if, when they turn 18, the first thing children think of when purchasing a motorcycle is a speed engine of 1,000 cubic centimeters, there is a high possibility that everything will end up very wrong."
As with any other sport out there, the manager of Rams MX School admits that risks of having accidents when practicing motocross do exist. "I admit that I learned motocross… at the expense of my own bones. But, of course, it doesn't mean you necessarily have to suffer injuries while practicing it. With a good coach, who is able to show you the correct steps, so you won't end up injured, and with lots of training, all the side effects of this sport can be avoided. What's also true is that motocross entails some expenses, such as those with equipment and accessories. It could be a downside for many. At our school, the average cost for a children's course is 200 euro and for adults the price rises to 350 euro for a course containing 10 sessions. If you see the positive aspects of it, you won't hesitate: this sport helps you mature, shapes a strong personality, gives you discipline and makes you more responsible, calculated and better physically trained."
Apart from coming out a winner from any endeavor, Adrian Rdut shared with us his many other ambitious goals. As a manager, the 32-year-old entrepreneur wishes to develop his private school harmoniously, to maintain a high level for all the equipment he uses at his school and all the safety systems, and to attract the support of motocross. As a coach, he wishes to train children who can later become champions in international competitions. He actually describes organizing his first children's competition in motocross as one of the most beautiful and remarkable memories of his life. It was something he had dreamt of for a long time and he had the opportunity to see it happen. Moreover, he will always cherish his memories from events which have taken place at his track and from various stages of the World, European and National championships he has participated in.
In fact, he loves his two-wheeled friends so much that he uses them as a daily means of transportation throughout the Capital. "I totally support this way of getting from point A to point B in the city. It is faster and the consumption level is considerably lower than that of a car. I use the maxi-scooter as often as I can." It is a good example of how the mentality of a bike-user should be like. "Whoever wants to try motocross should first and foremost love this sport, with all the risks involved. Then, one should be fully aware that the path to winning a championship is full of sacrifices and all sort of choices that a player will have to make. Perseverance, determination and a serious outlook are important elements, necessary for all motocross sportsmen."
How about the entrepreneurs who would like to start a similar business? What should they know from the only general manager in this field in Romania? "I've opened my school because I wanted to pass on to children the passion for motocross, as well as lead them into competing in international championships. Things evolved from there and everything turned into a real business. To sum up, it requires a great amount of passion and diligence in order to start up and develop this kind of business on the actual Romanian market."
The interview is also available in our print edition of Business Arena.
COMENTARII:
Fii tu primul care comenteaza