Orange tackles corporate customers' cybersecurity threats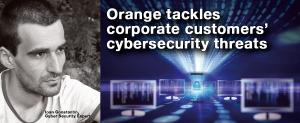 While internet threats are on the increase, local business have taken steps towards increasing investments in online security, according to Ioan Constantin, Cyber Security Expert at Orange Romania. In an interview with Business Arena, the Orange Romania expert talks about current threats and the security solutions his company provides for corporate customers.
As internet threats are constantly evolving, what tools can your company rely on to protect its corporate customers from cyber-attacks?
Orange offers Cyber-Security as a Service through our Business Internet Security (BIS) platform to corporate customers. This provides them with 24/7 protection of their infrastructure and data, in this rapidly changing threat landscape. We rely on technologies such as Next Generation Firewalls, Intrusion Prevention, Web Content Filtering, Application Control, E-Mail Security, Data Leakage Prevention and Antivirus.
We're adding sandboxing capabilities to BIS in for accurate detection of 'zero-day' threats and we're correlating Threat Intelligence feeds with events and logs in our SIEM tool.
We're constantly at work improving our detection and response rate as we've recently started looking into using Machine Learning for the detection of advanced threats.
What are the main features of your Internet security solution?
Business Internet Security is a service that provides, in a surprisingly easy way, visibility over how customers' internet connections are being used, as well as control over the usage of resources, by limiting or blocking certain types of content, applications or URLs, advanced malware protection and intrusion prevention.
It also provides proven e-mail security with blocking of spam e-mails, it prevents data leakage and e-mail-based malware, it has a real-time detection of viruses, bots and botnets and other malware and a self-service web interface where customers can view logs and incidents, view and configure their security policies and generate consistent reports on the level of security in their corporate networks.


What gives it an advantage over other Internet security products available on the market

BIS is a fully managed Security Service that offers a high level of protection with minimal investment on the consumers' part. It is particularly easy to deploy without any changes to the customer's infrastructure and can be managed even by non-technical personnel. Moreover, it gives access to a self-service web dashboard that allows users to generate reports, configure policies in a very friendly, high-level way, backed by the latest technologies and equipment from proven vendors.
What are the biggest vulnerabilities in business networks today?
A fast-paced threat landscape, with numerous changes in malware diversity and attacker's motivation and methods, constantly challenges the corporate environment. While some things do change for the better, in aspects like better technology, faster response rate and higher confidence in detection, other things remain unchanged such as the lack of cyber security awareness which, in my opinion, is still the biggest vulnerability in today's networks. Most technological vulnerabilities can be fixed either by updating or by replacing that technology. While this is partially true about people – you can definitely improve security by updating people's knowledge and awareness on the matter – the reality is still that most companies are lagging behind in this area. This, together with an ever-increasing attack surface brought on by policies such as Bring Your Own Device are, in my opinion, the biggest vulnerabilities of today's business networks.
Are local companies open to investing more in their online security? How can your company increase awaren­ess on the importance of superior protection against cyber-attacks?
There's a visible trend toward cyber security as a domain of interest for most local companies, with the majority of them willing to invest in online security.
With recent developments in high-profile malware and cyber-attacks affecting large companies and governments, most companies are beginning to accelerate their transition from 'classic', previous generation cyber security technologies such as firewalls and end-point protection software, to scalable, 'in the cloud', integrated architectures like Orange's Business Internet Security Service.
We're trying to highlight the importance of cyber security to a wider audience by our involvement in dedicated conferences and competitions such as Def.Camp or the European Cyber Security Challenge, where Orange supports Romania's national team. We're also invested in research and innovation in the cyber security field and we're participating in Horizon H2020 Projects such as RESISTO – Resilience Enhancement and Risk Control Platform for Communication Infrastructure Operators – forming a consortium of telecommunication operators, universities and research and technology organizations, with the common goal of developing and testing a platform for improved resilience against cyber-physical threats.


The interview is also available in our print edition of Business Arena.
COMENTARII:
Fii tu primul care comenteaza