Lara Group's growth relies on solid teamwork

Astute business woman and natural-born entrepreneur, Laura Ciuhu has successfully developed a strong group of companies that currently provide a wide range of services and products. From consultancy to heating, cooling and ventilation system, Lara Group's companies have enjoyed solid growth in spite of a challenging business environment. In an interview with Business Arena, Laura Ciuhu shares some of her views on entrepreneurship, teamwork, and experiences in the world of business.
What can you tell our readers about your journey to success and its beginnings?
They say the journey to success begins at birth, and some people are born under a lucky star. There is some truth in these words, but that's not enough, at least not in my case. It was a fortunate predestination for me to come into this world in Târgu Jiu, the city in the Getic Sub-Carpathian hills, and the starting point in life for Tudor Vladimirescu, Ecaterina Teodoroiu, and Constantin Brâncusi, people with an extraordinary ambition, illuminated individuals, whose determination and talent still inspire us to accomplish everything we set out to do.
But the road to becoming a successful person and a leader is long and hard. The roots of success for a leader, who can manage complex situations and understand the effects of uncontrollable turbulences in the real economy, stem from solid education, done well and on time. Parents have a decisive role in the development of their children's emotional intelligence. Schooling and teachers also have important roles in the formation of a successful individual. Teachers must master the art of encouraging their pupils to open their minds and use their brains. I was fortunate to have special teachers, who helped me discover my passion for mathematics, which is an exact science that never betrays you. My entire life is based on those principles of order and exactness.
As an initial conclusion, the foundation for the development of a successful person is laid by their parents, their teachers, and by the environment in which they grow up. In addition, each individual has their own, with courage and self-education. Success is never set in stone. The economic and social environment is constantly changing.
What was the key factor in your decision to start your own business?
My parents gave me the freedom to choose my own path in life, and I am grateful for that. Thanks to them, I now have my INDEPENDENCE, a most valuable and hard-to-get asset. However, few people want to be independent. Many choose to wait for others to make decisions for them, so they can blame someone else if things go wrong. I have always been the one to decide on important aspects concerning my life.
As I wanted to secure my independence as early as possible after graduation, in 2004 I stepped into the business world, starting my own company, Lara Business Consulting, then specializing in financial, tax and accounting consultancy services, and integrated mana­gement. I gradually started to feel the taste of success and enter deeper into the world of business. It is the environment in which I find myself every day. It is a crazy world, but extremely interesting, and it fits me like a glove.
What would you consider the most important milestone in your career so far?
The moment I decided to start my own company, even though I was, at the time, an economic director at a relatively large company.
What were the main difficulties that you encountered in your effort to build a company from the ground up?
The hardest thing to do was to earn my staff's respect and trust, through my actions and my attitude, to make them understand that their work is important, and that we should have a partnership through the good times and the bad. I have learned that one can look down on another only when they're helping them up.
The attitude towards people is everything. They mirror that attitude. If you're optimistic, so are they. You cannot panic if something doesn't work out. There are many other things that you can do, and the things that you cannot do should never prevent you from doing the things that you can.
Later, I found myself stuck in a situation generated by our society's lack of general motivation, in the absence of a target, or a noble objective. The power of women, and particularly the power of business women, could stand at the basis of the general motivation for society. Men's lack of education towards cooperating with women on an equal basis prevents women's huge potential from manifesting itself in this country, and so an unsuspected potential remains unused.
Gradually, I had to get used to the hurdles and traps of bureaucracy and civil servants' behavior, from obstructions, fear, and poor decision-making capacity, to a lack of courage to take action.
What is your method of choice, investing in partnership with others or making investments on your own?
I started off on my own. Meanwhile, I have developed a business, Lara Business Consulting, which now ranks second in its field in Romania. However, I have realized that I would only be able to go on and deliver top-level performance as part of a partnership. There is a belief that we are the average of the people around us. That is why choosing our business partners should be a long-term process, based on many and diverse selection criteria, so we make sure that we're making the right choice. As with any human relations, our own character represents the foundation on which a business partnership is built. On this foundation, every individual builds their own personal qualities that should make them "eligible" to become someone's business partner at some point. Based on this theory, a potential lack of character is a clear recipe for failure in any partnership. Studies have shown that 90 per cent of the mistakes made by business partners are character-related and consequences of a lack of trust.
Have you set any targets for the road ahead?
I want to maintain a balance between my personal and professional life, and keep doing what I enjoy doing every day, which has been the case all my life. I want to organize my life in two different stages: one should give me the opportunity to reach my professional best, while the other should allow me to fulfill myself on a personal level. I will never fully withdraw from business activities, but I will certainly leave my management position at some point to continue as an investor.
You have created a group of companies operating in five different business sectors.
Is there a company to which you feel more emotionally attached?
Lara Business Consulting is, undoubtedly, the one I feel most fond of, being the first company I personally created and set up in 2004, when I saw the emergence of important opportunities in the market. The years that followed confirmed my intuition and the company is now a real success story.
In 2004, Romania's EU accession timetable was becoming relatively clear and, with it, the importance and challenges of using accession and pre-accession funds, a vital element in the development of both private and state-owned companies. Accessing those funds represented and continues to represent a vital factor of progress for the Romanian economy as a whole. At the same time, the European integration brought about new challenges on competitiveness and, ultimately, on management quality. In addition, issues such as energy efficiency and renewable energy were to see a new approach. Under the circumstances, specialized know-how and consultancy capabilities were becoming vital for the market, while the newly established Lara Business Consulting was catering for those needs exactly. The problems emerging later, the low absorption of EU funds and litigations concerning unjustified and poorly documented expenditures, prove once more the importance and the difficulty of working with non-refundable funds. However, Lara Business Consulting has succeeded in handing over for approval projects whose total value exceeds 165 million Euro, while none of its projects have been rejected.
Today, I am happy and proud that I have succeeded in turning an excellent intuition and a captivating dream into reality. We have thus contributed to the success of many local companies, and we have had a significant contribution to the development of our economy over years.
The services offered to companies also cover the outsourcing of certain activities. Is there a different company providing those services?
From my own experience, I know how hard it can be to focus on developing your company and, at the same time, to dedicate the right amount of time and effort to delicate issues related to accounting and human resource management, ten years ago, I decided to set up a company, Lara Sistem Solutions, specializing in those areas.
Lara Sistem Solutions understood from the very beginning the importance of creating a genuine long-term partnership with each customer, who can fully rely on our trustworthiness and accountability. In ten years, we have accumulated a truly valuable experience and built a highly professional team, able to adapt to the needs of our customers, as flexibility plays a very important role in this business. Based on its vast experience and with its careful screening of the latest legislative changes and their implementation, our team offers excellent accounting, bookkeeping, human resources and payroll services, accounting expertise, auditing and tax consulting in the areas of profit tax, local tax, and VAT.
The quality of our services is best mirrored by the partnerships we have built with our customers, who have chosen to continue working with us for many years.
In 2014, Lara Sistem Solutions won an award from the Body of Licenses Accountants and Expert Accountants in Romania (CECCAR) in recognition of its professional merits and exceptional performance. The award carries more weight, as it was granted by experts in the field, and I am pleased that our activity is appreciated not only by our partners, but also by specialists in our area of expertise.

Another successful line of business involves heating, climate control and ventilation systems. Have you created a separate company for operations in this market segment?
Yes, we are talking about LPV Proiect Consult, a company in which I am an associate business partner. The company was founded in 1991, specializing in production, construction and installations. In over 25 years, LPV has encountered a wide range of challenges, facing the ups and downs of economic transition. Meanwhile, it has managed to find a new path towards efficiency, with a performing, elegant, modern and flexible management that allows it to adapt to the new conditions of the market economy in real time.
Those efforts allow the company to display a customer-oriented professional sales team, capable of understanding customers' requests and deliver the right solutions based on their solid expertise and first-rate technical equipment at their disposal.
In a nutshell, LPV Proiect Consult's development can be described by its values: sincerity, fairness, consistency and constant attention to customers' needs. The company's turnover exceeded 3.5 million Euro before the onset of the economic crisis, and it has already returned to a turnover in excess of 2.5 million Euro, proving its successful recipe. When I think of LPV's achievements I cannot forget that the company has reintroduced well-known German products on the Romanian market, reviving customers' taste for German heating equipment. Today LPV Proiect Consult is the local representative of the largest manufacturers in the field of central heating and air conditioning, and can offer a wide range of services.
What can you tell us about the recently launched division The Next Building?
This is an LPV Proiect Consult division, activating in the property and facility management segment under the slogan "Changing the Way that Properties are Managed!". This is a demanding market segment, which is still in its early stages in Romania. The Next Building offers complete property management services for office buildings and commercial centers, real estate consulting services, as well as full facility maintenance services.
Everything is based on expert, cyclic reports, focusing on the criteria requested by our customers. Inspections are conducted by teams of professionals using adequate equipment to determine ways of improving the efficiency of various systems that could generate lower utility bills, while improving comfort standards for tenants. Our consulting services for owners, investors and tenants are just as important. They include property management fee audits, as well as services for foreign investors who plan to expand in Romania. The Next Building offers personalized services, closely examining every property and project and determining the best approach to a future collab­oration, offering every customer a solution that has been specially optimized to suit their needs.
Has LPV Consult's domestic success encouraged you to expand the business on the demanding German market?
Indeed, the creation of LPV Consult GmbH has come as a natural extension of LPV Proiect Consult, a Romanian brand recognized not only on the domestic market, but also in Germany. LPV Proiect Consult's staff has been and continues to be constantly trained in Germany on a rotary basis, and our specialists, who can offer assistance for any construction or refurbishing project, are highly qualified and able to meet the most demanding European standards. They have access to electronic data bases, allowing them to ensure efficient warranty and post-warranty services. For a number of years, we have introduced German standards in Romania, and now we are ready to prove that we have taken those standards to the highest levels in Germany. To that end, we set up LPV Consult GmbH, a German company with Romanian capital. It's a great satisfaction for us to succeed in launching a Romanian company on the German market, after the arrival of so many foreign brands in Romania.
To read the full version, see the print edition of Business Arena.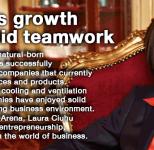 COMENTARII:
Fii tu primul care comenteaza