IMF sounds a note of warning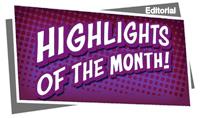 Following its mid-March staff mission to Romania, the IMF highlighted the risks facing the local economy, and provided a less optimistic view of the country's economic prospects, pouring cold water on the government's own estimates. While noting that real growth reached 4.8 percent in 2016, as private consumption was stimulated by fiscal policies and wage increases, the IMF projected the country's growth at 4.2 percent in 2017, "supported by continued stimulus to private consumption from a new round of fiscal relaxation and wage increases."
However, the statement emphasized that any hint of abandoned fiscal prudence and weakened institutions would have a negative impact on market confidence. "Coupled with continued political tensions, this could dampen economic activity, raise the cost of government borrowing and put pressure on the exchange rate," the statement read. "Continued tightening of the labor market and wage growth in excess of productivity threaten Romania's competitiveness. The main external risks are a protracted slowdown in the euro area and rising interest rates in the U.S," it added.
The IMF officials also indicated in their statement that without additional effort, it would be challenging for Romania to meet its budget deficit target of three percent of GDP this year, specifying that the mission had projected a 2017 deficit of 3.7 percent of GDP.
Tackling aspects related to the country's fiscal policy, the statement also pointed out that "successive tax cuts had structurally shrunk the revenue envelope while the share of wages and pensions has grown at the cost of investment." It added: "The current expansionary stance is not warranted by the cyclical position of the economy and puts at risk Romania's favorable macroeconomic indicators relative to peers. Recent experience - when Romania's public debt tripled in only a few years - highlights the importance of fiscal prudence." In this context, the mission recommended that "the revenue envelope be protected, wage and pension growth be moderated, and the authorities aim for a medium-term deficit of 1.5 percent of GDP to rebuild buffers. This can be achieved by reducing the 2017 deficit to around 2.3 percent of GDP - a broadly neutral stance - and to two percent in 2018."
The IMF's mission also recommended that the drive against corruption should continue, while the central bank (BNR) "should remain vigilant against rising inflationary pressures and consider tightening monetary conditions."
The IMF also warned that achieving higher sustainable growth would be difficult "without stronger efforts to increase efficient investment and reform state-owned enterprises."
Meanwhile, Business Arena will continue to keep an eye on all the issues affecting the business community, reflecting its views, hopes and challenges. For more on the most recent developments in business and economy, see this new edition of Business Arena, with the latest interviews and expert opinions.
The editorial is also available in our print edition.
COMENTARII:
Fii tu primul care comenteaza