Holzindustrie Schweighofer stays leader of the wood processing market

Holzindustrie Schweighofer thinks big. Part of an Austrian group with over 400 years of experience in the wood processing industry, the company re-established itself as a leader in the Romanian wood market, as it reached around 500 million euro in turnover in 2016. And that figure exceeded the financial results of its competitors by a large margin, according to the data made public by the Romanian Chamber of Commerce.
The success story began in 2002, when the company, part of an already well-establish giant group, with businesses in the production of viscose, bioenergy, in forestry and real estate, entered the Romanian market. Holzindustrie Schweighofer opened its first sawmill in Sebes, back in 2003. Another two timber factories followed, in Radauti and Reci. Subsequently, two more production plants were launched by Holzindustrie Schweighofer: a laminated wood panels factory in Siret, in 2009, and a blockb­o­ard plant in Comanesti, in 2010, with the latter being the largest factory of its kind in the world, Nichifor Tofan, manager of Rduti head­quar­ters told Business Arena. By investing in its factories, the company has so far generated approximately 3,100 direct jobs at these five locations and over 10,000 indirect jobs in related industries.
Since 2002, Holzindustrie Schweighofer, which purchases wood from its 850 providers in Romania and abroad, has invested over 800 million euro in its operations on the domestic market and contributed with over 100 million euro to the state budget.

Inside Holzindustrie Schweighofer's Radauti factory

Once you go through its gates, the Radauti factory makes quite an impression on you. The facility covers more than 50 hectares, with production units and truck and rail loading and unloading terminals. There are piles of timber, as well as containers waiting to be loaded and transported by truck or railway, while in the production units the processing of wood goes on at full speed.
Holzindustrie Schweighofer relies on imports, as it purchases wood from no fewer than 15 countries. Despite being the biggest wood processing company in Romania, it only pur­chases nine percent of its total volume of wood from domestic sources, and company officials expressly emphasize that none of it comes from the country's national parks. Around 60 percent of the timber processed by the company in Romania comes from European countries, such as Austria, the Czech Republic, Russia and Ukraine.
"In 2015, the Radauti factory was the most modern factory in the world, containing the latest technology. Seventy percent of the products are exported, 30 percent go to the local market. Everything made of wood is being used and processed here, including the bark from all the logs, which is used for bioenergy production. The woodchips and sawdust are used for producing pellets," Nichifor Tofan explained. The Radauti factory is a greenfield investment completed in 2007.
Holzindustrie Schweighofer on FSC's disassociation

The company is in talks with the Forest Stewardship Council to regain its FSC certificate, withdrawn by the organization in February 2017 after a year-long investi­ga­tion. The FSC withdrew Schweighofer Group its certificate, and accused the company of sourcing illegal timber in Romania. The group's officials reacted immediately. The Schweighofer Group took FSC's decision to disassociate from the group as a cause to further intensify its efforts to implement its control system to ensure a sustainable timber supply chain in Romania, according to Frank Aigner, Managing Director of the Schweighofer Group. He explained at the time: "We remain fully com­mitted towards fighting unlawful logging in Romania, even though we ourselves do not harvest any trees. We will wholeheartedly continue our course based on transparency, dialogue with environmental organi­zations and on implementing our action plan for a sustainable forestry industry in Romania". According to Holzindustrie Schweighofer's general director, Dan Banacu, the company continues its constructive dialogue with FSC and will develop a road­map for reassociation, while the guiding principles remain clear: the company will continue to follow the strict regulations laid down by the FSC, regardless of whether the group remains disassociated.
Drastic measures: more transparency for timber supply chain

In mid-January 2017, Holzindustrie Schweighofer implemented a set of measures aimed at installing a new security architecture that the company claims is unma­t­ched in Romania's forestry industry and exceeds all regulatory requirements. The star of this set of measures is the new wood tracking system, "Timflow", for whose development the company invested one million euro, in a bid to regain its FSC certi­ficate. "Since the company does not harvest any trees itself, it requires its suppliers to equip all trucks with the GPS system Timflow. This allows tracing of the delivered timber back to its exact loading place, providing for maxi­mum transparency within the supply chain. Every one of the more than 600 trucks delive­ring saw logs to the company's mills is now equipped with a GPS device that tracks its exact route from its loading place to delivery at the mill gate where all information is thoroughly checked," said Banacu, adding that users would be able to report irregularities or concerns about certain deliveries directly to Holzindustrie Schweighofer's compliance experts. The company will immediately investigate these findings and will inform the authorities if any irregularities are found.
According to its representatives, Holzindustrie Schweighofer has removed 80 providers that did not follow the sustainability guidelines and the due diligence system of the company.
Meanwhile, an important role in the activity of Holzindustrie Schweighofer is represented by its involvement in community life. Since 2013, the company has continuously supported the development of the after-school program through the Youth, Sports and Culture Association in Reci. Moreover, in recent years several organizations and institutions have benefited from financial support: the Little Apostles Union of Young Catholics, Dr. Fogolyan Kristof Emergency County Hospital in Sfantu Gheorghe, and the Municipal Hospital in Targu Secuiesc. Being involved in supporting CSR projects, in the last five years alone the company has supported large projects in the social, health and education sectors with over five million euro.
The interview is also available in our print edition of Business Arena.
COMENTARII:
Fii tu primul care comenteaza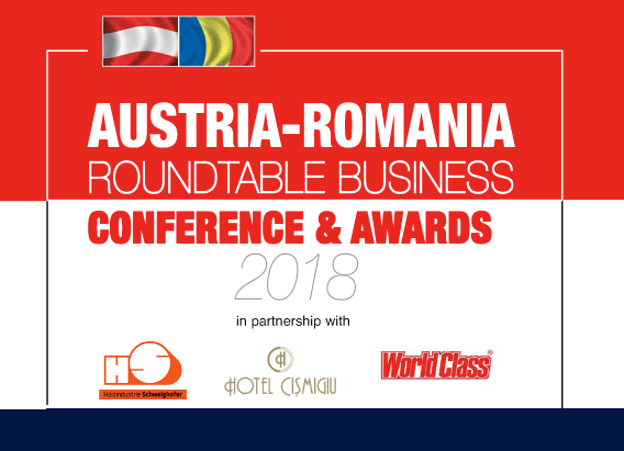 Frequent changes in legislation and taxation, stuffy bureaucracy continue to represent major hurdles for investors in Romania. However, Austrian investors have positive expectations and continue to remain strongly committed to their development plans in this country.
In this context, Business Arena is proud to announce its annual event dedicated to Austrian investors. Business leaders, bankers and entrepreneurs will all get together to discuss and share their views on the latest economic trends and challenges at Business Arena's 2018 Austria - Romania Roundtable Business Conference and Awards.