Hama focuses on new business and products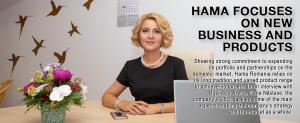 Showing strong commitment to expanding its portfolio and partnerships on the domestic market, Hama Romania relies on its long tradition and varied product range to achieve its targets. In an interview with Business Arena, Dana Nastase, the company's CEO, tackles some of the main aspects shaping the company's strategy and the market as a whole.
How would you characterize the market conditions in your segment in Romania?
It's a dynamic market that has seen a positive trend in the last few years, with a strong development potential in the accessory segment, which has yet to reach maturity in my view. However, we have seen a change in consumer behavior with regard to accessories, especially among the younger generations, and I believe this trend will continue. I expect significantly lower growth rates this year, compared to the previous years, while profit margins are going to take the most pressure.
What are the most recently added products to your portfolio and what are your best-selling products?
Hama introduces over 3,000 new products in its portfolio every year, but the most important additions this year include the wireless chargers and superfast charging devices, the true wireless stereo headphones, e-mobility solutions designed and manufactured in Germany, outdoor and sport accessories (Active Line), and the collection of voice-controlled devices, using apps such as 'Siri' and 'Amazon Alexa' (Intelligent Home Series).
Hama offers a wide range of products in the following categories: consumer electronics, computer and communication, gaming, photo and video, kids and teens, and home appliances. Telecommunication accessories (especially smartphone accessories) have seen the most dynamic growth over the last few years, as smartphones have become available to younger and younger users, who accessorize their devices with the most modern and trendy accessories.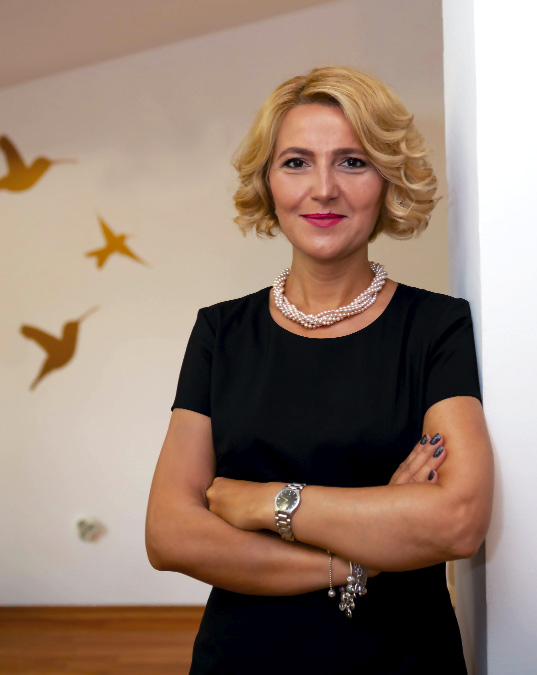 What expansion opportunities have you identified on the Romanian market so far?
There are many opportunities for growth and development of our present and future partnerships, and we are soon going to start investing in those segments. For example, Hama Romania has not been active in the school accessories segment, even though its international expertise in the field is extensive. Our school bags and backpacks are AGR-certified, proving that our products facilitate an adequate back posture, which helps prevent back ailments and pain in children. This is a project of the heart for us, and we hope to see it implemented very shortly. I am sure this is going to be a successful project, and people will understand that prevention is much cheaper than curing spinal disease. Hama is committed to launching both innovative products and courageous projects, contributing to the development of the accessory market as a whole.
How would you characterize the level of competition in this market segment in Romania?
There is strong competition in our market segment, but this is a good thing because it challenges us to be better and more creative. A strong competition is also good for our customers, allowing them to choose from a wide variety of products while deciding what matters most: the price, the quality or the best price/quality ratio. Hama manages to tick all those criteria. We appreciate and respect our competition, but, at the moment, none of them has a product portfolio that can match the variety offered by Hama in the accessories segment. We are the biggest accessory brand in Europe and this gives us great responsibility towards our partners and customers. Hama is a brand that provides trust, high-quality standards, international warranty and permanent innovation.
What are your estimations regarding the company's 2018 results in Romania?
We are going to have a steady year, we expect further growth, and, at the end of the first two quarters, our results are well within estimations. As always, the fourth quarter will hold the biggest weight in our turnover due to events such as the Black Friday or the holiday season. We are already prepared for the last quarter, and we are determined to continue to surprise our partners and end-users with innovative products at the best quality/price ratio.
What gives your company a competitive advantage when compared to other companies?
We are a brand boasting 95 years' experience in the field of accessories. We have a varied range of products, with 22,000 active products, we have the most modern and completely automated accessory storage facility in Europe. All Hama products are insured, we have a double quality certification for most of our products, we are an internationally certified brand, manufacturing licensed products only. We participate in the most important international trade fairs every year (some 40 trade fairs) with our latest technology in accessories. The two certifications obtained by Hama Romania, ISO 9001:2015 and ISO/IEC 27001:2015, prove that we are committed to offering our partners the best services. We provide accessories, a healthy business model that has been tested for 95 years. Last but not least, the passion, efforts and dedication of my entire team represent our strengths.
What are the main challenges facing the business community?
We have to deal with the same kind of situations affecting the entire business community, but we take everything as a new challenge, trying to address each of them as they come up.
What are your professional objectives for 2018?
My objectives focus on our partnerships, which we aim to develop further, as we have done over the last ten years. We want to expand our product portfolio and continue to offer quality services. We want to be close to our customers, as the satisfaction of our partners and customers is our main objective.
The interview is also available in our print edition of Business Arena.
COMENTARII:
Fii tu primul care comenteaza