From oil business to healthcare investments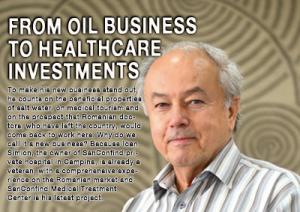 To make his new business stand out, he counts on the beneficial properties of salt water, on medical tourism and on the prospect that Romanian doctors, who have left the country, would come back to work here. Why do we call it a new business? Because Ioan Simion, the owner of SanConfind private hospital in Campina, is already a veteran, with a comprehensive experience on the Romanian market and SanConfind Medical Treatment Center is his latest project.
Ioan Simion's entrepreneurial journey started no less than 26 years ago, in 1991, when he founded Confind, an automotive service unit, which, in time, expanded to become one of the leading manufacturers of oilfield equipment and installations in Romania, a business sector Simion is no stranger to, as he worked in the field before 1989. Confind Campina continued to grow and reached some 70 million euro in turnover at the end of 2008. However, the proximity to Campina's salt springs led Simion to consider opening a private clinic, with services identical in quality to those found in Western countries. His project, which involved an investment of more than 22 million euro, came to life in 2015, with Confind as the majority shareholder, holding a 70 percent stake. The first unit of the new medical facility was a dental clinic, followed the a balneotherapy center, designed to provide therapy at the highest European standards.
The 10,000-square meter private hospital at Poiana Campina has modern and advanced equipment. The facility includes, apart from the balneotherapy center, a medical imaging department, operating rooms, a maternity and neonatology ward, a medical laboratory, and a pharmacy. "Currently, all our efforts are focusing on launching new specialties and departments, such as surgery, ENT, ophthalmology and hospitalization services. We are planning to obtain the Ministry of Health's clearance for the "one-day hospitalization" program by the end of this year, and in the coming months to open a new department – the surgery. This way the medical activity of the hospital is going to grow significantly. Other investments are going to be channeled towards the Radiotherapy unit – namely linear accelerators, similar to those present in specialized hospitals – for women's oncological treatments," Ioan Simion told Business Arena.
As for the long term, the entrepreneur is seriously considering stimulating medical tourism in the area. He already runs the largest private clinic in Prahova county and he is determined to make the hospital accessible to a larger number of patients, including to foreign ones. That means investing in the construction of a hotel on a plot of land that the company already owns, as well as ensuring transportation and assistance for patients during their stay at SanConfind. "We want SanConfind Medical Center patients to benefit from all the services they need under the same roof, meaning consultations, medical tests, imaging, surgery, relaxation center and so on. That's why we have already purchased the land in the vicinity of the hospital for a hotel dedicated to foreign patients. Our plan is to connect this hotel to the hospital using a glass tunnel, such as those found in airports, so that patients who have undergone surgery or other procedures are not exposed to the elements during their 500-meter transfer to the hotel," Simion explained.
His investment plans don't stop there, as new products and services are in the pipeline. "We really want to bring the Ana Aslan brand to SanConfind. There are many places where geriatric treatments are developed under this brand, but many times the products and the techniques used are not original. The whole world knows and uses the Gerovital products created by Ana Aslan, but we are thinking of setting up an entire department exclusively dedicated to those treatments. We are hoping to open it in the near future," said Ioan Simion.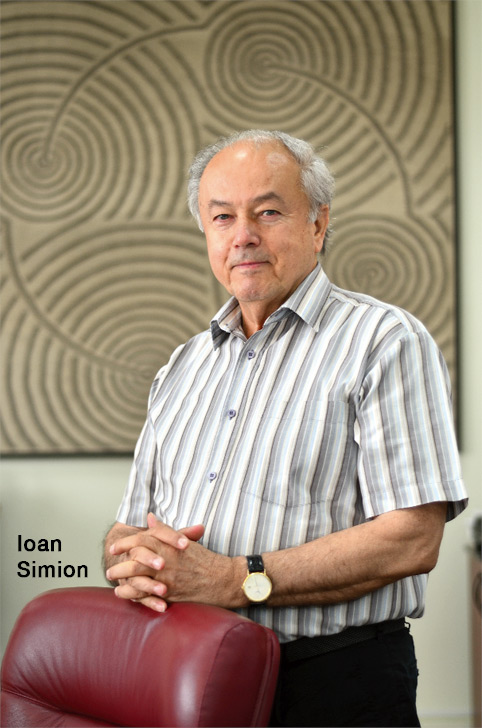 Still, a recurring question persists when considering the size of the investment at Poiana Campina, a place with less than 5,000 inhabitants, located some 30 kilometers from Ploiesti. Why there? SanConfind's owner is more than happy to clear that one up for us. "There are salt water springs, very old ones, nearby. Their water had been used for its therapeutic properties since 1907. According to historical research, there used to be a balneotherapy resort in the area before the Second World War, but after the war it was completely forgotten. We have a two-year lease on a one-square-kilometer section, and we have been using the water for therapeutic purposes. The salt water comes from a spring, so there was no need for drilling. This area, from Slanic to Moreni, contains diapir structures, which we know from our Geology classes in school. We are talking about underground mountains of compact salt, covered with soil. The water reaching the surface has a high concentration of salt, with 321 grams of salt per liter, close to the Dead Sea level of 400 grams per liter. Just to get an idea, sea water has eight times less salt than these waters here, with a concentration of 40 grams per liter. Considering all those aspects, knowing all the characteristics and benefits of these waters, we thought it was essential for us to put those opportunities to good use. There are pools here which can take up to 20 bathers at a time, large salt water basins, with optional mud therapy. In our balneotherapy department, we use a lot of Techirghiol mud, which is, obviously, brought in directly from Techirghiol Lake."
All those medical procedures are the joint effort of a team of 230 employees, including 22 doctors. Meanwhile, the competition on the domestic healthcare market is getting stronger, but SanConfind seems to have found the winning strategy. Simion offers a simple example: "Let's take the case of SanConfind's maternity ward. The prices are considerably lower than in other private clinics, while we provide the same standards in terms of medical equipment and qualified personnel. That is the reason why many doctors in Bucharest send their patients to give birth in our maternity in Campina, so they can benefit from a lower price range compared to other private hospitals in the Capital. For a natural birth, a patient pays 3,200 lei here and 4,700 lei for a C-section. The package includes a three-day stay, with meals included, in a room with one bed. In fact, all SanConfind rooms have only one or two beds."
Asked to name the company's biggest success so far, Ioan Simion offers a surprising answer: "SanConfind Medical Center itself is our biggest success on this market." Meanwhile, the healthcare system in Romania has yet to solve a long list of problems. What are the aspects that Simion wants to see gone forever? "I am terribly annoyed by things such as bribing, 'the jobs for the boys', the so-called 'arrangements', and the lack of interest for patients who are not able to... offer something to the medical staff. That's why I decided that SanConfind must be totally different from state-owned hospitals, from its construction and equipment to the way our personnel deals with patients. The patient should be at the center of care, and staff members must not cause them any dissatisfaction, with their attitude or gestures, not to mention something extremely serious like taking bribe. The patient pays for the services and they shouldn't have any other worries, such as how much they should give to the doctor, nurses, cleaners or the entire staff, like it happens in state-owned hospitals," the SanConfind president explained.
Hospital bribe wasn't the only delicate subject he tackled. It is a well-known fact that everyone, from patients to the authorities, is worried about the migration of medical staff, such as doctors and nurses, from our hospitals to clinics abroad, mainly in the Western world. However, Simion is optimistic about it. "I am thinking of bringing back some of the Romanian doctors who have gone abroad in search of a better life. I think most doctors left because they couldn't find vacant positions in Romania, and they didn't receive support to grow and develop. Then, it was the low salaries problem. After so many years of studying and residency, it is perfectly understandable that a doctor will not be satisfied to receive some 3,000 – 4,000 lei a month in a working environment such as our public medical system."
Still, doctors can be motivated to come back to work in Romania, if the right conditions are provided, says Simion. "I believe Romanian doctors working abroad can be convinced to come back if they are offered similar working conditions to Western hospitals. Most of these doctors find that life abroad is not all peaches and cream. They may experience adjustment problems in a new environment for them or for their family members. Even if doctors' salaries in Romania can't match the ones in Switzerland or France, if these doctors find at home a hospital offering the same working conditions as abroad – from medical equipment to management and procedures – they might consider coming back to Romania. I believe doctors should be paid enough so they are never tempted to accept bribe from their patients. At SanConfind, we have negotiated the salaries with every doctor, taking this aspect into consideration, and one of the clauses in all our employees' contracts is to give up their positions if they are caught accepting bribe," Ioan Simion concluded.
The interview is also available in our print edition of Business Arena.
COMENTARII:
Fii tu primul care comenteaza