EDITORIAL - Summer in high gear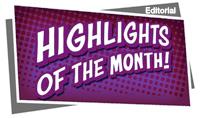 Most people think of summer as the season of vacations. Recent events, however, show a different picture. On the evening of 14 July 2016, an individual deliberately drove a 19-tonne truck into crowds celebrating Bastille Day on the Promenade des Anglais in Nice, killing 84 people and injuring 202. Not even two days later, a coup attempt by factions in the Turkish military crumbled, leaving over 265 dead and more than 1,400 injured.
On a different note, this time last year, the Greek debt saga reached fever pitch. At the time, many feared Greece would be forced out of the Euro zone and some even suggested a potential move to leave the EU. Fortunately, none of that happened, but the events generated a lot of emotion. And while Greece's challenges may be far from over, the situation is seemingly under control.
Ironically, albeit for totally different reasons, what Greece avoided last year, the UK has just managed to achieve this summer. So far, the outcome of the UK referendum on its EU membership has given everyone a headache, from politicians to businesses and financial markets, creating instability and raising questions over the future UK - EU relations.
Meanwhile, at home, Prime Minister Dacian Ciolos decided to refresh the government, and he replaced four of his ministers. Following the move, Sorin Buse, former general manager of Renault Technologie Roumanie, has taken over as the new Transport Minister, Dragos Tudorache, head of a migration and home affairs unit with the European Commission, is the new Communications Minister, while the new Education Minister is Mircea Dumitru, rector of the University of Bucharest. In turn, Maria Ligor, member of the Board of Governors of the European Endowment for Democracy and former Ambassador to Canada, is the new Minister Delegate for Relations with Romanians Abroad.
On a different subject, media reports have revealed that the government is in talks with two leading car makers which are reportedly considering opening plants in the country. Economy Minister Costin Borc was quoted as saying that one of the carmakers was European, while the other was based outside Europe.
And even though the new government resulting from the upcoming general elections later this year may have other priorities, the government has announced an economic development plan with a total value of nearly 17 billion Euro, which should help the country achieve a five per cent annual economic growth by 2020. Media reports say the plan is expected to have an estimated impact of 10.5 per cent of the country's GDP. Some of its key points include improving energy efficiency, simplifying tax regulations for foreign investors in the capital market and speeding up privatization of state enterprises.
Elsewhere, Romania's anti-trust watchdog has also kept busy, clearing Lactalis' takeover of dairy producer Albalact, NEPI's acquisition of Bel Rom Trei and NRE Sibiu Shopping City, and Oresa's purchase of water bottling company La Fantana.
In addition, new regulations apply in the retail sector, as President Klaus Iohannis signed into law a bill stipulating that at least 51 per cent of products such as meat, vegetables, fruit, eggs, dairy products and bread sold in supermarkets should come from local producers.
In the meantime, Business Arena will continue to keep an eye on all the issues affecting the business community, reflecting its views, hopes and challenges. Find more details about our upcoming business events, the latest interviews and opinions in this new edition of Business Arena.
The editorial is also available in our print edition.
COMENTARII:
Fii tu primul care comenteaza