Developers announce Colosseum Mall extension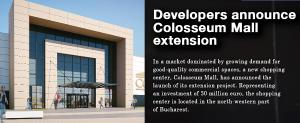 In a market dominated by growing demand for good-quality commercial spaces, a new shopping center, Colosseum Mall, has announced the launch of its extension project. Representing an investment of 30 million euro, the shopping center is located in the north-western part of Bucharest.
According to the developers, the terms have been agreed with the general contractor, and the construction works have started. "Colosseum Mall is the most important retail development in Bucharest in the last three years, a period in which the purchasing power per capita at city level has increased by almost 20 percent," said Bogdan Marcu, Partner with Cushman & Wakefield Echinox.
The project will be extended with a new section, with a total area of around 20,000 square meters, which will be primarily dedicated to fashion and beauty retailers - about 45 percent, as well as to leisure and entertainment – some 30 percent of the total. These components will strengthen Colosseum's position on the Bucharest retail market, in a period of a low supply of new retail spaces, announced the real estate analysts.
Following its expansion, the Colosseum project will reach 54,500 square meters of retail space, becoming the second largest retail scheme in the Sector 1 of Bucharest and the seventh largest at city level, according to Cushman & Wakefield Echinox. Colosseum Mall is part of a larger, mixed project, which, in the long term, features developments in real estate segments such as commercial, office and residential.
"We see a more mature retail market and the development of Colosseum Retail Park comes at a time when this market has seen good results over the recent years. This is combined with a growth in demand for commercial spaces in this area of the Capital. The new project benefits from the retailer's support. Our target is to consolidate the strategic position that Colosseum Retail Park has achieved in this part of Bucharest," said Mihai Dinu, Center Manager with Colosseum Retail Park.
The project comes to serve a residential area of the city that is close to the new office hub at Casa Presei, an area with a low retail space offer. "The density of modern retail space in Bucharest is below the average of other cities in the country, while the purchasing power per capita is significantly higher as it has continued its sustainable growth in recent years, amid the rise in wages. In this context, retailers are constantly looking for new opportunities, and the expansion of Colosseum in a developing area of Bucharest has come to meet this demand. Thus, about 10 months prior to its completion, agreements have been signed with all the tenants occupying large areas, and in the next period negotiations will be held regarding the few small units that are left to be leased," said Bogdan Marcu. New tenants, such as a cinema operator, a fitness center network, over 20 fashion and beauty stores, as well as 12 restaurants and cafes, will be added to the already present mix.
Colosseum Mall isn't the only noteworthy project on the real estate market though. Retail deliveries returned to a positive trend in the second half of 2018, when more than 90,000 square meters were delivered in four cities, but, surprisingly, with no openings scheduled for Bucharest, according to Romania Retail MarketBeat.
New spaces totaling 14,000 square meters were delivered with the opening of Bistrita Retail Park and Focsani Value Center, projects developed by Element Development and Prime Capital, respectively. Nevertheless, the total commercial space stock decreased due to the closure of the Carrefour hypermarket and the commercial gallery at the Vitantis Shopping Center, in 2018, a project which still has operational stores covering 36,000 square meters. Thus, the modern retail stock outside Bucharest reached 2.43 million square meters, while the total area of shopping malls, retail parks and commercial galleries in Bucharest is of 1.19 million square meters. The density of retail spaces at national level stands at 184 square meters per 1,000 inhabitants, while in Bucharest it has reached 651 square meters per 1,000 inhabitants, 3.5 times higher than the national average.
"In the last few years, Romania has become a stable market which brings major incomes to most retail players. We can now say that we have a market that has reached a first degree of maturity and predictability and that we are expecting further sustained demand for new retail spaces in main markets, as well as in secondary or tertiary ones, on condition that the economic context remains positive. We believe that headline rents in shopping centers will increase in the near future due to low vacancy rates, revenue increases reported by key tenants of these shopping centers, and a small stock of new retail space. In addition, we register a constant influx of new retailers entering the Romanian market, which will only increase the demand for retail spaces in dominant and established projects," said Bogdan Marcu.
Meanwhile, new retail spaces will be delivered by NEPI Rockcastle and Prime Kapital in Satu Mare, Baia Mare, Roman and Slobozia. NEPI Rockcastle announced the expansion of Shopping City Sibiu, with an area of almost 10,000 square meters.
As for Bucharest, the most notable retail event announced is the opening of the second IKEA store in Romania and the largest in South East Europe with a total area of 37,000 square meters, on Theodor Pallady Boulevard. This year, the retail area of Bucharest will expand north to Balotesti, where DN 1 Value Center is expected to be opened, while Colosseum Retail Park, Promenada Mall and AFI Palace Cotroceni are lined up for expansion.
The interview is also available in our print edition of Business Arena.
COMENTARII:
Fii tu primul care comenteaza