Change isn't always a good idea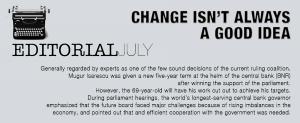 Generally regarded by experts as one of the few sound decisions of the current ruling coalition, Mugur Isarescu was given a new five-year term at the helm of the central bank (BNR) after winning the support of the parliament. However, the 69-year-old will have his work cut out to achieve his targets. During parliament hearings, the worlda
Speaking of imbalances, the European Commission's Spring 2019 Economic forecast for Romania indicates that internal and external uncertainties could take a toll on econo­mic growth. "Externally, uncertainties surrounding global demand and the EU economy could have a negative impact on Romania's exports. Internally, a sustained increase in unit labor costs due to wage growth outpacing productivity growth could also curtail exports. The uncertainty and unpredictability of public policies may also have a negative effect on consumption and investment, hampering growth. Finally, high increases in inflation in the first quarter of 2019 might be pointing to higher price levels than originally expected throughout the year," the report notes.
Moreover, the general government deficit is forecast to reach 4.7 percent of GDP in 2020. "The main driver of this projected deterioration is expenditure on old-age pensions, driven by the full-year effect of the 15 percent increase in the pension point of September 2019 and a further increase of 40 percent in September 2020."
As for inflation, the report points out that it is set to fall to 3.6 percent in 2019, from 4.1 last year, "despite food and energy price rises at the beginning of the year," and to three percent in 2020.
In the meantime, AmCham Romania released the results of a survey on the quality of the investment climate in Romania. AmCham noted in a press release that "the responses to questions mainly addressing the appreciation level of Romania's competitive advantages, of the main market conditions and of the measures with an economic impact in the past year, confirm the increasing
concern regarding the sustainability of the economic growth in the absence of public investments, especially investments in transport infrastructure projects." According to the survey, most of the responding companies express their concern regarding aspects that affect the investment climate. "The leading measures that respondents view as necessary for significantly improving Romania's investment climate and economic competitiveness include the revision of the quality of public spending and their channeling towards investments (64percent), the increase of the EU Funds absorption (55percent) and investments in infrastructure (51percent)."
"It is obvious, based on these responses, that the business community is very concerned with the public policies that focus too much on increasing consumption, by raising the current public expenses, and which have neglected investments despite the poor quality of the physical infrastructure. The lack of public investments is slowing down a healthy economic growth and furthermore, creates vulnerabilities due to deficits and increasing public debt that reduce the possibilities for financing investments and generate risks in case of the economic recession" said Ionut Simion, President of the American Chamber
of Commerce in Romania.
Business Arena will continue to keep an eye on all the issues affecting the business community, reflecting its views, hopes and challenges.
COMENTARII:
Fii tu primul care comenteaza