Challenges and curiosity set the ground for business success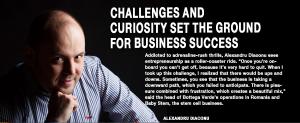 Addicted to adrenaline-rush thrills, Alexandru Diaconu sees entrepreneurship as a roller-coaster ride. 'Once you're onboard you can't get off, because it's very hard to quit. When I took up this challenge, I realized that there would be ups and downs. Sometimes, you see that the business is taking a downward path, which you failed to anticipate. There is pleasure combined with frustration, which creates a beautiful mix,' said the head of Bottega Verdea
He confesses that entrepreneurship is second nature to him, as he had the skill, curiosity and fascination to earn his own money as early as high-school. He borrowed money from his then-girlfriend's mother, and launched his first official business 17 years ago, providing services for an international company that had recently opened its offices in Romania. "We provided IT support services and functioned as a link between that company's main European IT department and the local office, ensuring the implementation of their standard operating policies. Over the years, we expanded this line of business," said Diaconu, and, because he likes a good challenge, he also opened a software development center. "AFC provided custom-made software solutions based on web technologies for leasing or office maintenance companies, and gradually entered the e-commerce area."
Realizing that he knew little about that line of business, Diaconu saw it as an opportunity to explore the area, and, in 2008, La Redoute Romania was born. "It was a project that brought many new developments on this market. We were the first company to cut delivery times for our products to two weeks, from four weeks previously, which represented a logistic challenge. We had a portfolio of up to 45,000 products (15,000 per collection), a team of several dozen people, working in a number of departments, including web design, graphics, packaging, and marketing," said Diaconu.
However, in 2015, after several years of negotiations, he entered in an exclusive partnership with Bottega Verde, the biggest Italian natural cosmetics brand, selling products made with natural active ingredients from plants, flowers, and fruit from all over the world. "I wanted an omni-channel concept that combined online and catalogue distance selling with classic brick and mortar shops. The products are designed for distance selling, and their range of products is wide." However, based on the previous experience with La Redoute, Diaconu realized that the Italian main business model was not sustainable for Romanian market. "The Italian market still encourages catalogue-based sales, rather than online sales, with customers receiving catalogues by mail. That involves additional costs associated with printing and distribution - a business model difficult to become profitable today especially in our local market."
His ambition and perseverance were the ingredients that paved his way to success. So, his team quickly exceeded both his own and his Italian partners' sales expectations in Romania. The best-selling products are in the body care category, shampoo, shower gel, liquid soap, and Diaconu emphasizes that the segment accounts for 25 percent of the total turnover in Romania.
Overall, there are 1,700 Bottega Verde products on the Romanian market and they come under categories such as body care, skin care, make-up, sun protection, household products and men's products.
Even though Bottega Verde is not a very well-known brand in this market, which, according to Diaconu, takes time, its sales have exceeded all expectations. "In 2016, we exceeded our initial sales estimate by 20 percent, and our forecast was 30 percent above the Italians' expectations. In 2017, we had a 45 percent increase from the year before, and we expect a similar growth this year, as we want to expand in the retail segment," said Diaconu. In turn, the profit is estimated to hover between five and 10 percent, as an important budget is allocated to the development of marketing PR campaigns. However, the entrepreneur believes the company can reach a profit of 20 percent in its fourth or fifth year of operations.
But getting there is never an easy task. "When you start a business from scratch, you need to quickly reach that critical mass when the business becomes sustainable. And you're always in competition with yourself, with the other players and with the market conditions. In the e-commerce segment, the biggest challenge is related to logistics, because you need to be able to deliver products fast all over the country. Delivery companies are overloaded with business and they have big staffing problems. There are areas of the country in which it is difficult to deliver, no matter which delivery company you're using. There are departments in which the recruitment process can take over six months and we're not talking about senior positions. We are in a period of economic expansion, and salary expectations are on the rise. You have to have an adequate quality/price ratio, you shouldn't rev your engine to the maximum."
Asked about the elements that give his company an edge against competitors, Diaconu mentioned its dynamism. "We outsource most of our services, we do not have a large team, we have a perfect communication with our italian colleagues, and we have been extremely successful at shortening the time between idea and outcome. We have products covering many categories, so it is easy for us to find an answer to any request."
Another strong point is the new concept for the corporate segment. "We are talking about the gifts that companies offer to business partners. We have very beautiful packaging solutions, which can be personalized depending on order volume. CSR tokens are included at customers request and preference."
With many ideas and unrelenting perseverance, Diaconu declares himself fascinated with providing added value to the society. He has been active in a wide range of sectors, from IT to fashion, he has had a candy production unit and he has also been involved in real estate. Moreover, he launched a medical services operation, in the area of stem cell collection, with the opening of Baby Stem in 2012. Diaconu speaks about the circumstances that facilitated the move and remembers that he was looking for business partners in Europe, together with a friend who had worked in the medical sector. "During one of our business trips to Germany, we were greeted in Romanian by a company official, who had been specially invited to Berlin from another city just to meet us. This doesn't happen very often," he said. The two entrepreneurs appreciated the gesture, which became the basis for a solid partnership with the largest stem cell bank in Germany, Seracell. And one year after the local company was set up, the first stem cells were collected.
Stem cell collected at birth from umbilical cord blood is cryopreserved in special tanks after very strict analyses are carried out. "The blood bag is transported by plane to the lab in a controlled-temperature airtight box, called a collection kit, only by an authorised courier. The blood is tested to check if it contains an adequate volume of stem cells. We also have to make sure the mother is not a carrier of the hepatitis virus and no bacterial contamination occurred at birth." Stem cell storage is guaranteed for 20 or 40 years, and the collected blood can be stored as such or the stem cells can be isolated. Each method has its pros and cons, says Diaconu, who notes that whole blood storage is preferred in Germany.
However, the entrepreneur recently introduced on the Romanian market TotiCyte - the world's most innovative and transformational cord blood processing and storage technology which is exclusive to Baby Stem and Cells4Life, the largest stem cells bank in UK: "Imagine the whole blood being depleted exclusively of red cells, keeping all the other types of cells. Using this breakthrough technology, you can see how a bag of blood is gradually becoming transparent. We manage to store everything without the red cells. It's the ideal technology in our market."
Collection is done in both private and public hospitals, while the entire procedure of stem cell collection and 20-year storage has a price tag of around 1,500 euros, depending on storage conditions. Stem cells, with their tissue regeneration role, are used in treatments for various diseases.
The business has flourished, so its annual growth has ranged between 30 and 100 percent, in spite of the existing difficulties in the market, according to Diaconu. "There is a lack of adequate communication between service providers in this segment and customers on what stem cell therapy can do, and that can lead to dissatisfied customers." Compe­tition is also a challenge, as some companies have a competitive advantage, the entrepreneur explains. "Some entities restrict the access of other stem cell banks to maternity units. At the same time, there are also legislative deficiencies."
With a passion for diplomacy, Diaconu is a graduate of the Aca­de­my of Economic Studies, and his favorite pastime is reading biographies and history books. He uses as models the success stories of various personalities, and he is attracted to subjects such as spirituality, mysticism and the merger of traditional and modern cultures. Sometimes he plays tennis and at least once a month he goes to the theatre with his close friends. Musicals are his favorites.
And no matter what he has to deal with in his activity, he says he is trying to stay level-headed and relaxed even when things don't go as planned. It is in his instinct to always want more and he proves it with his ambition and perfectionism. He is determined to explore further the medical field, especially the DNA area. "I want to make a profit, but I also want to provide a service that generates value. Money is just an outcome."
He believes that a great challenge in entrepreneurship is choosing the moment when to stop. Vision is another critical issue, as you need to know where you really want to go. "Vision is a mission. To offer people the chance to lead a better life in terms of education and health. Those aspects enrich you and help you grow. I believe people deserve to have fewer health challenges and less suffering. I am deeply impressed by cases in which ordinary people have to fight extreme battles with terrible diseases.
Those people are heroes. There is no difference between people fighting wars in the tranches and these patients. They feel the same kind of emotions," added Diaconu.
The interview is also available in our print edition of Business Arena.
COMENTARII:
Fii tu primul care comenteaza